Customer Kudos
"Service is everything to me in business. zZounds answers their calls quickly and is helpful in most ways. They have a good thing going and can only get better some how."
January 10, 2022

Roland AIRA Series:
Designed for Today's Electronic Musician
Roland's AIRA series brings your drums, synths, and vocal processing off the computer screen and back into your hands, offering a tactile experience that cannot be recreated "in the box." AIRA instruments capture the magic of vintage drum machines and synths while offering the performance, flexibility, and sound quality that today's electronic musicians demand. Computers dominate the production and composition world today because of their superior performance, reliability, and sound design capabilities. However, interacting with a computer can also be less-than-inspirational.

The goal of AIRA is to pair modern computing technology with the sonic character and analog circuit response of traditional analog hardware. Thanks to Roland's Analog Circuit Behavior technology, these instruments deliver the sound and performance of the famed original units -- and they're capable of more modern sounds, too, giving you a wide range of sonic options. AIRA allows you to be more creative than ever before, by getting your face out of the computer screen to connect with the instrument in your hands. This enhanced tactile control doesn't compromise the workflow benefits of computer sequencing -- you have the best of both worlds in your hands!

Step out of the box, but don't step out of the way -- AIRA is the new platform for modern electronic music creation.
Roland TB-3 AIRA Touch Bassline Synthesizer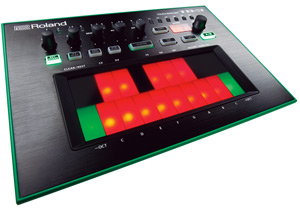 Roland's TB-3 is the modern version of the TB-303 Bass Line synthesizer. The TB-303 changed the world of dance music forever with its aggressive arpeggiated sounds and unique filter controls. The new TB-3 features a multifunctional illuminated touchpad that gives you complete control over the one-octave keyboard, filter envelopes and other synthesis parameters, along with pattern selection and sequencing. Knobs at the top of the unit provide essential controls like cutoff, resonance, and effect level. The touchpad is pressure-sensitive, so nuances like finger pressure translate into the music as if you were playing a traditional keyboard. Achieve massive sidechain compression by linking the TR-8 to the TB-3 via the External Input jack. The instruments link together seamlessly via MIDI, allowing you to build an electronic music rig as expansive as your imagination.