From the Blog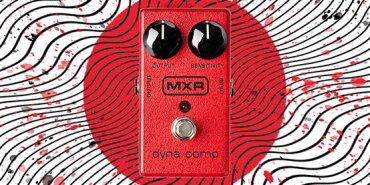 Customer Kudos
"zZounds offers the best Play as you Pay plan on the internet. I love this and they have helped me get plenty of equipment. I can pay it off sooner when I get the money too, but its nice to break up the payments. Their customer service is excellent as well!"
September 20, 2023
MXR | zZounds
55 products
Search Results
Dial in classic EVH tones and craft genuine tube-like distortion with the 5150 overdrive pedal -- powered by multi-stage MOSFETs with sensitive 3-band EQ.

Get gabbing with this classic MXR Talk Box. This pedalboard-friendly unit comes with all the fixings, including its own speaker driver!

From subtle, Gilmour-esque texture to fat "bathroom" slap-back, the CC's got it all! Dial in sweet, warm delay with a fully analog path with true bypass.

From the Blog

Designed for visibility and low noise, the MXR M108S graphic EQ pedal lets you match your sound to any room and sculpt treble and bass levels to your taste.

Get "Unchained" tone with the same stompbox that Eddie uses on stage! This flanger pedal features Manual, Speed, Width, and Regeneration settings.

Supply power to a wide range of different pedal types with the MXR Mini Iso Brick power supply. Includes four 9V outputs and one switchable 9V/18V output.

Bring the funk! This compact pedal boasts a multitude of knobs for tweaking your tone, including separate Dry and FX adjustment and Decay and Q controls.

Premium boutique tone for the masses! This collaborative pedal brings some of that Analog Man magic to a micro pedal format at an affordable price point.

Designed with Mr. Van Halen and dressed in stripes, the MXR EVH Phase 90 lets you toggle between vintage and modern MXR phaser sounds with the Script switch.

Packed full of features in a small box, the easy-to-use MXR Clone Looper produces high-quality sound. Use this loop pedal to its full potential!

Add vintage flavor to your tone with this compressor pedal. With controls for sensitivity and output, the Dyna Comp can add smooth sustain or clicky texture.

Control your tone with this 3 mode gate pedal. The M-135 lets you go from crisp cleans to blaring distortion without any unwanted noise.

Ask any sound engineer -- EQ is a huge part of tone, and a pedal EQ like the MXR M109S can help dial in the perfect sound for whatever size room you're in.

Dial in upper and sub octaves with modern clarity or classic grit with the MXR Poly Blue. Engage the fuzz circuit for even more madness.

Power up to 10 separate effects units via their own isolated outlet. Emulate sought-after sag on 2 outputs with adjustable voltage from 6V to 15V at 250 mA.

Put a high-quality finishing touch on your pedalboard with these MXR patch cables. The flat right-angle jacks promote a clean and tight board with pure tone.

You'll have no trouble finding "the brown sound" with this EVH 5150 Chorus, based on the legendary unit used by Eddie himself to texturize his iconic tone.

A stealth-finished compressor with MXR pedigree, MXR's M87B Blackout Series bass compressor offers recording-quality compression and a black finish.

Love the Phase 90 and Phase 45, but need to save precious pedalboard real estate? Have no fear. The Phase 95 combines both circuits into a tiny enclosure.

Plug in and freak out. The M-101 Phase 90 adds a shimmery velocity to leads or a dramatic swoosh to muted playing, and works well for many instruments.
Phase 90. DynaComp. Carbon Copy. MXR effects pedals are must-have classics on stage and in the studio. These tiny boxes deliver big tone for your guitar or bass rig. Call our Gear Experts now for help with your purchase:
800-460-8089
.