Customer Kudos
"zZounds is great! The no hassle return has helped me out a couple times. I love that you can make low monthly payments! You can not beat their customer service. I have only had to call them a handful of times. The wait time was less than a couple minutes. I'm a repeat customer and have no plans of going else where for my musical wants and needs."
January 5, 2022
14 products

Get serious power from a impressively lightweight power amp! The IPR2 5000 weights only 7 pounds, yet pushes 890 watts RMS on two channels at 8 ohms.

Deliver clean, consistent power to your PA with the super-efficient, lightweight IPR2. This power amp's proprietary DDT technology protects your speakers.

Push your passive PA with a reliable QSC power amp for less. This 500-watt amp has a built-in 100 Hz crossover and GuardRail limiting to protect your system.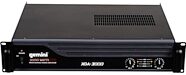 If you want a clear sound with no distortion for a DJ setup or party, this 400 watts RMS power amplifier is a dependable choice.

Perfect for lighter duty, in-home applications like home audio systems, the Gemini XGA-2000 delivers clean, reliable, and consistent performance.

Get QSC quality on a real-world budget. The GX3 300-watt power amp has an onboard crossover to drive your sub, and GuardRail limiting to protect your PA.

This mighty power amp pushes 4500 watts total peak power! Tune your system with the QSC GXD 8's on-board DSP tools for crossover, EQ, delay, and limiting.

Part of QSC's PLD series, this power amp can drive 1, 2, 3 or 4 channels. Plus, it's loaded with DSP for alignment delay, crossover, parametric EQ and more.
Get more out of your PA system with this smart power amp from QSC. Built-in DSP lets you adjust crossover, time-alignment delay, EQ, and limiter settings.

Power your passive PA system like a pro. Thanks to PowerLight technology, QSC's PLX1802 power amp provides clean output for up to 4 speakers on each channel.

Rely on this workhorse QSC amplifier to power your passive PA system. With the super-efficient RMX 4050a, you get 1400 watts per channel into 4 ohms.

Ideal for commercial installs, this mixer/amp offers 8 inputs and 2 output channels on Euroblock and RCA connectors, with voice-activated ducking and more.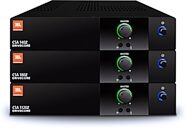 Get reliable power for your installed speaker system with the JBL CSA 180Z DriveCore commercial amplifier. Supports both 70V and 100V speaker installations.

Perk up your live or studio sound system with this Samson power amplifier. The 1-rack unit features a bipolar design and puts out up to 60 watts per side.