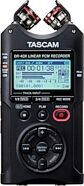 TASCAM DR-40 Portable Digital Recorder
No longer available at zZounds
High-quality recording -- to go! The DR-40 packs adjustable stereo condenser microphones, XLR mic/line inputs, and 4-track recording at up to 96 kHz/24-bit.
The adjustable mics, four-track recording and extended battery life of the TASCAM DR-40 give you the flexibility you need to record tracks anywhere. The DR-40 captures up to four tracks from built-in, high-quality condenser microphones, XLR mic or line inputs. A pair of great-sounding TASCAM microphone preamps welcome condenser microphones with phantom power, recording at up to 96kHz/24-bit resolution. No other recorder makes home or live recording as simple as the TASCAM DR-40.


Features:
- Adjustable stereo condenser microphones
- Four-track recording
- 32 to 320 kbps MP3 recording
- Locking XLR mic/line input with phantom power
- Up to 96 kHz/24-bit BWF recording
- Quick Menu to easily set recording functions with a minimum of menus
- Peak Reduction will reliably set the input level automatically, without it automatically turning back up later (best for music)
- Limiter and low cut filter reduce sudden peaks and rumble for cleaner takes
- Reverb
- Two-button record
- VSA changes playback speed from 50% to 200%
- Records to SD card media (2GB card included)
- Mini USB 2.0 jack and cable
- Timer recording
- Built-in speaker
- Tripod Mount
- Optional RC-10 and RC-3F remote control
- 17.5 hour battery life at CD-quality recording
- Can be powered with optional TASCAM PS-P515U power supply
If you have additional warranty questions, please contact the manufacturer at (323) 726-0303
Submitted November 28, 2011 by a customer from yahoo.com
"I really like the DR-40 so far!&quot
If something happened to this one, I would definitely want to get another one.
Sound
I have been very happy with the sound so far.
Features
The XLR's are a great addition. I was prepared to purchase the DR07mkII when I saw this one. It doesn't appear you can set the XLR levels individually. That would be a nice addition. The line in allows you to hook your mixer's balanced outputs into the XLR jacks....this opens up a whole new set of options.
Ease of Use
The menus are fairly intuitive. I have checked out the manual for some items, but I think most people could figure out the basics by playing around with it, as I did.
Quality
The DR40 seems reasonably well made. It seems like it could last awhile, although it IS mostly plastic. I would say it is comparable or better to other units of this type and price point.
Value
I would compare this one to the Zoom H4N. There are pros and cons to each, but for my personal needs, the Tascam had what I wanted at around $100 less. The unit is worth the price. However, if you want a longer USB cable, windscreen, desk tripod, carrying case, or any other accessories, you have to pay extra for them. And they aren't cheap. ($30 for the power supply, $50 for the "dead cat")
Manufacturer Support
I have not dealt with the Tascam support and therefore cannot rate it.
The Wow Factor
If you are looking for a portable digital recorder with a lot of options, this should definitely be a model to consider.
Musical Background:
Mainly guitar/vocals and a bit of everything else. Mostly home recording these days.
36 of 37 people (97%) people found this review helpful. Did you?
Thanks for your opinion!
No longer available at zZounds
People who bought this item also bought