Customer Kudos
"zZounds has a fantastic selection at great prices. Love the Play as you Pay and the fact that they don't over charge you for "no credit financing" like other companies. They are obviously doing it for the love of musicians, not money."
July 30, 2023

zZounds Live: How to Mic Guitar Amps

Whether you just want to capture song ideas, demo arrangements for your big project, or engineer your next solo album, recording guitar has become just as ubiquitous as playing the instrument. While it doesn't take a rocket scientist to simply put a microphone up to a guitar amp and press "record," mastering the technique takes a lot of experience. From
which type of microphone to choose
, to where to place the microphone, there are virtually limitless variables to contend with.
Please join us as Justin not only explains and demos the differences among various styles of microphones, but also guides you through the steps he employs to capture excellent sounding guitar tones.
Find all the gear you need to record electric guitar today! »
Dynamic Microphones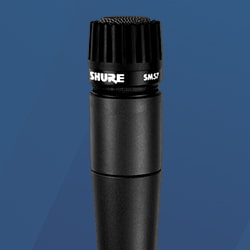 Dynamic mics, like the
Shure SM57
, represent the go-to type of microphone for recording loud electric guitars. Since they can handle such high sound pressure levels (SPL), they are the preferred mic for many live applications. And the studio, dynamic mics are known for their ability to handle insanely loud sources like guitar amps and drums.
Condenser Microphones
For the most detailed and true-to-sound guitar tones, you might want to reach for a condenser mic. These microphones require a power source to function (+48V phantom power on most interfaces/preamps/consoles will do the trick), and are able to capture nuances that dynamic or ribbon mics can't pick up.
Ribbon Microphones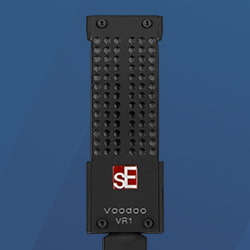 Ribbon microphones share a similar design to dynamic mics, but tend to exhibit a notable high-end roll-off, making them excellent tools for taking the shrill edge off sources with lots of high frequencies, like blaring guitar amps. These mics are the go-to for capturing rich cabinet resonance that add oomph to your recordings.
Audio Interfaces