Customer Kudos
"You put instruments in the hands of musicians who might not be otherwise able to afford said instruments. That's why I always recommend zZounds. Always will."
February 26, 2023

zZounds Live: Friedman JJ Junior Jerry Cantrell Signature Amps

Friedman invites you to explore the limits of complex, overdriven tones with Jerry Cantrell's signature JJ Junior model! Based on the fully-powered 100-watt JJ, the JJ Junior harnesses the bone-shaking brutality of the original in a 20-watt package.
Available as both a head and a combo, the two-channel JJ Junior churns out Alice in Chains' vast range of tones with ease. Channel one carries you from sparkling cleans to crispy breakup, while channel two brandishes authoritative overdrive. Need even more oomph out of the amp? Just flick the JBE switch for an added jolt of gain and harmonic complexity. And with the amp's XLR DI output with cabinet simulation, the JJ Junior makes silent practicing a piece of cake.
Still curious about the Friedman JJ Junior? Check out this edition of zZounds Live as Justin pushes the JJ Junior head to its limits!
Friedman JJ Junior Head
The perfect addition to any rig, the JJ Junior head is loud enough for any stage, yet can keep things reigned in for the studio. This 20-watt, EL84-powered beast features clean and dirty channels, as well as an ultra-transparent effects loop.

Wattage: 20 watts
Two Speaker Outputs: With 16-ohm and 8-ohm switch
Preamp Tubes: 3 x 12AX7
Power Amp Tubes: 2 x EL84
Channels: 2 (Clean and Dirty)
Footswitch: Single button footswitch (included)
XLR DI Output: Includes ground lift, two "mic position" settings, and level switch
Effects Loop: Series effects loop
Friedman JJ 112 Vintage Speaker Cabinet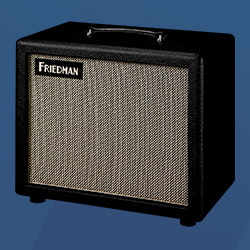 Pair the JJ Junior head with the JJ 112 Vintage cab for the ultimate in style and performance. A single 12-inch Celestion G12M Creamback easily handles up to 65 watts, just teasing you to let that JJ Junior head fly wide open.

Power Handling: 65 watts
Speaker: 1x12" Celestion G12M Creamback
Impedance: 16 ohms
Construction: Closed back
Friedman JJ Junior Combo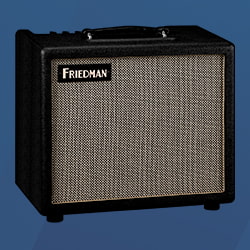 For heavy tone in an ultra-portable package, look no further than the JJ Combo. Built with all the features of the head, the combo also includes a 12-inch Celestion G12M Creamback that'll easily handle your most blistering solos.

Wattage: 20 watts
Speaker: 1x12" Celestion 16-ohm G12M Creamback
Preamp Tubes: 3 x 12AX7
Power Amp Tubes: 2 x EL84
Channels: 2 (Clean and Dirty)
Footswitch: Single button footswitch (included)
XLR DI Output: Includes ground lift, two "mic position" settings, and level switch
Effects Loop: Series effects loop