Customer Kudos
"After all the research and experience I've had with easy pays and pay as go plans, so far zZounds is the best in the business! I have to highly recommend zZounds for all your gear needs and wants!"
August 4, 2022

zZounds Live: Blackstar St. James Amplifiers
Get ready to rock with the Blackstar St. James amps! Available in both head and 1x12" combos, these amps come in your choice of two bold flavors, thanks to the legendary pedigrees of each model's power tubes:
• EL34
- The classic high-gain British sound. Imagine crispy cleans that smoothly transition into compressed saturation and overflowing with midrange attitude.
• 6L6
- Iconic American muscle. Thick and rich high headroom cleans that'll punch you right in the gut once cranked into a snarling overdrive.
Named after one of the oldest parts of Blackstar's hometown of Northampton, England, St. James amps reflect the rich heritage of British tube amps, while always pushing the technological envelope. Go direct into a venue's PA system, or DI into a studio interface thanks to a Cab Rig reactive load output. Add atmosphere to your sounds with waves of complex digital reverb, and add your own personal touch with the built-in effects loop.
No matter your style, Blackstar's St. James amps have something for everyone. Tune in as Justin demos the 6L6 combo and EL34 head in our exclusive livestream -- you'll definitely hear something you like!
Shop all Blackstar St. James amps »
Blackstar St. James 50 6L6 Combo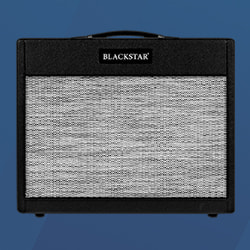 Crank this St. James to unleash spongy 6L6 tube saturation at bedroom levels! Choose between the full 50 watts, 2 watts, or Sag for the squishiest feel.

- Power Output: 50 Watts / 2 Watts / Sag power reduction
- Tube Complement: 2 x 6L6, 2 x ECC83
- Speaker: 1x12" Celestion G12Z-70 'Zephyr'
- Effects Loop and Digital Reverb
- Line Out/Headphones Output 1/4" Jack
- USB audio output with Cab Rig advanced DSP cabinet simulator
- Two footswitchable channels; footswitch included
Blackstar St. James 50 EL34 Head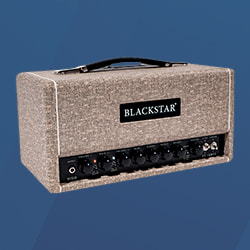 Bringing EL34s to the St. James line, this head is portable, lightweight, and combines all the crunchy chime you could ever want with Blackstar quality.

- Power Output: 50 Watts / 2 Watts / Sag power reduction
- Tube Complement: 2 x EL34, 2 x ECC83
- Effects Loop and Digital Reverb
- Line Out/Headphones Output 1/4" Jack
- USB audio output with Cab Rig advanced DSP cabinet simulator
- Two footswitchable channels; footswitch included
Blackstar 212VOC St. James Guitar Speaker Cabinet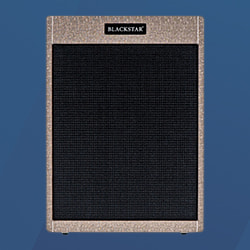 The perfect complement to your St. James head, this 2x12 cab is designed to be portable while still packing the tones with Celestion Zephyr speakers.

- Power Handling: 140 Watts
- Speakers: Vertical 2x12" Celestion G12Z-70 'Zephyr'
- 4 and 16 Ohm inputs