Customer Kudos
"zZounds has allowed me to realize my dream of being a gigging musician and putting the gear I have wanted into my hands with their Play as You Pay installment plan!!"
August 23, 2023

zZounds' Guitar Amp Attenuator Buying Guide
For many guitarists, nothing beats the dynamic, powerful sound of a tube amp. To hit the "sweet spot" on most models, however, you really need to juice those valves by cranking the volume. Power tube saturation remains one of the hallmarks for genuine tube tone, but the volume generated usually proves to be too much for most situations. Turning down the volume on these sorts of amps usually isn't an option -- depending on how your amp is structured, turning down even a little bit opens the door for weak, anemic tone.

Solve this problem with an amp attenuator (AKA Load Box) and finally say "no way" to weak tone! Attenuators absorb most (or all) of the power from your amp, then deliver the sound to your speaker cabinet at a much more reasonable volume. While quiet performance is the goal of all attenuators, each model offers its own feature set, giving players tailored control over their favorite amps:

Compare DSP-loaded and analog options in zZounds' Amp Attenuator Buying Guide, and finally assume total control over your sound!
These attenuators include digital signal processing (DSP), allowing you to really dive in and customize your sound. DSP-loaded attenuators tend to feature downloadable mobile or desktop apps to fully unlock the unit's capabilities.
No digital processing is done when using these types of attenuators, but they still offer ways to shape your tone even further than just turning down the volume.
---

$899.00
---
No Credit Check

No Credit Check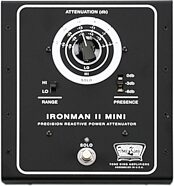 $395.00
---
No Credit Check

No Credit Check

$679.95
---
No Credit Check

No Credit Check