Customer Kudos
"zZounds has, hands down, the best customer service I have experienced regarding a company that sells guitars."
September 21, 2023

Orange Crush Amplifiers:
Redefining Solid-State Sound
Time-tested in an industry where musical tastes and trends change in the blink of an eye, Orange has continually proven why they are a leader in guitar amplifiers. While Orange is usually known for their huge-sounding tube amps, these Crush amplifiers will make you think twice about solid-state tone. Not simply practice amps, these Crush models break the mold of what you should expect from modestly-priced, low-wattage amps.
All models feature Orange's CabSim technology, which will no doubt make you forget about all the other wimpy, lifeless headphone feeds you've heard from countless other practice amps. With CabSim, Orange has successfully emulated the tone of a miked-up Orange 4x12" speaker cabinet, keeping you inspired even when you have to practice silently.
With the 4-stage preamp -- which is based on the sound of Orange's popular
Rockerverb
line -- getting a beefy guitar tone is easier than ever. Included on the Crush 20, 20RT and 35RT models, this four-stage op-amp produces tones that range from sparkly cleans to super-brutal high-gain distortion, making them perfect for players from all kinds of backgrounds. The two RT models also feature on-board digital reverb that expertly models spring reverb, and a chromatic tuner to keep your guitar fresh before the next song. Setting it apart from other so-called "practice amps," the series flagship Crush 35RT also includes a fully buffered effects loop to get the most out of your effects.
With the Crush series, you get huge tone with a small price tag. Pick one up today and experience how Orange crushes the solid-state competition.
Hear the Crush 35RT in action:

View the entire Orange Amplification family »
Orange Crush 12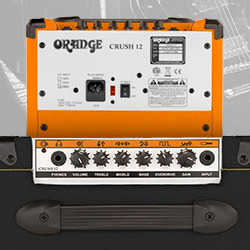 Perfect as a first amp, a bedroom amp, or a backstage practice amp, this tiny Orange covers a lot of ground. The most straightforward design of the series, the Crush 12 simply cranks out killer tone wherever it's needed. With the addition of the CabSim-loaded headphone output, you can sound like you're pushing the amp through a monster 4x12" cab.

• CabSim-Loaded Headphone Output
• 6" Voice of the World Speaker
• 12 Watts

Orange Crush 20
At 20 watts, the Crush 20 definitely plays well with others. Aside from being a great amp for solo practice, the Crush 20 holds its own at band rehearsal -- bring it to your practice space and start the next great songwriting collaboration. Use a footswitch to flip between the clean and dirty channels of the inspiring and detailed 4-stage preamp.

• CabSim-Loaded Headphone Output
• 4-Stage Preamp
• Footswitchable Channels
• 8" Voice of the World Speaker
• 20 Watts

Orange Crush 20RT
Building on the Crush 20, the 20RT adds a lush digital reverb that's voiced to create a warm, natural-sounding spring reverb, as well as a built-in chromatic tuner. Dial in a little reverb to create a slightly thicker sound, or turn it all the way up for long, ambient trails.

• CabSim-Loaded Headphone Output
• 4-Stage Preamp
• Footswitchable Channels
• Reverb & Tuner
• 8" Voice of the World Speaker
• 20 Watts

Orange Crush 35RT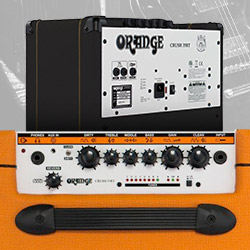 Along with all the features of the other Crush series amplifiers, the Crush 35RT also includes a transparent, fully buffered effects loop, allowing your pedals and other effects to sound their best. With 35 watts pushed through a 10" speaker, the 35RT is the most powerful of the Crush lineup.

• CabSim-Loaded Headphone Output
• 4-Stage Preamp
• Footswitchable Channels
• Reverb & Tuner
• Buffered Effects Loop
• 10" Voice of the World Speaker
• 35 Watts