Customer Kudos
"zZounds is the best, fast order processing, shipping is great with Fedex, and customer service is super, they know what they are talking about, I will always buy from zZounds!"
May 16, 2022

Legends of Tone: Fuzz
Saturation at the heart of rock 'n' roll
From soaring
David Gilmour guitar solos
to saturated and raw
Jack White rhythms
, fuzz tones are part of the lexicon of nearly every modern guitar player. An effect that by nature is hostile, unwieldy, and a whole lot of fun, the modern fuzz pedal plays upon our fascination with the unknown. Endless sustain, wonderful feedback, and a ton of body are the building blocks of any great fuzz tone, and that's why it's such a legendary effect.
In this chapter of Legends of Tone, we're honoring the true fuzz legends and artists that paved the way for the tones of today, tomorrow, and beyond. If you'd like even more of a deep dive into fuzz,
check out Legends of Tone: Fuzz on the zZounds Blog!
Check out our tribute to legendary fuzz pedals in this Legends of Tone video:
Explore more legendary artists' tones in our Legends of Tone series »
Electro-Harmonix Big Muff Pi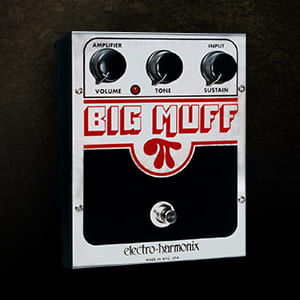 The EHX Big Muff pedal: Hearing its name alone likely fills your head with a wall of bassy crushing distortion tone. It also might make you think of one riff in particular: "Cherub Rock." This Smashing Pumpkins classic featured Billy Corgan's walls of guitars played through the Op Amp Big Muff Pi pedal.

In a more modern context, The Black Keys' guitarist Dan Auerbach builds a variety of his potent rhythms on the Big Muff's back. Take the song "Thickfreakness" from the album of the same name, and see how much sonic space his guitar can occupy while using fuzz.
ZVEX Vexter Fat Fuzz Factory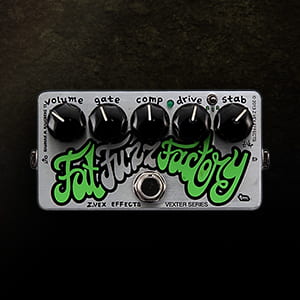 Behold the modern pedal that takes all of the velcro-y goodness of '60s fuzzes and pumps them full of steroids: the ZVEX Fuzz Factory. One of the most well-known users of the Fuzz Factory is Muse's Matt Bellamy, and he conjures up sonic spells of whining, screaming, brash and ghostly guitar.

On the other end of the pedal's spectrum, it can be dark and wooly with a rounded tone that stacks well with other tracks. Sure enough, guitar wizard Annie Clark (St. Vincent) did just that on her hit "Cruel" (complete with an extremely fuzzed-out guitar solo!) In 2010, Clark was battling serious writer's block and burnout from her high-paced New York lifestyle. Her solution was to relocate to Seattle, isolate herself, and get to work on the album. What came about was 2011's Strange Mercy and all its glorious fuzzed-out leads.
Dunlop FFM3 Hendrix Fuzz Face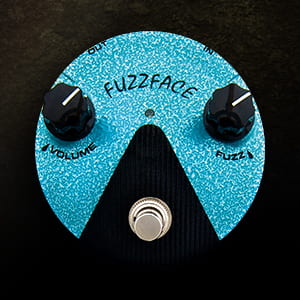 Undeniably original with its "space-age" aesthetic and knob layout that makes a "fuzz face," the Dunlop Fuzz Face is one of the most iconic pedals of all time. For many, the first artist that comes to mind when you think of the Fuzz Face is
Jimi Hendrix.
The legendary guitarist loved this fuzz and featured it prominently throughout his career, on tracks like "Foxy Lady." All Jimi needed was a Plexi, a Stratocaster, and his Fuzz Face.
Boss FZ-5 Fuzz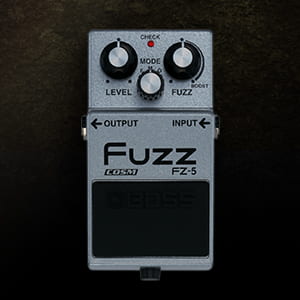 One of the most classic fuzz tones of all time is the Maestro Fuzz, famously used on The Rolling Stones' "Satisfaction." Keith Richards played an old Maestro FZ-1 Fuzz-Tone pedal on the record, known for its liveliness and spitty tone. The Boss FZ-5 fuzz is a great modern alternative that gets right into the wheelhouse of Keith's favorite fuzz tones.
JHS Bender Fuzz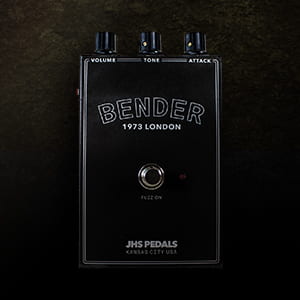 Led Zeppelin's "Dazed and Confused" is a classic example of a Tonebender fuzz at work -- all of its snarl, bite and wide gain range are on full display. The JHS Bender fuzz attempts to copy all of the mojo and germanium transistor goodness of the original 1973 "Onomatopoeia" Tonebender pedal. The JHS Bender pedal itself has a wide frequency range, ample gain capabilities, and two switchable modes.

The classic Yardbirds "Heart Full of Soul" tone features Jeff Beck's attempt to emulate a sitar led to this classic stingy sound that practically single-handedly created a new generation of fuzz players. The pedal's alternate mode option and its tone knob were versatile enough to dial in this unique fuzz tone.