Customer Kudos
"I have done a lot of business with zZounds over the years and have found them to have superior customer service and great financing plans. I have never had an issue with any order I have placed and always receive those orders in a very timely manner. I already recommend zZounds to anyone in need of new gear."
February 22, 2023

zZounds' Legends of Tone: David Gilmour
Spacey, Groundbreaking Sound
Upon joining Pink Floyd in 1967, David Gilmour may not have thought he'd create a sound that would help guide generations of budding musicians along their path to psychedelia. Equipped with his trademark Stratocaster and a legion of effects, Gilmour sent Pink Floyd's sound into the stratosphere with soaring solos and a wealth of sustain. Known for his tasteful placement and ratio of heavy riffs to blues-influenced, expressive solos, David Gilmour has earned his place among history's great guitarists.
You may not need the "0001 Strat" or an original Dallas Arbiter fuzz to channel the ethereal tones of David Gilmour. Read on to learn about a few key pieces of gear that will help you along your way to building a wall of tone -- brick by brick.
Looking to channel Gilmour's tone on songs like "Time" and "Comfortably Numb"? We'll delve into using key pieces of gear to emulate the quintessential Pink Floyd sound on the
zZounds Blog!
Check out our Legends of Tone: David Gilmour video!

Check out more legendary artists in our Legends of Tone video series »
Fender American Elite Stratocaster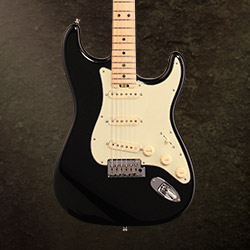 Widely known for playing a variety of Stratocasters, Gilmour shaped his tone with an array of maple necks and single-coil pickups. Originally owned by Seymour Duncan and later bought by David Gilmour from guitar tech Phil Taylor, the "0001 Stratocaster" is possibly the most recognizable of Gilmour's guitars. With a maple neck, white finish and gold pickguard, this Strat had a distinct look, leading it to be featured in the 2004 Strat Pack show, commemorating the 50th anniversary of the Fender Stratocaster.

If you can't get your hands on the one and only "0001 Stratocaster," Fender's American Elite Stratocaster bears many of the same traits as Gilmour's beloved Strat and would prove to be a worthy replacement.

EMG DG20 David Gilmour Wired Pickguard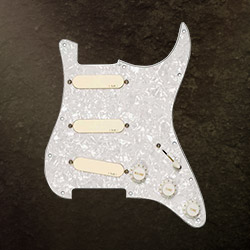 As seen and heard in our Legends of Tone: David Gilmour video, this wired pickguard from EMG gives you the power to transform the Strat of your choice into a Pink Floyd tone machine. For nearly 15 years, this exact EMG pickup configuration has been installed in David's main Stratocaster. The pickguard features ivory SA single-coil pickups wired with an EXG guitar expander, SPC presence control and master volume. Since it's pre-wired, you can quickly and easily install this pickguard without picking up a soldering iron -- and be shredding like Gilmour in a matter of minutes.

Electro-Harmonix Big Muff Pi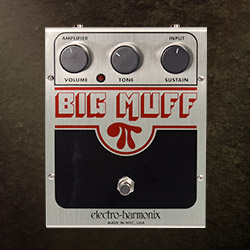 Featured on some of David's most iconic performances, including that legendary solo on "Comfortably Numb," the Electro-Harmonix Big Muff Pi has played an integral role in his rig since the mid-'70s. Originally introduced to Gilmour in 1974 by guitar tech Phil Taylor, the Big Muff Pi ended up finding its way onto its first Pink Floyd recording with 1977's "Animals." A Big Muff distortion pedal, dialed back and paired with a boost pedal and powerful amp, creates the bedrock of Gilmour's illustrious lead tone.

TC Electronic Viscous Vibe UniVibe Pedal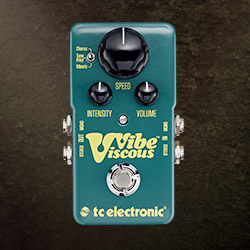 David Gilmour's use of the original Japanese Uni-Vibe began in the early '70s with the writing and first performances of Pink Floyd's 1973 album, "Dark Side of the Moon." Featured in classic songs like "Time" and "Breathe," the Uni-Vibe is thought to be a signature element of Gilmour's sound. While it may be hard to get your hands on an original, the TC Electronic Viscous Vibe is a fully digital recreation of the late '60s Uni-Vibe. It features speed, intensity and volume controls, as well as switchable chorus, vibrato and TonePrint.

With a budget-friendly price and a wealth of fine-tuning options, the Viscous Vibe is the key to tapping into your own Gilmour-inspired tone.

Catalinbread Echorec Binson Echorec Recreation Delay Pedal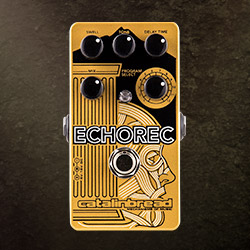 The Binson Echorec 2 is perhaps the most definitive piece of equipment associated with David Gilmour's innovative tone. With a design that nowadays would be considered pretty cumbersome, the Echorec 2 was a standalone unit that featured a specially designed steel/alloy disc or drum, which carried a durable flat metal 'tape.' The drum was driven by a powerful AC motor, which kept the transport very stable. Record and playback heads were arranged around the drum. Due to the Echorec's questionable reliability and constant need for cleaning, Gilmour eventually moved on to MXR digital delays, but thanks to Catalinbread, you can bring home a faithful Echorec recreation of your own.

The Catalinbread Echorec replicates the functionality of the Binson, with the added ability to change the delay time, going from classic Binson short multi-head echoes, to longer delays that maintain the syncopated multi-head rhythms.