Customer Kudos
"Good customer service is hard to find, if you can find it at all these days. Nice to know zZounds hasn't forgotten what counts. I never bought from zZounds before and bet I'll be back again. Thanks guys!!"
December 19, 2022

Legends of Tone: A Tribute to Sgt. Pepper's
Revisit the Sounds of The Beatles' Classic Album!
As far as influential albums go, none receive nearly as much praise as The Beatles' iconic 1967 full length,
Sgt. Pepper's Lonely Hearts Club Band
. Packed from beginning to end with inventive arrangements, varied instrumentation, distinctive tones, and undeniable pop hooks, this classic album quickly established itself as a pillar of pop culture. While The Beatles had been known for pushing the boundaries of what could be done in the recording studio,
Sgt. Pepper's
firmly placed the band on the front lines of technological experimentation.
In tribute to an album that tops many lists of the greatest ever made, we tasked ourselves with attempting to recreate some of
Sgt. Pepper's
beloved tones with gear you can pick up today. Using traditional instruments like guitars and basses, as well as more cutting-edge technology like Native Instruments' Komplete Ultimate software, nearly anyone can dial in the sweet, vintage tones of
Sgt. Pepper's
!
Learn all about our attempt at emulating the sound of
Sgt. Pepper's
on the
zZounds Blog!
Check out our psychedelic take on the tones of this classic album on our Legends of Tone: A Tribute to Sgt. Pepper's video!

Explore more legendary artists' tones in our Legends of Tone series »
Epiphone Casino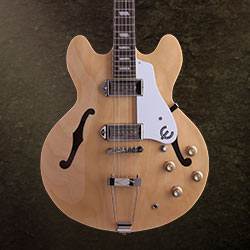 The fully hollow Epiphone Casino was a unanimous favorite among The Beatles, as Paul McCartney, John Lennon, and George Harrison each had one for themselves. The distinct tone this guitar produces is a result of the P-90 pickups and the hollow body, which also happens to feed back quite easily. A maple laminate body provides strength and a biting high end tone that makes this guitar a classic. The guitar was loved by Lennon so much that it remained his main axe throughout the rest of his time with The Beatles.

We used the Casino to achieve the trebly guitar tone that the band was known for. The biting midrange of the pickups make this guitar a joy to hear through an overdriven amp, and we're certain The Beatles felt the same way.

Gretsch G5420T Electromatic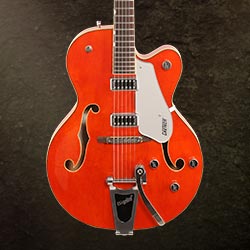 Throughout their tenure, The Beatles were known for using a great many types of guitars to achieve their signature sound. A mainstay throughout the band's tenure, Gretsch guitars provided the good looks and solid tone that the band members could depend on day in and day out. Combining excellent craftsmanship and a budget-friendly price, we chose the Gretsch G5420T to provide that distinct Gretsch tone that almost anyone can afford.

The Black Top Filtertron humbuckers add clarity and presence to the fully hollowbody sound, resulting in a seriously strong tone that makes this guitar sound like a much more expensive instrument. Pick one up today and listen to the jangly, yet fat tone for which Gretsch has become known.

Hofner HIBB Ignition Bass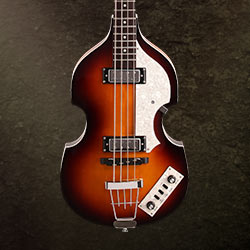 What tone tribute to The Beatles would be complete without featuring a Hofner violin bass? Paul McCartney's prolific use of the 500/1 model has prompted the greater public into calling it the "Beatle Bass," and the rest is history. This fully hollowbody electric bass closely mimics the sound of an upright bass, with deep lows and a punchy midrange. McCartney owned two models, one from 1961 and the other from 1963. Though his 1961 model was eventually stolen, McCartney still plays his 1963 model on stage to this day.

To recreate Paul's sound, we opted for the affordable Hofner HIBB Ignition model. A spruce top with flame maple back and sides makes for one gorgeous looking bass, but also contributes to the instrument's familiar tone.

Vox AC30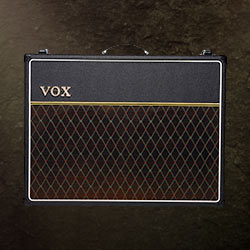 The Beatles were well known throughout their career for playing through Vox amplifiers. Always struggling to find higher-powered amps to compete with screams of their growing fanbase, the Beatles depended on Vox to engineer amps that kept getting louder and louder.

While recreating The Beatles' tone isn't easy, starting out with a Vox amplifier is a great place to start. Despite all the various Vox amps on the market, it remains hard to beat a standard AC30. Loaded with quartet of EL84 tubes and a pair of 12-inch speakers, this 30-watt amp is much louder than you'd think, and full of all the saturated overdrive you would ever need. These jangly amps also deliver the crisp high end that's needed for any Beatles cover band.

Native Instruments Komplete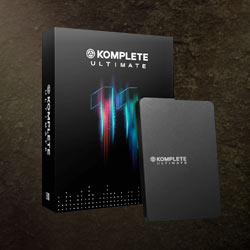 Even though we don't have any classical Indian musical instruments laying around our office, we were still able to add their exotic flavors into our versions of the songs thanks to Native Instruments' Komplete Ultimate software. Loaded with tens of thousands of sounds from a vast sample library, Komplete Ultimate certainly has the virtual instruments you need to flesh out your tracks. Since Komplete Ultimate arrives as an external hard drive, you won't have to waste hours installing software onto your own computer. Just plug it in, install once, and you'll have thousands of sounds at your beck and call.

We used Komplete software instruments to model the sounds of a sitar, tambura, and the tabla. We were very happy with the way they turned out, as they sounded full of warmth, without a hint that these were samples triggered by a MIDI virtual instrument. Pick up a copy of this software today and explore all the sonic avenues it offers!