Customer Kudos
"Great service, quick delivery, easy ordering and all around great selection."
July 16, 2023

zZounds' Iconic Rigs: Slash
Sizzling Les Paul and Marshall Tone!
Arguably one of the most iconic guitarists of the last 30 years,
Slash
has found a way to transcend the label of simply being a great guitarist within the guitar-playing community, to being synonymous with the instrument by the entire public at large. From the unmistakable top hat and low-slung
Les Paul
to his searing blues-infused rock 'n' roll riffs and licks, Slash has become a ubiquitous ambassador for guitarists around the world. As lead guitarist for Guns N' Roses, Slash's Snakepit, and Velvet Revolver (among many other side projects), Slash's playing style and distinctive Les Paul + Marshall tone has cemented his legacy as a hard rock icon.
If you happen to love aggressive, raw, and unfiltered rock 'n' roll, then you can't deny the influence Slash has had on players over the last three decades. Join us as we explore Slash's classic gear in this edition of
zZounds' Iconic Rigs
series!
Looking to nail Slash's tone on songs like "Welcome to the Jungle" and "Paradise City?" We'll explain the magic that happens when you combine a Les Paul and a Marshall on the
zZounds Blog!
Check out our Iconic Rigs: Slash video:

Check out more legendary artists in our Legends of Tone video series »
Gibson Les Paul Standard T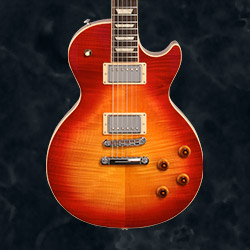 Perhaps the only thing more closely associated with Slash than his signature top hat, the Gibson Les Paul has remained his instrument of choice for nearly his entire career. While his earliest models were replicas, Slash has a rich history of collaboration with Gibson, and he's even been the inspiration for more than a few signature Les Pauls. Combining a rich, fat tone with superb playability, the Les Paul's inherent sound fits perfectly with Slash's style. When paired up with a cranked Marshall amplifier, the Les Paul has proven to be a rock icon itself.
Marshall 2555X Jubilee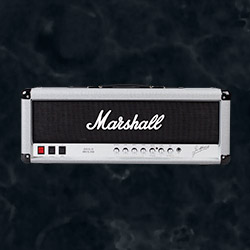 It's not rock 'n' roll without a wall of Marshall stacks on stage, right? As a die-hard Marshall player, Slash is hardly ever seen live without at least a few of them in his backline. While he's probably played and recorded with almost every model created (including a
1959 Super Lead
on
Appetite for Destruction
), Slash is most closely associated with the Silver Jubilee model. Featuring a creative preamp section with three gain modes, the Jubilee represented a response from Marshall to amp-modding movement that became popular in the 80s. Essentially hot-rodded JCM 800s, the Jubilees added higher gain, the aforementioned gain modes (Clean, Rhythm Clip, and Lead), and a half power switch, making them Marshall's most versatile and feature-packed amps at the time.
Introduced by Marshall in 1987 to commemorate 25 years of Marshall amps and Jim Marshall's 50 years in the music business, the Jubilee was recently reissued, much to the joy of guitarists everywhere. Plug in a Les Paul, crank the gain, and you'll be sounding like Slash in no time.
Dunlop SW95 Crybaby Slash Wah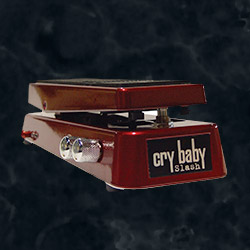 As one of the first types of effects pedals Slash claims he ever owned, the wah wah pedal has proven to be his go-to effect when he feels his leads need to be kicked up a few notches. Just listen to the final solo in "Sweet Child O' Mine" to get a pretty good idea of what Slash can do with a wah at his feet.

Slash's signature wah is a supercharged version of Dunlop's Crybaby, a perennial favorite of many guitarists. Not only does this wah employ the classic Fasel inductor for EQ sweeps your ear already loves, but also has a built-in distortion circuit for instant lead tone. The distortion can be turned on and off with a quick tap of a switch on the side of the pedal, and includes controls for both volume and gain for full control over the effect.

MXR SF01 Slash Octave Fuzz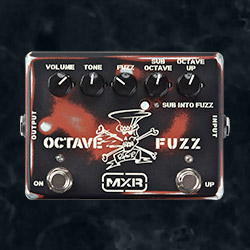 When you're looking to fatten up your leads, it doesn't get too much better than a good old-fashioned octave fuzz. Slash teamed up with MXR to create his own version of the popular effect, and the results are stunning. Featuring both a sub octave and an octave up setting, this pedal can be used in a ton of different scenarios. The octave up is independently footswitchable -- switch it on to push your solos over the top.

MXR M134 Stereo Chorus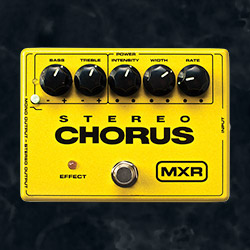 Just in case Slash needs to inject a little modulation into his sound, the MXR Stereo Chorus is ready to take the call. This versatile little yellow box adds anything from a subtle shimmer to all-out underwater-sounding warble. Take a listen to the opening strums of Paradise City to get an understanding of what this pedal can do for you. If you happen to be in a Slash or Guns N' Roses cover band, accept no substitutes.

Boss DD-3T Digital Delay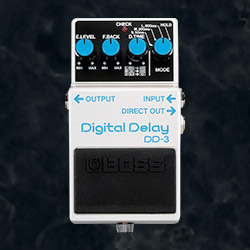 While Slash doesn't seem like the most obvious user of delays, they can definitely be heard sprinkled among his many recordings. Perhaps his most famous use of delay is during the intro to "Welcome to the Jungle," creating a feeling of dizziness that might just well reflect the lyrical content of the song. Slash has been known to use the dependable Boss DD-3 in his live rigs, and the fact that this pedal is still being made to this day, since its 1986 introduction, is a testament to its high quality.