Customer Kudos
"I have spent a LOT with zZounds over the past few years, and I'm grateful for the Play as You Pay program that made this purchase possible right now. My interactions with their gear experts are better than any dealer out there."
May 19, 2022

zZounds' Iconic Rigs: Eric Clapton
Get the gear -- and tone -- of Slowhand!
Look up any "greatest guitarists" list by any publication, and more likely than not, you'll find Eric Clapton somewhere near the top of the list. Forever a blues purist, Clapton has made blues guitar playing his life's calling, resulting in three Rock and Roll Hall of Fame inductions (solo, Cream, and the Yardbirds) and millions of records sold worldwide.
From Gibson to Fender to Marshall, Clapton has had his hands on a ton of guitars and amps throughout his career. zZounds' Iconic Rigs Series explores the gear you can use to land the classic Slowhand tone!
Want to nail Slowhand's signature tone, but don't want to sell your soul at the Crossroads for vintage gear? Check out our exclusive video over at the
zZounds Blog,
where we cook up Clapton's sound with an affordable guitar and an amp based on his classic Marshall.
Get Eric Clapton's tone on a budget:
Check out more artists in our Iconic Rigs video series »
Fender Eric Clapton Artist Series Stratocaster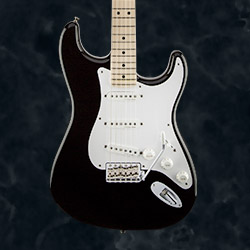 Throughout his later career, Eric Clapton has almost exclusively played Fender Stratocasters. He's so closely associated with Strats, that by 1988, Fender released their first Eric Clapton Signature model (at the time, it was only the second signature model ever released by Fender). While Eric seemed to be a staunch Gibson player throughout the late '60s, by the beginning of the '70s he started to heavily favor Stratocasters. Influenced by Strat players like Buddy Guy, Clapton eventually made the switch after seeing Steve Winwood playing one.

Very similar to his original signature models, the current Clapton signature model uses an active mid-boost control for a fatter tone, along with the TBX circuitry to add a wide range of tonal colors. The neck's soft V-shape is Clapton's preferred style and the Vintage Noiseless pickups achieve impressive Strat tone without all the hum.

Gibson 2016 ES-335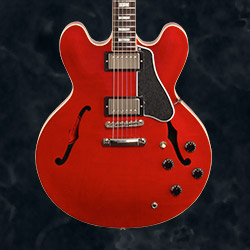 Diving even earlier into Clapton's guitar timeline brings us to a Gibson ES-335 in cherry. Purchased by Eric in 1964, his 335 was used all over the place during his early career, from his stints in the Yardbirds, Cream, and Blind Faith, all the way to when he sold it at auction in 2004 for a staggering $847,500. While not as famous as Clapton's other guitars, this 335 must have been somewhat special to him, as it was only the second electric guitar he ever owned and it stayed with him for 40 years -- a length of ownership that probably can't be said about too many of his other guitars.

Gibson's ES-335 has been in continuous production since its release in 1958, a testament to the model's playability and distinct tone. Similar to Eric's ES-335, the recent 2016 models also include block fingerboard inlays, but are equipped with Burstbucker 1 & 2 pickups for a modern touch.

Martin 000-28EC Eric Clapton Auditorium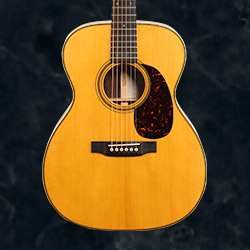 Typically, when you think of acoustic Clapton, his performance from MTV's Unplugged in the '90s is brought to mind. His 1939 Martin 000-42 sang with a beautiful clarity and balance, and provided a considerable foundation for his iconic performance.

While not the 000-42 model, the Martin 000-28EC Eric Clapton Signature model is quite close and is perfect for fingerstyle playing. The small body shape is incredibly comfortable, and the fit and finish of the guitar adheres to Martin's high standard of quality. The Sitka spruce top and Indian rosewood back and sides give this guitar a balanced tone that is crisp but still bold and organic. And, with a much more wallet-friendly price tag than a pre-war 000-42, you can pick up one of these guitars without taking out a second mortgage.

Marshall 1959HW Handwired Plexi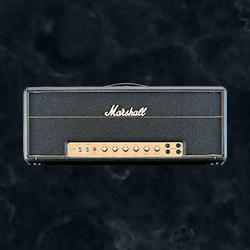 The Marshall 1959 Plexi amplifier seems to be a common thread running through
many of the iconic rigs of our guitar heroes.
Around the time Cream was formed in 1966, Eric started playing these 100-watt monsters. Cranking the volume on this head really gets the power tubes going, creating a powerful, distinct tone. Combined with the rolled-off tone of his guitars, this technique largely contributed to how Clapton achieved his classic "woman tone."
The 1959 Plexis made today offer the same rude tone with generous helpings of volume as its older counterparts. Plug into this amp and you'll have no trouble finding a great-sounding tone, no matter what you're going for.
Vox V847A Wah Pedal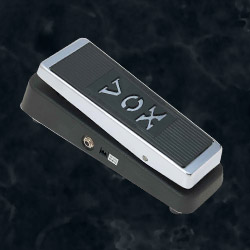 Typically, Clapton doesn't use too many effects, but during his time in Cream, he would usually have a Vox wah between his guitar and amp. You can hear his wah playing peppered throughout Cream's catalogue, most notably on their hit "White Room."

Vox's modern V847A wah pedal has been carefully designed to replicate the smooth, psychedelic tones of the era. Try one out for yourself and hear how close you can get to Slowhand's epic wah growl.