Customer Kudos
"Good customer service is hard to find, if you can find it at all these days. Nice to know zZounds hasn't forgotten what counts. I never bought from zZounds before and bet I'll be back again. Thanks guys!!"
December 19, 2022

HeadRush Guitar Processors and Speakers
Finely tuned tone-creation machines
HeadRush is a leader in virtual guitar rig processing, providing guitarists with multiple platforms to create rigs they could only dream of previously. Made to be intuitive, rugged, and faithful to the models they recreate, it's no wonder HeadRush processors are being spotted in the rigs of so many guitarists today.

With a complete line of processors, along with two full-range, flat-response speakers, HeadRush has assembled quite the roster. With options suitable for everything from home practice, to live performance on the biggest stages, sorting through the features of each is enough to give you a head rush! In this Spotlight guide, we explore the traits and strengths of each, so you can find the HeadRush gear to achieve your tonal dreams.

But first, it's worth mentioning that all HeadRush processors feature:
- The same library of amp, FX, and mic models, plus impulse responses (on all models except Looperboard)
- Quad-core processors
- Touchscreen controls
- USB interface
- FX send/return
- Headphone outputs

Shop All HeadRush »
HeadRush Pedalboard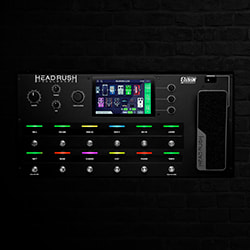 The engine capable of bringing your wildest performance dreams to life, the HeadRush Pedalboard pairs a quad-core processor with Eleven HD Expanded Modeling Engine. It is the choice for guitarists whose setlists demand a versatile rig that can morph across genres, calling up new virtual rigs in an instant.

What really sets the Pedalboard apart among HeadRush processors is the amount of control laid out at your feet. Twelve assignable footswitches, aligned in two rows, each feature customizable names and LED strips, making easy identification on stage via color. An onboard expression pedal is assignable to the effect or parameter of your choice. Easily switch between rigs or between Stomp, Rig, Hybrid, Setlist, or Song mode on the fly with the two navigation footswitches. You can go from a vintage country to modern metal rig (with totally gapless switching) with the stomp of a switch!
HeadRush Gigboard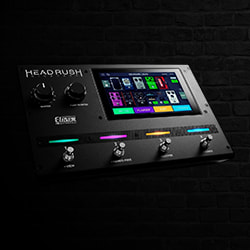 Designed to meet the needs of working musicians in any genre, the HeadRush Gigboard upends any notions of what compact guitar processors are capable of.

The Gigboard takes the best of what the Pedalboard did and condenses it into a unit of about half the size and just over half the weight. It can even fit in your guitar gig bag! But don't be fooled -- this unit packs the same processing power and amp/FX selection as its bigger sibling, along with a hands-free edit mode that's perfect for tweaking your tones between songs. MIDI I/O, stereo outputs, inputs for two additional footswitches, an FX loop, USB output and an external amp out for engaging different functions on your amp complete the robust I/O section of this compact unit. Whether used as a standalone processor or integrated with other pedals on your board, the Gigboard will take your performance to the next level.
HeadRush MX5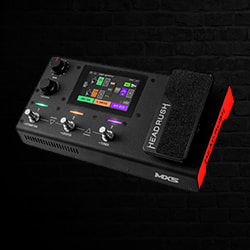 The most portable member of the HeadRush family, the MX5 more than keeps up with the big dogs. Packing the same quad-core processing power and library of effects, it's more than capable as the centerpiece of your home or live rig.

The MX5's 4" touchscreen gives you tactile control over your rigs, effects chains and parameters. It couldn't be easier to build a custom virtual rig and save it for easy access during a gig, or while noodling at home. Connect to your computer via the onboard USB interface to record, or tweak your tones even further. And if you've already got a few pedals you can't do without, connect them with the MX5's stereo FX loop and incorporate them into your hybrid rig! The MX5 is HeadRush's most compact, most affordable device, which makes its power and functionality all the more impressive.
HeadRush Looperboard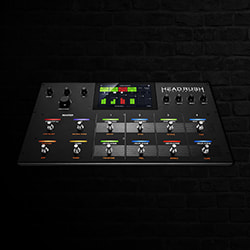 The Looperboard is the member of the HeadRush family that's just a little different. It's not a modeling processor like the others, but if you perform solo on stage with virtual accompaniment or just love overdubbing loops, this is the device for you!

Everything you've ever wanted a loop pedal to be able to do is possible on the Looperboard. You can record, play, overdub, or "peel" takes on four independent tracks, all while adding effects, adjusting playback speed, and more. A dedicated backing track player makes this your best friend for jamming. Plug a mic into one of its four XLR + 1/4" combi jacks and add vocals to the mix, complete with auto harmony and tuning! And if its eight hours of memory is not enough for your loops, just plug in a USB drive or SD card for infinite storage. Whether you want to layer ideas, build songs with different parts, or jam out to some backing tracks, the Looperboard pulls double duty as your composition and performance partner.
HeadRush FRFR Powered Speaker Cabinets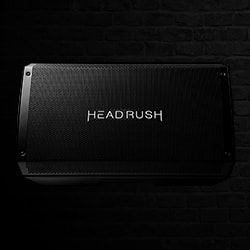 No modern guitar modeling rig is complete without a full-range, flat response speaker cabinet to faithfully transmit the tones you've worked so hard to dial in. That's where HeadRush's FRFR-108 and FRFR-112 come in. These specially designed powered speaker cabinets amplify your tone without coloration -- unlike a typical guitar amp, their circuitry is transparent, letting your amp sims and IRs do the tone shaping.

So which is right for you? Both models handle an impressive 2000 watts peak. The main difference comes in speaker size: the FRFR-108 has an 8" driver and is lighter, while the FRFR-112 has a 12" driver, which more closely matches that of a typical guitar amp.