Customer Kudos
"zZounds, you and I go back a ways. Never had a bad experience. Always the best. Thanks again for drum machine I just received btw."
June 6, 2022

Fender Tone Master Combo Amplifiers
Genuine Twin Reverb and Deluxe Reverb Sound!
Watch as Fender's Rick Heins discusses and demos the Tone Master Amps with zZounds' very own guitar guru Justin LaForte.
Fender has been the name on some of the most popular guitar amps of the last 70 years. Now, getting Fender tone to the gig just got a lot easier, thanks to the Tone Master Twin Reverb and Deluxe Reverb. At about half the weight of their
'65 Reissue counterparts
, Fender's Tone Master amps pump out all the tone you'll need. Their Class D power sections produce the same volume as the traditional 85-watt Twin Reverb and 22-watt Deluxe Reverb, and with attenuators built in, these amps are the right fit for any club or arena.
Incredibly pedal-friendly, both Fender Tone Master models focus on nailing classic Blackface tones, with all their DSP power allocated to produce powerful, familiar sounds. Loaded with Jensen Neodymium speakers, they're designed to cut down on weight and deliver a comparable performance to the standard Jensens found in the reissue amplifiers.
Fender Tone Master Twin Reverb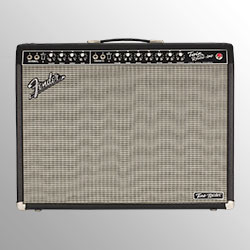 Love the explosive, muscular sound of a Twin Reverb but always wished it wasn't so heavy? Then you gotta check out the Tone Master version. This digital solid-state combo packs the punch of the tube-powered version, at nearly half the weight. And with the the amp's built-in attenuator, you can crank the volume to produce snarling overdriven tones -- without the ear-bleeding decibel levels. Perfect for pros on the go, the dependable Tone Master Twin Reverb is the ultimate stage amp.

• 200 Watts (simulates 85W tube amp performance)
• Switchable output power: Full/85W, 40W, 22W, 12W, 5W, 1W
• Two - 12" Jensen N-12K neodymium speakers
• 33 lbs.


Fender Tone Master Deluxe Reverb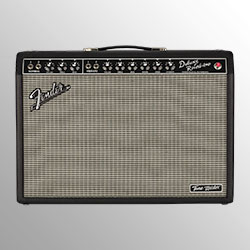 As the go-to amp for legions of loyal guitarists, the Deluxe Reverb offers a variety of tones, from sparkling clean to raunchy overdrive -- and everything in-between. The Tone Master model produces all the sounds you have loved for years, but with the added convenience of solid-state digital technology and enhanced portability due to its light weight. Pick up a Tone Master Deluxe Reverb as the perfect canvas for your pedals, or use it alone as the ideal guitar-and-amp-only rig.

• 100 Watts (simulates 22W tube amp performance)
• Switchable output power: Full/22W, 12W, 5W, 1W, 0.5W, 0.2W
• One - 12" Jensen N-12K neodymium speaker
• 23 lbs.