Customer Kudos
"Good customer service is hard to find, if you can find it at all these days. Nice to know zZounds hasn't forgotten what counts. I never bought from zZounds before and bet I'll be back again. Thanks guys!!"
December 19, 2022

Get in the Loop!
zZounds' Exclusive Effects Buying Guide
Your instrument's tone is just the beginning of creating your sound. But with so many effects out there, it's tough to know what's best for your rig. zZounds' exclusive Effects Buying Guides to the rescue! We've gone through hundreds of pedals, processors, and more gadgets -- and compiled the best of the best in a series of buying guides that covers just about every effect out there.

So whether you're buying your first fuzz pedal, or your fiftieth, we've got what you need to plug in, turn up, and create the sounds you've been dreaming of.
Guitar Tuners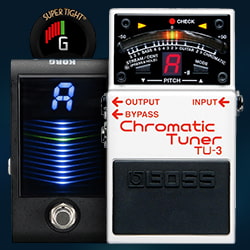 You can add layer upon layer of effects to your signal chain, but if your guitar isn't in tune, your audience will be cringing. Our Guitar Tuners Buying Guide is filled with the best and most trusted tuners available. Whether you need chromatic, polychromatic, or just a simple six-note guitar tuner, zZounds has exactly what's needed to get the job done.
Amp Modeling and Multi-Effects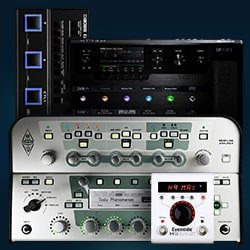 To play your best, you need to have total control of your sound. Follow our buying guide to get started on your journey to amp-modeling and multi-effects freedom!
Distortion, Overdrive, Fuzz, and Boost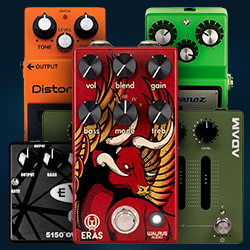 Musicians and audiences can't get enough of the raging, thick, crushing, saturated, overtone-filled thump of a clipping audio signal. zZounds' exclusive Distortion Effects Buying Guide will help you choose the perfect distortion, overdrive, fuzz, or boost pedal to give you the exact kind of distorted tones you're looking for.
Phaser, Flanger, and Chorus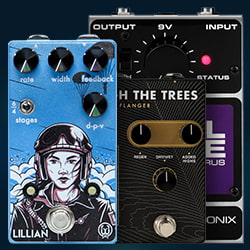 Adding depth and texture to your sound opens up the expression in your playing. Check out our modulation buying guide to find which effect suits your musical vision best.
Filter and EQ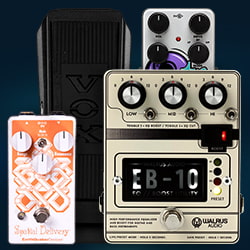 If you're ready to dive deep into the sound of your instrument and amplifier to find tonal perfection, filter and EQ pedals are a must for your pedalboard. Build a new vocabulary of sonic expression with any of these filter and EQ effects.
Special Effects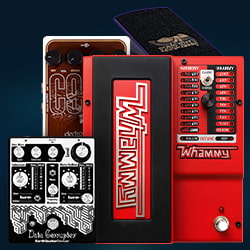 When is a guitar not a guitar? When it's played through one of these special effects! Check out our Special Effects buying guide to expand your guitar's vocabulary and take you on a journey of tonal discovery.
Reverb, Echo, and Delay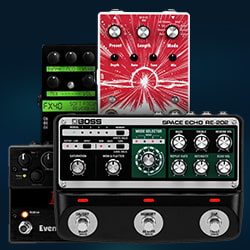 Delay, reverb and echo are some of the most essential effects in modern music. Whether you choose to go ultra-modern or vintage-inspired, all of these effects pedals will add depth and expression to your sound.