Customer Kudos
"zZounds is the best! Great products and a good variety to pick and buy from. Great customer service if you need any help with anything."
August 5, 2022
Breedlove ECO Collection
Where the guitar meets the forest
Breedlove's ECO Collection of guitars brings sustainable tonewoods to affordable price points. As an environmentally conscious guitar maker, Breedlove is at the forefront of using sustainable materials to create inspiring instruments. Every model from the ECO Collection is crafted from fully sustainable tonewoods with Breedlove's innovative EcoTonewood technology. The EcoTonewood process eliminates the soft, absorbent middle section of 3-ply back and sides, resulting in guitars that resonate freely and deliver the best tone possible.
Crafted to sound as good as any guitars made from conventional woods and construction, this collection offers three series -- Pursuit Exotic S, Rainforest S, and the Discovery S series. Explore the ECO Collection and find a Breedlove guitar that suits your needs.
Listen as we demo the Breedlove ECO Pursuit EX S in our exclusive video:
Shop ECO Collection »
Pursuit Exotic S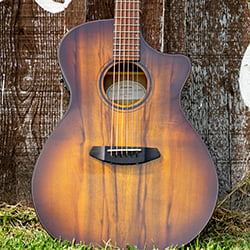 Pursuit Exotic S series guitars use Oregon's native myrtlewood for back and sides, with tops crafted from koa, cedar, and myrtlewood. Oregon's own mrytlewood produces a unique, resonant tone that shares mahogany's best qualities with the crispness of maple. This series offers a wide variety of models that include small and large-bodied guitars, 12-string guitars, ukuleles, and even a fretless acoustic bass.
Rainforest S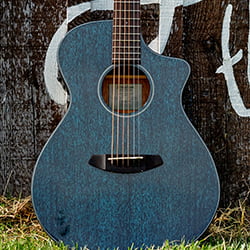 Featuring all-mahogany construction, Rainforest S series guitars come in several different eye-catching finishes that will make anyone stand out on stage. These Rainforest S models include warm earth tone finishes, and an open pore feel that helps the wood breathe and deliver a balanced tone.
Discovery S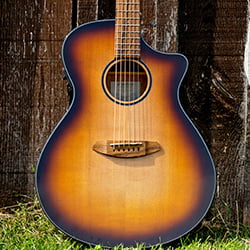 Discovery S series guitars feature a thinner neck profile, perfect for anyone looking to dive head-first into learning guitar while being friendly to Mother Nature. Available in everything from Companion to Concertina to Concert models, the Discovery S guitars are the most traditional-looking in Breedlove's ECO Collection, with Edgeburst and Natural finishes.