Posse Audio Personal On Stage Sound Environment Monitor System
No longer available at zZounds
This is a carousel with one large image and a track of thumbnails on the left side. Select any of the thumbnail buttons to change the main image. You may also use the left and right arrow keys to navigate between images.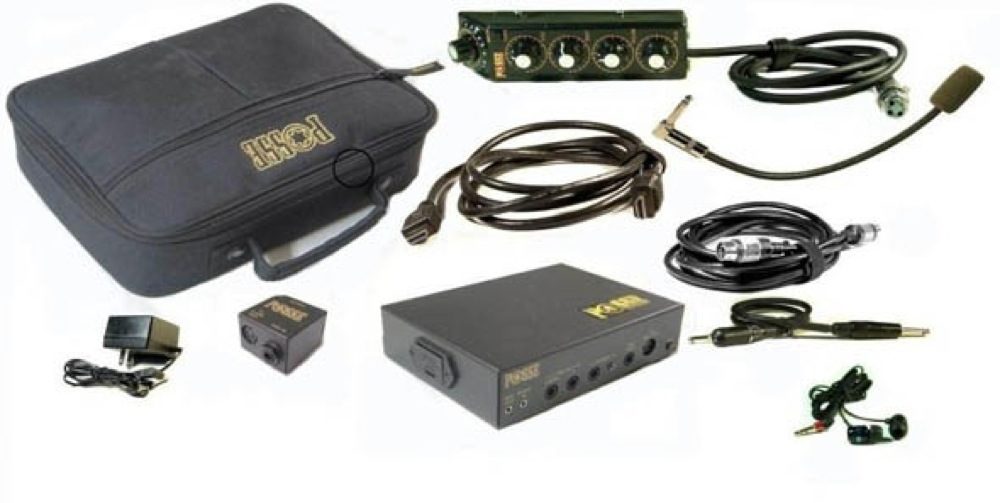 Adjust your sound levels to your liking without affecting what the audience and your band members hear with the POSSE personal monitor mixer.
The Posse Audio Personal On Stage Sound Environment Monitor System is the ultimate, easy to use personal monitor controller for live and studio use. The POSSE system allows you to customize your ear monitors in the comfort of your home or studio. Then, you can bring POSSE to any venue you play and always have the greatest confidence in how you sound, because you are taking your mix with you.
Posse Kit Includes:
- Floorbox
- Mic stand box
- 6-foot MIDI cable (to connect floorbox and mic stand box)
- 6-foot HDMI cable
- Earbuds (you can also plug in your favorite headphones)
- 3-foot guitar cable (to plug into belt box)
- Belt box
- Power supply
- External condenser microphone
- User manual
- Totebag
Learn how to set up your personal monitor system in this video from Posse:
Insert the Posse Between Your Mic/Instrument and the PA
The Posse personal monitor mixer is inserted between the performer's vocal mic and/or instrument, and the house PA system. Because Posse taps the audio signal path invisibly, it has no effect on the signal that passes to the house mix. The performer can adjust their mix without affecting what the audience and the other band members hear.
Any performer from a violinist in an orchestra to a drummer in a rock band, or a trumpet player in a big band to a solo singer/songwriter, will be stunned by the improved monitoring ability of the Posse personal monitor mixer.
Features:
- Comes with a built-in tuner
- No more feedback from floor monitors
- No more being at
…
read more
the mercy of the sound engineer
- No more blown out vocal chords because you can now hear yourself
- Control singing pitch while listening to a stereo mix with both headphones on
- Transparent to house systems
- Two built in stereo condenser mics to blend in ambient sound
- 5 individual controls, mic, instrument, ambient, aux and a master volume
- Mini stereo output for recording to a digital recorder
- A/C powered or works for 12 hours on one 9 volt battery
- Mini stereo input for MP3 player to send break music through the system
- Works with wired ears (included) or your own wireless in-ear system
- Built-in ambient mics create a complete personal sound environment you can control yourself on-stage
- Designed by musicians for musicians


Real-World Application Examples:
Solo Singer/Acoustic Guitarist, Live Venue
The performer plugs instrument and earphones into the Belt Box. Using the controls on the Stand Box, the VOC, INST, ROOM and AUX knobs can be individually adjusted to create a great personalized mix. The Instrument Mic (included) can be plugged into the Stand Box to add a natural quality to the Instrument Out and the earphone mix. A favorite mix can be carried with you from gig to gig.

Solo Singer/Keyboardist, Live Venue
Same as above, except the Keyboard plugs directly into the POSSE Floor Box. This allows for a stereo feed to the earphone mix. The output to the board is mono but the performer's earphones get the full stereo effect. If a stereo send to the board is desired, the keyboard outs plug into Direct Boxes (D.I.s) as you would normally do and the D.I. 'THRU' jacks are connected to the POSSE, INST IN's. In this application the Belt Box is being used as an earphone extension only.

Band Member, Live Venue
This setup utilizes the Auxiliary returns. The mix that would normally be sent to the performer's stage monitors is sent to the AUX INs (mono or stereo) on the Floor Box. A mix of any, or all, of the other band members can then be sent to the POSSE where it can be added to the performers own VOC, INST and ROOM signals, via the AUX knob on the Stand Box.

A Performer using Outboard FX on their instrument
A guitarist, for example, using a pedal board, preamp, volume pedal, etc. can still use the Belt Box as configured in example 1, above. The Floor Box has an output called, TO INST FX that sends the Instrument signal to the input of the FX unit. The output of the FX unit then goes to the INST INs (Stereo or Mono) on the Floor Box. With this setup, the effected signal goes to the house and your earphones. If the player is using onstage amps that they need to hear, they can turn the ROOM knob to change the live amp level.

Studio Singer and/or Instrumentalist
This setup takes special advantage of the POSSE's Room Mic feature. When recording a vocal, many singers uncover one ear while singing to improve control of their pitch and performance quality. By mixing in a bit of the stereo Room Mics, they've discovered that a comfortable level can be found without removing one of the headphone earpieces. Having the stereo room sound mixed back into your earphones allows you to sing to the full energy of the stereo track. It's more fun. In a small studio with limited cue mixes, the POSSE lets you customize your own mix by adding a bit more of your Vocal or Instrument level to a shared headphone mix. It's built-in-tuner and the POSSE's ability to serve as a 'Direct Box' can be invaluable in a small studio environment.

Private Practicing at Home
Using the POSSE to practice allows you to monitor yourself without disturbing others in the house or neighborhood. If you want to practice to recorded music, or any outside musical source (loops, MIDI etc), it can be fed into the AUX IN's on the Floor Box. Your live signal, Instrument and/or Vocal, can be mixed with the Auxiliary tracks, using the Stand Box knobs. Bringing up the ROOM volume will keep anyone from sneaking up on you.

Orchestra and Big Band self-monitoring
On a crowded stage, an Orchestral or Big Band player can use the POSSE to single themselves out in the swarm of sound that can confront them. In a stage setup that has no mics or just a few to catch the whole group, a player with the POSSE can set up a small mic stand in front of themselves, plug the Acoustic Mic (included) into the Stand Box, play into the Acoustic mic and mix themselves and the rest of the group (ROOM), in their earphones. Turning on the tuner and turning down the ROOM mics could be a great help when trying to tune. Alternately, a clip-on Mic or a pickup (not included) can be plugged into the INST IN for a similar result.

Recording Performances
In all applications the POSSE can be used to record your performances. They've included a REC OUT jack on the POSSE Floor Box. This sends the same mix that you hear in your earphones to your recording device. Using a stereo recorder like the small digital stereo recorders that have several hours of recording time, you can easily and inexpensively capture all of your performances. Unlike a mix taken directly from the house mixer, this one includes the stereo ROOM mics...It makes all the difference. You can also use the REC OUT as a 'playback in.' The audio coming into this jack will be routed to the headphones and not to the house system. Any recorded music that you want to go to the house, including these live recorded tracks, can be played back through the MUSIC IN input. It gets to the House system by way of the INST OUT.

Using the POSSE with Wireless Systems
Wireless transmitters will connect and work well with POSSE. The dimensions of the Floor Box allow a transmitter and/or receiver to rest squarely on top or underneath the Floor Box. The primary advantage of installing a wireless system using the POSSE (as opposed to installing it at the House PA mixing board) is that you can install and operate it yourself. Not being reliant on the house sound person can be a great advantage.

Zero Latency with any Digital System using POSSE
With POSSE, you can monitor a live performance before it gets to the digital recorder, resulting in zero latency. If the performer wants reverb added to their live experience it can be routed back from the digital workstation via the headphone mix being sent to POSSE's stereo AUX INs.
read less
Reviewers gave this product an overall rating of 4.5 out of 5 stars.
(

4

ratings)
Submitted July 12, 2013 by Mr Knowitall in Reading, PA
"POSSE IS AWESOME!&quot
Verified Customer
zZounds has verified that this reviewer made a purchase from us.
I have four decades of live and studio experience as a lead guitar / vocalist. I have used floor monitors exclusively. On of my current bands is leaning towards the top of the line Sennheiser in ear system. Eventually I would need to bring my own wedge/amp/mixer, or spend $$$ on the body pack / custom fit earbuds. I am a tinkerer, and have hot-rodded just about every piece of gear I own. If I were to design a system, I couldn't improve the POSSE system by much. Maybe EQ/Reverb for vocals. Due to an accident I sit when I play, so wireless is not important to me. If wireless is desired, they thought of that too, by combining a wireless system with the floor unit. I've used this system for two live gigs, and three rehearsals. I love it! The Room mics in the mic stand master volume / instrument input / tuner clamp on unit do distort with high stage volume, but are worthwhile for audience feedback, and balancing stage volume. I now rely on band members for instrument, and vocal stage volume, because we go without a sound man.
Sound
The vocals could use EQ and reverb, but is awesome for preventing blowing out your vocal chords. It also prevents breaking guitar strings by picking too hard, while competing with high stage volume. I did order foam earbud tips because the Teflon stock tips pop out of my ears when I sweat. I ordered two packs of small, medium, and large. The medium size is perfect. Much more base than stock tips.
Features
…
read more

The assembly of the components are robust. Don't set the floor box on hot surfaces like a tube amp. I love the concept of using DIN (MIDI), and HDMI interconnect cables. I bought HDMI and MIDI couplings, and carry extra cables for larger stage runs. I haven't tried the condenser acoustic guitar mic, but is a great idea for non electric acoustics. I love the fact the unit has phantom power that even runs off a 9V battery!

Ease of Use
Since the main band I play with doesn't mic instruments, and has no monitor/AUX sends, I close mic my amp's speaker with a Shure Beta 57a via a 1/4" phone jack to female XLR. I plug the 1/4" into the mic stand clamp on component where the included condenser mic would connect. I don't like the sound going direct, or out of my FX pedalboard as the diagrams show.

Quality
The components are all made very well, and the knobs on the mic stand are reminiscent of Fender Black Face knobs. I don't use the tuner function, but is awesome that it's there if I should do larger gigs with FOH sound. The tuner button when depressed mutes the "Instrument Out" in the floor box.

Value
It's a steel at $299.00. I was lucky to find an open box special at ZZOUNDS for $283.99.

Manufacturer Support
I did contact POSSE with questions about Phantom Power I asked if it would power a condenser mic using a 9V battery, instead of the included wall wart. The very nice gentleman (who gave me 15 minutes of his time), said that it would power a condenser mic while running on 9V battery. Since he had not been asked, and personally tried it, couldn't answer my question of the Alkaline battery life while using its phantom power. I cannot stress how easy the gentleman was to talk to. Awesome customer service skills.

The Wow Factor
It sets up in about five minuets, has 3 headphone outputs, phantom power, tuner, every I/O possible, and all fits in a small padded bag. I've let band / audience members listen to my mix via an extra pair of over ear headphones from one of the three jacks. I changed Master, Vocal, Instrument. and Room volumes, and they were blown away. The first question from band members was "Can I plug in to it"? I explained if the band members each had the system, we could daisy chain them. Otherwise they would only be hearing my mix. Great Job POSSE!

Musical Background:
Keyboard 2 years; Guitar 38 Years; Vocals 40 Years. I play in cover bands, Christian bands, I have a home studio.

Musical Style:
Blues, Classic Rock, Country Rock, Contemporary Christian, Contemporary Country, Jazz Fusion, and some Jazz Standards. It took m
read less
3 of 3 people (100%) people found this review helpful. Did you?
Thanks for your opinion!
No longer available at zZounds
In most cases, a product is unavailable because it has been discontinued by the manufacturer