Mark of the Unicorn (MOTU) Traveler Portable FireWire Audio Interface
No longer available at zZounds
This is a carousel with one large image and a track of thumbnails on the left side. Select any of the thumbnail buttons to change the main image. You may also use the left and right arrow keys to navigate between images.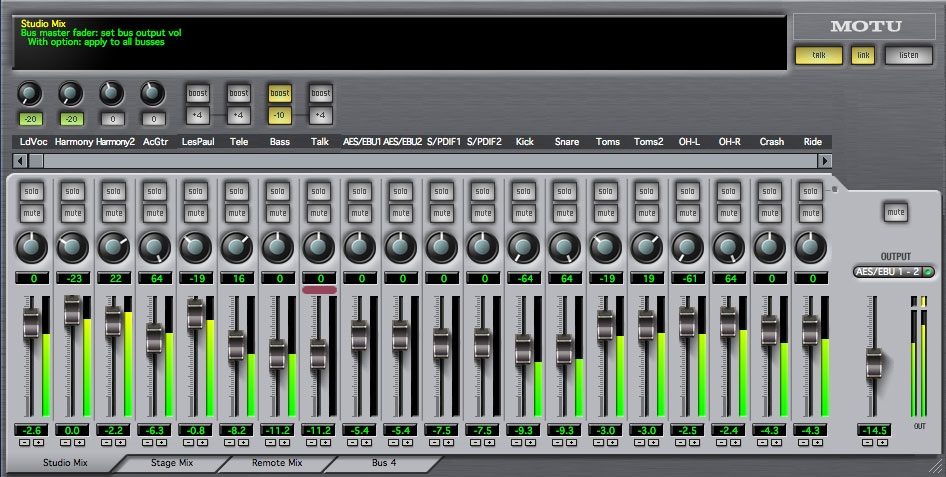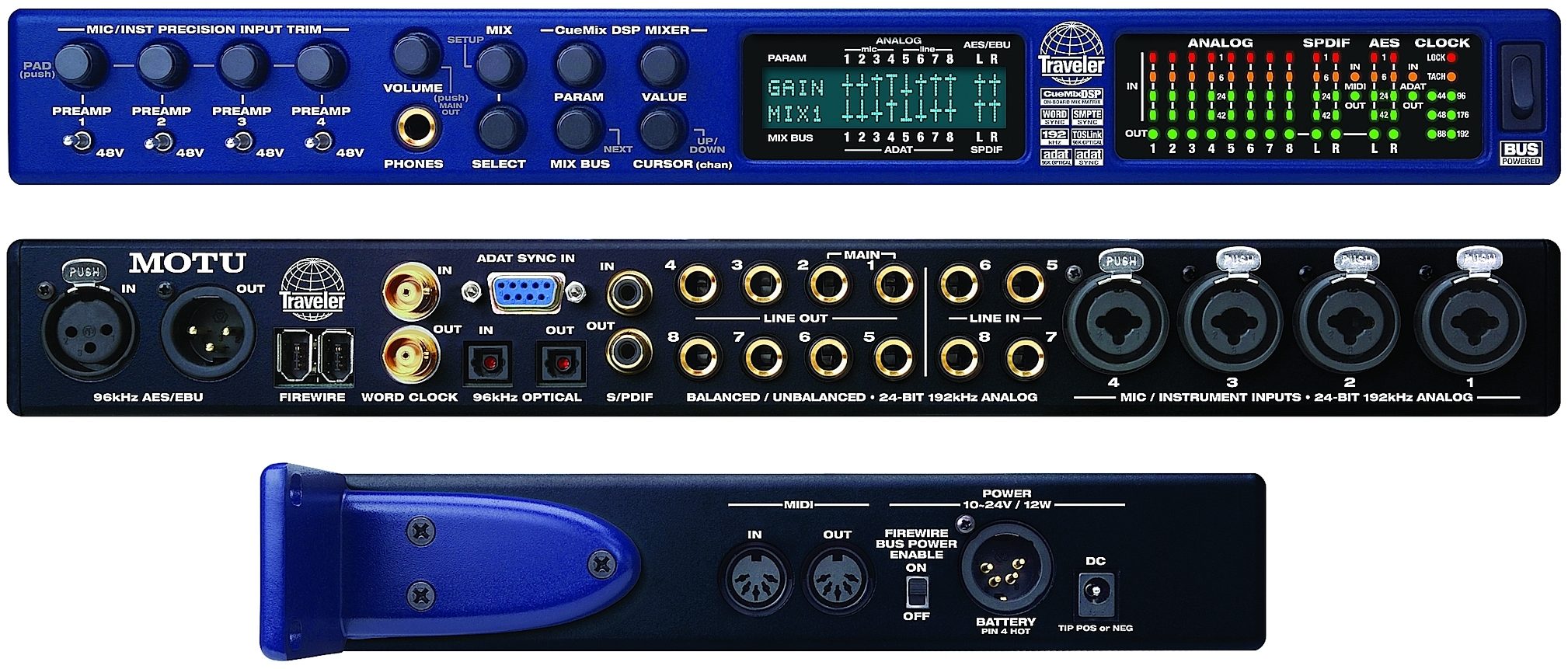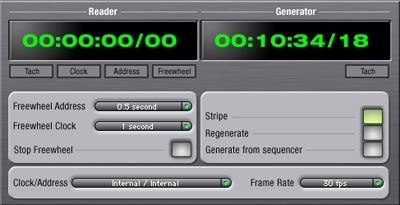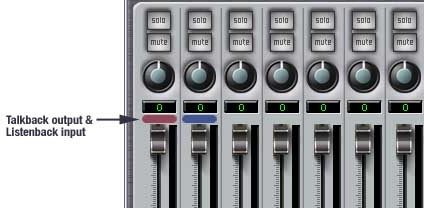 Sturdy lightweight construction. Compact size. 20 channels with 4 mic inputs.
The Traveler is everything you need to turn your computer into a mobile 24-bit, 192kHz digital audio workstation. Powered by your computer's FireWire bus, the Traveler gives you a complete, battery-operated studio wherever your recording projects take you.
Features:
Sturdy lightweight construction -- ready to travel with you anywhere
Compact size (14.75 x 9 in.) -- fits easily into a knapsack, briefcase or computer bag and sits perfectly under any laptop
Powered by computer* or battery -- no additional power supply necessary for complete recording freedom
20 channels with 4 mic inputs -- all the I/O you need
Individual 48V phantom power -- mix and match microphones
Digital Precision Trim -- adjust preamp gain in 1dB increments; save and recall multiple trim setups
Record at sample rates up to 192kHz
CueMix DSP -- provides latency-free monitoring system
Front-panel control -- access your entire mix, or any Traveler setting, directly from the front panel
Stand-alone operation -- program your mixes at the studio and then bring the Traveler to your gig -- no computer needed. Just plug in any DC power adapter (10-24 volts, tip positive or negative). Need to tweak the mix? Do it on site using the back-lit LCD and front-panel controls.
Multiple CueMix DSP mixes -- create different monitor mixes for the main outs and headphones. Add send/return loops for outboard gear -- with no latency
4 mic pre-amps with switchable 48-volt phantom power, front-panel Digital Precision Trim
…
read more
controls and pre-amplified sends

20 inputs / 22 outputs -- there's no channel sharing in the Traveler; the mic inputs, S/PDIF I/O, AES/EBU I/O, and headphone out are all handled as simultaneously active, independent channels.

8 channels of 24-bit ADAT optical input/output. Eight channels at 44.1/48kHz. Four channels at 88.2/96kHz

Sample-accurate digital transfers between ADAT digital tape decks and the computer via the ADAT sync port

Sample-accurate MIDI -- connect a MIDI controller and/or sound module with no separate interface needed. MIDI I/O is sample-accurate with supporting software

Expandable -- add additional 828, 828mkII, 896 or Traveler FireWire interfaces for additional I/O

Eight 24-bit 192kHz outputs on balanced/unbalanced 1/4" TRS jacks

Four 24-bit 192kHz inputs on balanced/unbalanced 1/4" TRS jacks

Separate headphone jack, with independent volume control

Stereo 24-bit 96kHz S/PDIF in/out

Word clock in and out

Sample-accurate ADAT sync

Built-in SMPTE time code sync

Includes drivers for Mac & PC, including ASIO, WDM, Wave, GSIF, Core Audio, and Core MIDI. Supports all popular Macintosh and Windows audio software.

100% compatible with all host-based effects processing in today's popular audio programs

Includes AudioDesk full-featured sample-accurate workstation software for the Macintosh with recording, editing, mixing, real-time 32-bit effects processing & sample-accurate sync

2 FireWire ports for daisy-chaining without a hub

Front panel meters for all analog, digital and MIDI I/O, plus SMPTE sync tach and lock LEDs

Dedicated front panel clock status LEDs

*Bus power requires a non-adapted 6-pin FireWire port

The Traveler Front Panel
The Traveler provides eight channels of pristine 192kHz analog recording and playback, combined with all of the digital I/O you need: ADAT optical, AES/EBU and S/PDIF (both TOSLink and RCA). Expand your system by connecting additional Traveler, 828 or 896 FireWire audio interfaces.

Precision Trim and On-Board Mixing
The Traveler's four microphone/instrument pre-amps are equipped with individual 48V phantom power switches and digital Precision Trim controls, conveniently adjusted from the front panel or the included CueMix Console software. No mixer is required, thanks to CueMix DSP, the Traveler's latency-free, 8-bus digital mixer. Connect all of your studio gear, including microphones, guitars, synths, keyboards, drum machines and even effects processors. Then monitor all of these live inputs via the Traveler's main outs, headphone jack and/or any other output -- with no latency and no processor drain on your computer. You can even create separate monitor mixes for the main outs, headphones and other outputs. Control everything from the CueMix Console software or directly from the Traveler's front-panel.

Bus Power and Extended Battery Operation
Time to hit the road? The Traveler slides easily into your backpack or briefcase and fits neatly beneath your laptop. Record in the most remote locations with the complete freedom of battery power. You can even use the Traveler as a stand-alone mixer. Tweak your mix on the spot with the Traveler's backlit LCD and front-panel controls.

Ideal for Studio and Stage
Back in the studio, mount the Traveler in your rack with the included rack ears. Eight channels of ADAT optical I/O make the Traveler an ideal companion for a digital console. The ADAT lightpipe connection supports sample rates up to 96kHz.

Additional Features
The Traveler includes a 16-channel MIDI interface. Simply plug in your FireWire cable, and both MIDI and audio are ready to go. Connect any MIDI device, such as a controller keyboard, synth module, automated control surface or drum machine. Timing is sample-accurate with supporting software.

The Traveler provides cross-platform compatibility with Mac OS X (10.2.3 or higher), Windows Me/2000/XP/Vista and all of your favorite audio software and host-based effects via WDM/ASIO/Core Audio drivers. Or you can use the included AudioDesk workstation software for Macintosh, with 24-bit recording/editing and 32-bit mixing/processing/mastering.

Traveler Inputs and Outputs
All inputs and outputs are discrete and simultaneously active. For example, a mic-preamp input does not "steal" an input from the TRS analog I/O bank. In addition, the headphones and main outputs are available as separate mix destinations. They are not forced to "mirror" another output pair, although you can configure the headphones to mirror any output pair you wish.

Traveler MIDI
The Traveler includes a 16-channel MIDI interface that provides sample-accurate timing with supporting software. Connect a MIDI keyboard, sound module or control surface, and you are ready to go. The FireWire cable carries both MIDI and audio so you don't need to connect an additional USB cable for MIDI.

Traveler CueMix DSP
The Traveler provides DSP-driven digital mixing and monitoring for all 20 inputs. You can connect mics, guitars, synths and effects processors, and monitor everything from the Traveler's main outs or headphone jack with no separate mixer needed and no latency.

The Traveler supports up to 4 separate stereo monitor mixes assigned to any 4 digital or analog output pairs. For example, you could set up separate monitor mixes for the main outs and headphone outs, while 2 additional stereo buses could be used for send/return loops to reverb units or other outboard gear. Each mix can support all 20 inputs: 8 TRS analog (including 4 TRS/mic combo inputs), 8 ADAT optical digital, 2 S/PDIF digital, and 2 AES/EBU).

Bounce Back
A new "CueMix Bounce Back" feature lets you route one of the 4 CueMix DSP mixes back to the computer. This allows you to record, for example, your entire mix -- including monitored inputs -- back into the computer.

Talkback
CueMix Console provides Talkback and Listenback buttons. Talkback allows an engineer in the control room to temporarily dim all audio and talk to musicians in the live room. Conversely, Listenback allows musicians to talk to the control room. For Talkback, you can set up a dedicated mic in your control room and connect it to a mic input on your Traveler. For Listenback, you can set up a dedicated listenback mic in the live room for the musicians and connect it to another mic input.

Stand-Alone Mixing
The Traveler can function as a stand-alone digital mixer. Create up to 4 independent stereo mixes and adjust them on the fly with the front panel display.

Traveler SMPTE
The Travler provides on-board SMPTE time code synchronization features that allow you to slave your Traveler system to SMPTE time code without a synchronizer.

The Traveler provides a DSP-driven phase-lock engine with sophisticated filtering that provides fast lockup times and sub-frame accuracy.

The included MOTU SMPTE Console software provides a complete set of tools to generate SMPTE for striping, regenerating or slaving other devices to the computer. Like CueMix DSP, the synchronization features are cross-platform and compatible with all audio sequencer software that supports the ASIO2 sample-accurate sync protocol.
read less
For support or warranty questions, please contact the manufacturer:
Phone: 617-576-2760
Reviewers gave this product an overall rating of 4.5 out of 5 stars.
(

64

ratings)
Submitted February 24, 2005 by a customer from buckeye-express.com
"Great Interface, nice features, screen, midi timing,+mine came w/ PSU!&quot
Verified Customer
zZounds has verified that this reviewer made a purchase from us.
I'm happy, its serving its exact purpose right out of the box. Audio is clean, and midi is flawless (thank you MOTU!-no more headaches!) I've not tried it with a laptop or live, though I have no doubt it would perform flawlessly as an interface or even as a mixer. Seeing as its made to be toted, I wish it were a tad more sturdy, specifically the screen, but the unit itself is nice and solid. I only wish I had opted for this sort of professional interface sooner instead of wasting my time with cheaper products that were simply not as perfectly suited for DAW work.
Sound
I don't have a ton to compare it to right now, but it sounds as clear and clean, certainly as nice, as the Digi001/002R. Other than that, its a pretty straight forward interface, 4 pre's are nice.
Features
A tad expensive, but really brilliant in terms of tweakability! You can save multiple mixes with their various cooresponding parameters and pull them up instantly, very nice! You can even name them whatever you like, and the screen changes to indicate specifically what parameter you're changing and give you a detailed readout (sort of like the Remote25 only for audio.) Really I was actually a bit confused thinking there were only 4 audio ins, but there are actually 10 total inputs, 4 pre's and 6 line-ins, which is great considering you can use the Traveler as a portable digital mixer!! Also to note, my particular unit did come with a PSU as well
…
read more
as a firewire cable, and I had no trouble powering it just from the FW cable when it is connected to my Apple desktop.

Quality
Hmm, the unit body itself is solid and pretty compact and heavy duty. But...I'm a bit worried as the knobs are a bit 'sticky' (hard to turn) despite being very small and plastic feeling. Hopefully they just need to be broken in or something. Plus, (this is a major worry for me) when you depress the knobs near the screen, or 'click them down' as it were, to enter a parameter, the screen appears to literally bend down and move in, like you're pressing on a plastic blister-pack. Reeeaally going to send in that warranty card this time...

Value
The mix matrix is great, well worth the bit of extra cost for me at least as I don't currently have a traditional mixer. I wish the buttons were a bit more study feeling, and the screen-depression issue is making me a little nervous, but all in all I'm really glad to have opted for MOTU quality, its so much less of a headache than dealing with a cheaper and less widely tested interface. I'm also very happy that everything works out of the box, despite being a very new product. Well worth the extra $100 or so above the 828MKII, a truly portable mix/i/o solution.

Manufacturer Support
I'll give them the benefit of the doubt. Plus the website was easy to get the latest drivers from and they had very clear installation instructions in OSX.

The Wow Factor
The display and mix matrix, the whole editing system is very cool, much like the old Emu Command Stations midi editing. I've never seen such an intuitive interface so begging to be tweaked, this vs. NO screen on the Digi002R. Rather nice looking overall, buttons feel, though do not look, a tad cheap perhaps. Still though, the screen, the screen is such a cool idea and so handy!

Musical Background:
Recording Student

Musical Style:
Industrial, Rock
read less
6 of 6 people (100%) people found this review helpful. Did you?
Thanks for your opinion!
No longer available at zZounds
In most cases, a product is unavailable because it has been discontinued by the manufacturer