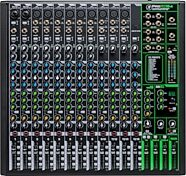 THE workhorse compact mixer! Mackie's 3rd-gen ProFX16 gives you 11 Onyx mic preamps, one-knob compressors on 8 channels, 2x4 USB I/O and 24 built-in effects!
Mackie Onyx 1640 16-Channel Mixer
No longer available at zZounds
High Quality Mackie Preamps. Optional FireWire Interface for Computer I/O.
Mackie Onyx 1640 Mixer (16 Channels, 4 Buss)
The Mackie Onyx 1640 flagship mixer meets Mackie's goal for the Onyx series mixers: to bring premium analog sound, expanded features, and streaming FireWire connectivity to both recording and live sound environments. To pull all this off, Mackie started with a team of veteran audio product engineers from the great Pacific Northwest (aka Woodinville, Washington). The Onyx team quickly set out by specifying the highest-quality analog components--from premium op-amps to IC chips costing exponentially more than previous designs. In many cases, they developed components completely from scratch. With Greg Mackie himself steering Onyx mixer layout and design, they took a "real world" approach to the entire process.
Features
Premium 16-channel/4-bus small-format analog mixer
16 new ONYX mic preamps comparable to boutique preamps
New 4-band Perkins EQ with dual sweepable midrange controls provides warm, musical sound
96kHz FireWire option for streaming 18 independent channels of audio to computer with near-zero
latency
2 channels of monitoring from computer via FireWire option card
6 Aux sends with Pre/Post & Solo switches
4 stereo line-level inputs
4-bus architecture for flexible sub-grouping of channels
Built-in Talkback section for use with internal or external mic
True hardware EQ Bypass
"Planet-Earth" switching power supply for worldwide use
Linear taper 60mm faders
…
read more
with ultra-smooth response on all channels

Balanced direct outs for every channel via DB-25 connections

Selectable Instrument inputs on first two channels--no DI box needed

Rotating I/O pod for desktop or rackmount operation

Onyx Mic Preamps

Because a great mixer starts with great mic preamps, Mackie invested significant R&D efforts into developing their new flagship Onyx mic preamps. These preamps build upon Mackie's already-impressive XDR design to meet or surpass expensive esoteric standalone mic pres in terms of fidelity, headroom and transparency - as well as improved radio frequency (RFI) rejection and wider dynamic range.

Onyx Mic Preamps: Studio Preamp Performance in a Compact Mixer.

Developing Makie's flagship Onyx mic preamps presented a unique challenge. On one hand, they wanted to deliver traits more commonly associated with boutique studio mic preamps: a tight, focused high end, superior ambiance retrieval, detailed lower bass octaves, and highly textural midrange-no matter what type of microphone was plugged in. On the other hand, Makie knew Onyx mic preamps would have to function in the real world of mixers, which often includes high levels of radio frequency and microwave energy, long cable runs and the occasional 'hot patched' cable.

Solving this paradox, the Onyx mic preamp builds upon Mackie's already very impressive XDR mic preamp design (found in their VLZ PRO mixers) and adds custom high-performance IC chips developed specifically for low-noise, high-headroom audio. The end result is a level of accuracy and transparency unsurpassed even in expensive esoteric standalone models, as well as gobs of dynamic range (yes, that's the technical term).

Specifically, the Onyx mic preamp delivers outstanding, verifiable specs like 123dB total dynamic range, 129.5 dBm Equivalent Input Noise, and 0.0007% Total Harmonic Distortion. Onyx mic preamps also address things like input impedance and linearity, maximum input level handling at low gain settings, shielding and grounding effectiveness, overload recovery, and radio frequency interference better than any preamp in Mackie history. And because Onyx mic preamps are designed for use at 'real world' gain settings, they'll easily handle anything from +22 dB line level down to microvolt-level signals from a ribbon mic, without adding noise.

But commonly published specifications and technical talk tell only part of the Onyx preamp story. The real test comes when you plug a really good studio condenser mic into an Onyx mixer. Listen to the depth, headroom and immense detail. Then plug that same mic into any other small-format mixer, or even much more expensive stand-alone mic preamps. We think you'll agree the Onyx preamp gives you transparency and fidelity on par with any preamp on the market.

Mackie rounded out the Onyx 1640 feature set by answering some common requests from our compact mixer customers: adding individual 48v phantom power and balanced direct outputs on every channel; a full Auxiliary section with Pre/Post control; and a new Talkback section with a convenient built-in mic. They even developed a "Planet Earth" switching power supply for worldwide use.

After 15 years of designing and building the world's best-selling professional compact mixers, Mackie knows a thing or two about what their customers want. (Naturally, they also hear it regularly and vocally on the forums of their website.) With the Onyx series, Mackie considered a host of these user-requested mixer features and made them so.

Balanced Direct Outputs

Because you can never have enough direct outputs, Mackie gave every single channel of the Onyx mixers a balanced Recording output via a pair of rear-panel multi-pin DB25 connectors. These industry-standard connectors will let you plug Onyx mixers directly into a wide range of digital consoles, hard disk recorders, and analog and digital tape machines, recording the cleanest possible signals coming right off the individual channel preamps (12 channels on the 1220; 16 channels on the 1620 and 1640). Importantly, these direct Recording outputs are post-channel gain, but pre-EQ, pre-Insert, and pre-fader. So you can, for example, mix a live gig using mixer EQ, outboard processors on channel inserts, and adjusted fader levels - without affecting the signal going to your recording device.

Talkback Section

Onyx mixers also feature a convenient Talkback section with a built-in mic--a first in this class of mixer. Using the Talkback section, you can quickly communicate with vocalists, musicians, and even drummers, simply by pressing the spring-loaded Talkback button. The Talkback signal can be routed to the Control Room/Phones output, to Aux. 1/2, or both. If you prefer, you can even connect an external mic--letting your executive producer scream orders from the couch.

Individual 48v Phantom Power

Answering another often-heard request from our compact mixer owners, Onyx mixers offer individually switchable, true 48v phantom power on every preamp. That's because, despite the widely-held notion that dynamic microphones don't "see" phantom power, the presence of phantom power where it's not needed can adversely affect overall sound or even damage sensitive ribbon mics. With individual phantom power on every channel, problem solved.

Full Aux Sections

All Onyx mixers feature fully discrete, high-quality Auxiliary sends with individual Pre/Post switches (1220, 1620, 1640) and Solo control (1640 only). Additionally, each send offers a dedicated Master control so you can dial in the perfect level for your stage monitors, for example. The Onyx 1220 offers 2 Aux sends; the 1620 has 4 Aux Sends; and the 1640 gives you a whopping 6 Aux Sendsperfect for live sound applications.

Power Supply

OK, power supplies aren't the most sexy feature of the Onyx mixers. But developing a "Planet Earth" switching power supply for one of the world's quietest and most rugged audio mixers was no easy task. Because Mackie wanted Onyx mixers to perform flawlessly wherever and whenever you plug them in, they enlisted the services of one of the Pacific Northwest's top power supply designers. (He's the same guy who designed the power supply for the gaming console from the world's biggest software company.) The end result of all this power supply design is that the Onyx mixers will work wherever in the world you plug them in. Just use the appropriate IEC power cable (Mackie has included both 220v and 110v versions in the box).

FireWire I/O Option Card

In the category of "Why didn't someone think of this sooner?", Mackie gave the Onyx 1640 an optional FireWire I/O card, which bridges the analog-to-digital gap by providing up to 18 independent channels of high-quality 24-bit/96kHz audio that you can plug right into your FireWire-equipped Mac or PC. And bring a stereo mix back from your computer for monitoring purposes.

Onyx FireWire

For those who record and produce music on computers, Mackie has given Onyx mixers another "world's first" - an optional user-installable 24-bit/96kHz FireWire I/O card with the ability to send up to 16 individual channels of high-quality digital audio direct to any FireWire-equipped computer (Windows XP or Mac OSX.3 or later). The FireWire card also sends a Left/Right stereo "quick mix" to the computer, with a level trim control that boosts or cuts the mix by +/-10 dB as it is sent to the card - again letting you set levels independently for the live L/R mix and the recorded tracks.

Better still, the FireWire interface returns two channels of audio from the computer to the mixer, letting you monitor your computer through the control room/phones matrix (pictured at left). So with FireWire, Onyx mixers can record everything from live gigs to studio sessions, with higher quality and lower latency than many dedicated computer audio interfaces. (In fact, an Onyx 1640 mixer with FireWire rivals the specifications and performance of dedicated studio A/D converters costing more than the entire Onyx 1640 mixer. Not to mention giving you way more channels and flexibility.)
read less
For support or warranty questions, please contact the manufacturer:
Phone: (800) 898-3211
Email: support@mackie.com
Reviewers gave this product an overall rating of 8 out of 10 stars.
(

100

ratings)
Submitted November 10, 2006 by a customer from allstate.com
Mackie Onyx 1640 Mixer Customer Review
This is a nice starter board for the home studio and a great board for a small band. I'd say better for live sound than recording, but it depends on your preference. It would work fine with an outboard HD recorder.
Sound
The preamps are very nice, clean and uncolored. This board has many features that make it desireable.
Features
Mine came with the firewire card. I would not recomend it for serious recording via the firewire card though. Totally do-able if you use tracktion (the mackie redording software) and are not interested in studio quaility recording. But if you use a cpu hogging program like Sonar (which gives a better end result than traction, despite being difficult to use by comparison)you better have a very up to date computer or you will not get good results. Seriously disturbing latency problems with high end recording software like Sonar Producer edition.
Ease of Use
The tlyaout for this board is a little tight i question the wisdom of the attempt at making it rack mountable. Whose rack is that deep?
Quality
The board fires up every time, but the firewire card is often not recognized by a typical PC. It's a firewire problem, and while not unsurmountable it is a little frustrating. Also, the thing should have had two signal paths available to the Firwire card, assignable by a button, rather than only preamp to card bypasssing basically the rest
…
read more
of the board. I'd love to try those perkins EQ's in my mix without having to patch through two cannels.

Manufacturer Support
Mackie support was fantastic at giving answers, although sometimes the answer was sorry that's just how it is.

Musical Background:
Recording Engineer

Musical Style:
Country
read less
31 of 36 people (86%) people found this review helpful. Did you?
Thanks for your opinion!
No longer available at zZounds