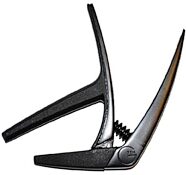 Clamp it down fast with the unique and effective design of the G7th Nashville guitar capo. The spring strength has been reduced to eliminate detuning.
G7th Performance Capo
No longer available at zZounds
With an easy-to-use design, the G7th Performance capo lets you adjust the clutch in tiny increments to find just the right fit for your guitar's neck.
The G7th Performance capo is a completely different approach to capo design. It has none of the disadvantages of conventional capos, but instead offers enhanced performance and is simple to use. Not only that, it looks and feels great!
The designer, Nick Campling, says... "I've struggled to find a capo I can live with for the best part of 30 years. They all either pulled my guitar out of tune, were fiddly to adjust, or they got in the way of my hand. Some just didn't work! The G7th Performance Capo is a result of combining my product design skills with my needs as a guitarist."
The Capo Problem
The capo is a constant source of frustration to guitarists. They can be awkward to use. They can pull your guitar out of tune. They can interfere with the players hand.
Most Capos Fall Into 2 Categories
Non-Adjustable -- These capos usually work using a strong spring. They are simple and quick to use, but the spring tension cannot be adjusted, therefore they exert a different tension on each fret, and often cause tuning problems. They can also require a lot of strength to use.
Adjustable -- A good adjustable capo is less likely to cause tuning problems. However many are awkward or fiddly to use. Some have only stepped adjustment which is too crude. Others interfere with the players hand.
The G7th capo has none of the problems of existing capos, but all of the benefits!
"This will probably revolutionize the way we think about capos - a no hassle solution for guitarists." Guitarist Magazine
…
read more
Nov 03

The G7th Design
The wrap spring clutch consists of just 3 elements: a fixed hub, a moving hub, and a spring whose inside diameter is just slightly smaller than the outside diameter of the two hubs. When the spring is forced over the two hubs, attempting to rotate in the direction which opens the capo wraps it down tightly on the hubs, positively engaging them.

Rotation in the other direction, to tighten the capo onto the strings, is not restricted. To release the capo, the control tang is moved in the direction to unwind the spring, thus releasing the clutch.

The beauty of this type of clutch for this application is that it can be adjusted in tiny increments.

The clutch mechanism is a modified tried-and-tested design used in printers and copiers to provide a simple decoupling and overrun device.
read less
For support or warranty questions, please contact the manufacturer:
Phone: 866-632-8346
Reviewers gave this product an overall rating of 10 out of 10 stars.
(

28

ratings)
Submitted June 23, 2014 by Claudio M in Atlanta, GA
"Capo G7th&quot
Verified Customer
zZounds has verified that this reviewer made a purchase from us.
the G7th capo has a beautiful feature, and very easy to use, it really is fantastic.
Musical Background:
playing music but 7 years Guitar
Did you find this review helpful?
Thanks for your opinion!
No longer available at zZounds
People who bought this item also bought