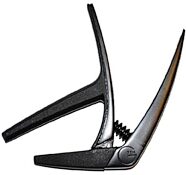 Clamp it down fast with the unique and effective design of the G7th Nashville guitar capo. The spring strength has been reduced to eliminate detuning.
G7th Performance 2 Capo
No longer available at zZounds
This updated version of the G7th Performance Capo is slimmer, smaller, and lighter with an easy squeeze-on/squeeze-off design.
The G7th Performance Original set a higher standard of capo design. Players loved the way that it kept the guitar in tune, but wanted it to be smaller and lighter, without compromising the tone. All that has been impossible until now: The Performance 2 gives you the ultimate capo experience.
Not only has G7th made it slimmer and lighter, but they have also reversed its patented clutch mechanism, which gives it a lightning fast squeeze-on, squeeze-off action. It has also been designed to store behind the nut or on the peghead when not in use.
Check out the sleek, easy-to-use G7th Performance 2 Capo:
Features:
- Unique Squeeze on, squeeze off action
- Best for players most concerned about tuning problems
- Easy to use exactly right amount of pressure
- Same routine for every fret of every guitar
- Easy to fine tune the guitar when in position (groove in rubber)
- Mass & hard rubber improves sustain
For support or warranty questions, please contact the manufacturer:
Phone: 866-632-8346
Submitted January 7, 2020 by Summer Peterson in Idaho Falls, ID
"Best capo I have ever used.&quot
Verified Customer
zZounds has verified that this reviewer made a purchase from us.
I have two of these G7 capos and will buy a third. (the golds a bit more money, but it's a beauty). I have used about every capo there is, Shubb, Kyser and so on, and for my playing style nothing beats the G7. First, the intonation is excellent. I use it on my Taylor 714ce V brace, that is known for its great neck intonation, It matters not where I put the capo, it's either spot on or very, very close. I used other capos and they distort tuning slightly, and slightly isn't good enough. Another reason, and a big one, is I am a thumb player on the E string. The posistion of my hand can crowd the left fret. If I have a bulky capo (as most are) my hand and pointer get impaired and I hate moving the capo down close the next fret. The slim design on the G7 solves that problem. Shubb came close, but no cigar. Simply the best capo I have ever used.
Musical Background:
Played 54 years both professionally and home jam.
Musical Style:
Acoustic Blues, Classic Rock, Christian.
1 of 1 people (100%) people found this review helpful. Did you?
Thanks for your opinion!
No longer available at zZounds
People who bought this item also bought