Catalinbread SFT Foundation Bass Guitar Overdrive Pedal
No longer available at zZounds
This is a carousel with one large image and a track of thumbnails on the left side. Select any of the thumbnail buttons to change the main image. You may also use the left and right arrow keys to navigate between images.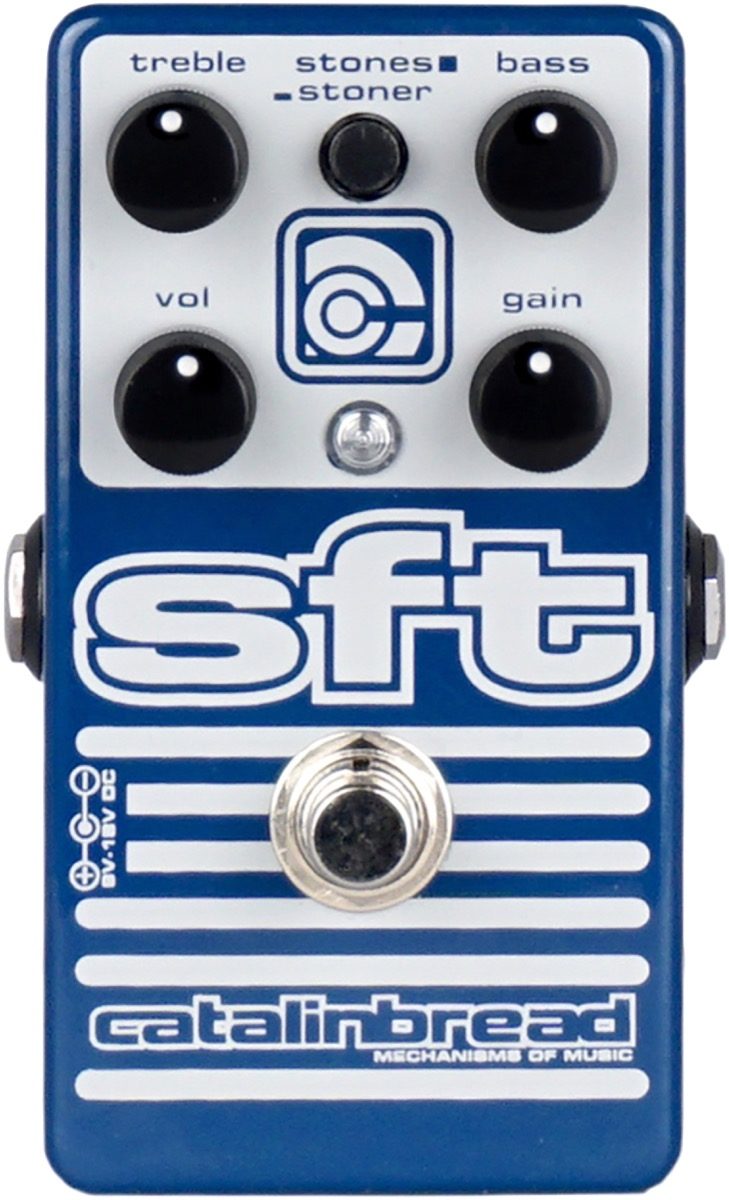 Designed with both bassists and guitarists in mind, the SFT can go from early '60s fuzz bark to the heavy, roaring howl modern downtuned players hunt for.
The redesigned SFT by Catalinbread is an AMPEG flavored foundation overdrive, providing classic late '60s and early '70s Stones-inspired tones with the addition of modern Stoner influenced sounds via the new STONES/STONER switch. Catalinbread also took the opportunity to expand the gain range and improve the dynamic sensitivity of the original circuit, providing the player with a more expansive big amp feel at the pick. Equally suited for guitar or bass just like the original.
In STONES mode, fans of the original SFT will instantly recognize the signature AMPEG tonal character and playing feel that made those amps famous. With increased touch sensitivity and a wider gain range from sparkling clean to the warm and wooly AMPEG grind - aka Street Fighting Tone - the 'big amp feel' playing experience is even more authentic.
The STONER mode opens the floodgates! A torrent of gain, saturation, and gobs of output flow outward essentially turning the SFT into a thick, beefy sounding fuzz. Hitting this switch unleashes each of the three gain stages, creating raw, ripping leads and thick sludgy riffs that sound absolutely massive!
Stones/Stoner switch modes:
This switch completely reconfigures the SFT and makes it become a completely new beast. Think Jekyll and Hyde! Two pedals in one! If you want the most authentic big Ampeg tube amp response, use Stones mode. If you want a rippin' high gain distortion sound that can achieve huge fuzz tones, use Stoner mode. Since the SFT
…
read more
basically offers you two pedals in one, wand go through how the controls work for each mode.


Stones mode:
Treble / Bass knobs: Set to noon for a relatively flat response. Below noon to cut and above noon to boost. These are treble and bass shelving controls and have been carefully voiced for the SFT.


How do I control the midrange?
In Stones mode, setting all controls at noon will give you a flat response with a slight emphasis on the lower mids to give that big bodied Ampeg sound. To get more of a mid-hump response, try starting with Bass at 9:00 and Treble at noon. The Treble control is voiced to boost not only the highs but the upper mids as well so you can turn the Treble control up a bit to get more mids to crunch through. Try setting the Treble from noon to about 1:30 to boost some upper mids without increasing the treble too much. Also, turning the Gain control up will provide more push in the midrange as well. And if you want to scoop the mids, just turn the Treble and Bass controls up. This is most effective when you run with lower Gain settings.


Range of Bass control:
Turning the Bass control down from noon gives a high-pass shelving response around 200hz. This allows you to tighten up the response and attenuate those woolly and woofy frequencies. Turning up the Bass control boosts all those frequencies. You'll notice as the Bass control is turned towards maximum there will be a huge bump in low end. Huge. For most purposes that is too much boost of the low end! That huge amount of low end boost is there so you can crank it for the fuzz setting in Stoner mode. For most uses, you'll probably find the Bass control wants to be somewhere between 9:00 and noon on the dial.


Range of Treble control:
Turning the Treble control down from noon gives a low-pass shelving response at around 1000hz. Typically you'd turn the Treble down below noon in the following situations: you've got the Gain set low for clean response, you're in Stoner mode dialing in a woolly fuzz tone, or you're playing bass. Turning up the Treble control first gives you a nice kick in the upper mids from noon to 2:00 and then beyond that the sound will get increasingly more trebly. For most uses on guitar in Stones mode, you'll probably find yourself setting the Treble from noon to 2:00.


Gain knob:
In Stones mode, the range of the Gain knob has been tuned to be very similar to that of the volume control on a big non-master volume tube amp. So, from minimum Gain to about 10:00, the response will be clean and bright. From 10:00 to noon, you'll get edge-of-breakup response that is very sensitive to pick attack. From noon to 2:00, you'll hit the overdrive sweet spot, just like that of most tube amps. And from 2:00 on, you'll get increasing crunch and saturation.


Features:
- Baxandall tone stack: an elegantly simple yet powerful design that allows shaping of treble, mid-range and bass frequencies utilizing only two controls.
- Volume and Gain controls: capable of boosting an amp into overdrive, or providing "big amp" sounds at lower volumes.
- STONES/STONER mode switch: switch between classic 60s AMPEG and modern high gain sounds.
- 9V battery or DC power supply for use from 9-18VDC: 9v operation yields smoother compression and a softer feel. Powering at 18v allows for more headroom and a more percussive attack.
read less
For support or warranty questions, please contact the manufacturer:
Phone:
503-841-5098
Web: https://catalinbread.com/
No longer available at zZounds
In most cases, a product is unavailable because it has been discontinued by the manufacturer
This is a carousel with product cards. Use the previous and next buttons to navigate.