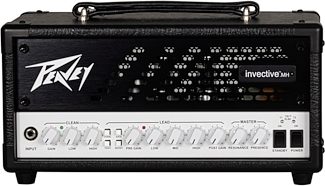 Designed with help from Periphery's Misha Mansoor, the 20-watt invective.MH has two footswitchable channels and packs a heck of a punch from a tiny package.
Overall User Ratings
(based on 2 ratings)
Submitted September 2, 2021 by Aaron C in Marion, IL
"It was more than I bargained for...&quot
Verified Customer
zZounds has verified that this reviewer made a purchase from us.
Bottom line up front... this is single-handled one of the best purchases I've made in the last 10 years. This amp IS NOT a one trick pony, and if you are looking for something small that is versatile and has a metal edge to it, then this is the one for you.I've been searching for quite some time to find "my" sound. I've had many amps throughout the years (and many I wish I could get back, :sob:), but lately I've felt like what I was doing wasn't me - that I was just mimicking someone else. Funny statement, since I'm writing about a signature amp lol.So on a whim, I purchased this amp. I watched all the reviews, and wondered if I made the right choice. I mean, how good could it really be? It's just another 5150 clone, right?I was completely wrong. I set everything to noon, hooked everything up (using a harley benton 2x12 with V30s), and flipped the switches. I was completely floored with how clear and articulate everything sounded. With some minor tweaking, I was able to get a clean sound that is well rounded, with just enough chime to ensure it cuts through the mix. If the clean channel was all it had, it would be perfect. But we all know this machines roots are in the original 5150/6505 bloodlines, and it doesn't disappoint. I've ALWAYS loved the 5150 range, but this modern take on an industry standard amp has me floored. I can dial it in the way I want, with all the little bells and whistles to give it that extra edge. I love that there is a gate built in, and that the boost if fully usable (if you even need it). I really like that the tight switch changes the character of the lead channel, and gives you something more akin to the gain structure of the 5150 of yester-year. All of my notes were articulate, and all of my chords hit me in the chest. If I buy another amp in the future, I will get the full size invective, no questions ask. Thank you zZounds, thank you Misha, and thank you Peavey.Pros:Great Cleans Great Leads Gate Tight Boost Presence Resonance Includes the kitchen sink...lol Cons:It's not the 120 watt model :D
5 of 5 people (100%) people found this review helpful. Did you?
Thanks for your opinion!
---
Submitted March 21, 2019 by Oli R in San Antonio, TX
"Awesome tones from a small package (pun not intentionally intended)&quot
Verified Customer
zZounds has verified that this reviewer made a purchase from us.
Killer amp. Period.
Sound
Thensame as it's big brother, all the way down to 1watg. Bedroom Djedis, behold your new king
Features
Built in drive and noise get with an improved clean channe that makes the 6505+ clean channel sound like garbagenin comparisom
Ease of Use
It's a Peavey you know what you're getting
Quality
It's a Peavey, see above
Value
Outrageously fair pricing. Almost maddening how well Peavey listens to its customers. Friedman and Peavey both vying for myMoney in the lunchbox department this year, what with Friedman's new Jerry Cantrell Signature 20 watt model as well ( the Friedman JJ-20, for anyone curious)
Manufacturer Support
See above
Musical Background:
20 years guitar addict
Musical Style:
Metal/rock/crust punk/fart knocker rocker
19 of 31 people (61%) people found this review helpful. Did you?
Thanks for your opinion!