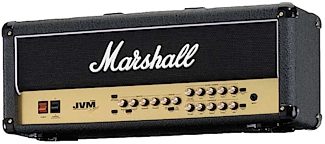 With two footswitchable channels, this 100-watt Marshall head is ready to handle any situation. Get that classic British tone thanks to the EL34 power tubes.
Overall User Ratings
(based on 15 ratings)
Submitted March 26, 2012 by Mike B in Hanover, MD
"Marshal JVM 210 Head&quot
Verified Customer
zZounds has verified that this reviewer made a purchase from us.
For rock sounds this is does the job. It can get a myriad of overdriven sounds from a Southern Rock kinda sound to Priest to the Heavier drop tuning stuff. I got the 2 channel version because that is all I needed. I got this running to a 1960B cabinet (closed back) and this setup pushes alot of air. If you are looking for something that can also get really clean chimey bell like tones (think Fender tube amps) then it would be stretching it a little. The footswitch is cool and you can program it to save settings ( Gain Levels, reverb) or use the footswitch for channel switching. Atta boy for Marshall Support - I reached out to contact Marshall for a question about the head and they responded back with in 24 hours. I have reached out to them in the past and they were always accessableeven with the timezone differences. This is the second time I went 'to zZounds and they were great. I got my purchase the next day. The salesman was cool to work with and talk to. And it was the best price in town for this head purchased as new. zZounds will be my first place to check when I am looking for equipment before I go to the "Usual Suspects". You have to check around or should anyway but I got the feeling that they will beat the competition (Guitar Center, Musicians Friend, Sweet Water etc ...) Thanks zZounds!
Musical Background:
PLaying about 35 years
Musical Style:
Playing all styles Country, Classic Rock, Modern Rock, R&B, Jazz standards, Oldies Reggae, World etc ... Due to playing lots o
5 of 5 people (100%) people found this review helpful. Did you?
Thanks for your opinion!
---
Submitted August 14, 2011 by a customer from hotmail.com
"JVM210: A better, fine-tuned and hot-rodded JCM800?&quot
Verified Customer
zZounds has verified that this reviewer made a purchase from us.
Out of all the Marshalls I've had this one is the best, It covers all the bases, I will sell my others and get another JVM210!
Sound
I currently owned a DSL100 and TsL100 which sounded OK compared to the JVM210. I owned a JVM410 for a short while but it sounded noisy, I just could not get used to it. I am still exited over the sound of the 210,I am using the Clean Red and the Lead Green mostly and these selections are based on the JCM800. I am very impressed with the sound and incredible features of the head, the fx loop is much better than the TSL[no volume problems] reverb is great, I'm not even using the loop, this head has plenty of sound choices and the footswitch is very usable. I would give this head a 10, but there is probably a custom, modded head out there that might sound better, I am very content with the JVM210. There doesn't seem to be a muddy sound than that of my previous Marshalls, I was pleasantly suprised, and think Marshall has something very versatil here
Features
Everthing is included here and all of it seems durable, a major improvement over the TSL footswitch. I am told the JVM410 six button fs will work with this one, I will find this out soon, it would be nice to have two more buttons.
Ease of Use
I set everthing @ 12 o.clock and it souded great, I did not need to adjust much at all to get the good tone unlike preveous heads. User frendly and very easy to use, and you know where you are at all times, I think the jvm 410 has too many sound choices.
Value
I think the price is fair with all these sounds and features in one box
Musical Background:
hobbyist
Musical Style:
heavy blues/rock
48 of 53 people (91%) people found this review helpful. Did you?
Thanks for your opinion!