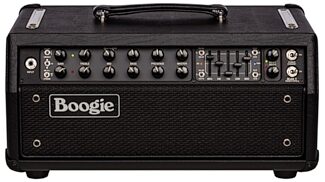 Powered by a quartet of EL84s, the Mark Five: 35 comes equipped with Dyna-Watt technology, two channels, and tons of options to carve out your tone.
Overall User Ratings
(based on 2 ratings)
Submitted April 18, 2023 by mike s in Pleasanton, TX
"MESA Mark Five 35&quot
Verified Customer
zZounds has verified that this reviewer made a purchase from us.
This amp delivers on all points. I've been playing a EVH 5150 III and an Egnater Vengenance 120 so its not apples and oranges comparison since these amps are clearly different in almost every way. But I can say the MESA is by far my favorite for the following reasons : Tone - Tone -and more Tone. I have been searching for the ever so elusive perfect tone and FINALLY have found it . I've played for nearly 30 years through the above mentioned amps plus Bogner ,Peavey, Fender and others and the MESA is THE ONE!. I cannot believe it took so long to finally "arrive " and I feel like an idiot for not trying Mesa products much sooner. Better late than never . Right ? I hooked it up to a Marshall 4X12 cab (which is not exactly a match ) switching guitars ( Jackson, Les Paul, Ibanez , Charvel and Strat ) back and forth / over and over changing settings all over the place on the Mesa and I can get what I'm looking in each instrument quickly and absolutely. No kidding ! I did not think it was possible. The first day it arrived I played all the way through one of Satriani's early discs (S. W the A. ) then all the way through Van Halen 2 , some SRV and a whole lot more........about 4 hours straight just to check this amp out and it delivers on all points. I would give it 6 stars if that were possible. I'm a huge fan of Zzounds as I have purchased everything mentioned in this review from them. Always been treated fair and square with no B.S. I don't know anyone who works at Zzounds or MESA and am not affiliated in any way whatsoever so this review is genuine and honest and I hope it helps anyone looking into the Mesa as their amplifier choice. You will NOT be disappointed.Cheers and rock on !
Sound
sound is superior ...............Tone is EXACTLY what I was looking for
Features
Excellent choice in the settings on all points
Ease of Use
very easy to get each different guitar to sound like I wanted
Quality
Appears to be very well made. Just got it so I don't know for certain but I've played the hell out of it so far
Value
YES, it is worth every penny !
Manufacturer Support
Did not have to reach the company. No issues with the product
The Wow Factor
I'm not into appeal or brand name recognition really. I'm all about the sound that comes out of it and the tone, above all else , is what I seek and this amp DELIVERS on all points
Musical Background:
30 + years
Musical Style:
Rock, Metal, Blues, Alternative
Did you find this review helpful?
Thanks for your opinion!
---
Submitted January 27, 2023 by Gary Miller in WEBB CITY, MO
"Mesa Boogie Mark V 35&quot
Verified Customer
zZounds has verified that this reviewer made a purchase from us.
Have played through about every amp on the planet, and this Boogie does exactly that!! The cool options of different voicing's gives this beast the ability to be anything at any time! Super cool articulation through each channel with the use of the onboard EQ. Might not need any boost pedals, as this amp delivers all the gain you'll every need or want! All in all one of the best new amps on the market today.
Musical Style:
Blues/rock
Did you find this review helpful?
Thanks for your opinion!