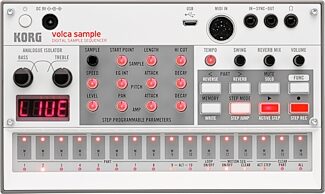 Twice the storage capacity, a new set of samples, and pattern chaining make the Korg Volca Sample 2 the best VCR-tape-sized sample sequencer out there.
$109.99
---
No Credit Check

No Credit Check
Overall User Ratings
(based on 1 ratings)
Submitted July 3, 2023 by a customer from gmail.com
"Great Sampler & Beat Machine with Live Limitations&quot
Got the Korg Volca Sample 2 several months ago and wasn't immediately drawn to it. I loaded a bunch of custom one shot synth samples into it and it was cool but only recently have I discovered what I believe to be the full potential of this little & powerful machine. First off, any sample you like is perfect fodder for this machine. However while standard sequenced sample playback is an obvious use for this machine and with pattern chaining you can get loops of up to 16 bars, the real joy I have found for this comes from radically modifying samples using the start point, sample length, sample looping, and pitch & amp envelope functions and making one bar loops. By way of the pitch envelope literally every source can become a totally unique drum sound when used in conjunction with the speed (starting pitch) knob. I've only just started making lofi techno beats on this but I already see a never ending world of possibilities in this little machine. The machine converts all samples to mono and also down samples them. The down sampling is pretty cool for adding character and, with the non-resonant low pass filter knob option for each sample, harsh artifacts can completely be tamed. The internal reverb is very useful for creating tails to your samples and creating a stereo image. Each sample also has a panning function for placement in the stereo field. I have used this for creating width between many samples playing, creating a sort of heavy motion to the stereo field. Recently too, I double tracked guitar and hard ones each performance of the sample for a completely wide four-bar loop. The only drawback I have found is that the saving of pattern memories is not consistent. When powering off and on, often times levels or selected samples will not be as they were before. This renders the machine completely useless for live use but for writing in the studio this just reinforces committing within one recording session. Sample transfer from the computer with the Volca editor is definitely a little slow and the slow update of the progress bar does make it seem sometimes that transfer has stalled but I think this is not the case. I completely intend on keeping this unit forever barring the release of future Volca Samples that will make me surely want to upgrade. Truly a unique and very creative sample player/sequencer and a very unique machine for making lofi beats on for any electronic genre. I hope to explore every genre with this.
Did you find this review helpful?
Thanks for your opinion!