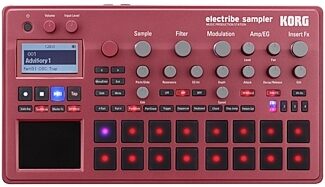 This Sampler edition of the Korg Electribe lets you load your own custom sounds, build sequences on 16 pads, and add effects with a Kaoss-style X/Y touchpad.
$399.99
---
No Credit Check

No Credit Check
Overall User Ratings
(based on 2 ratings)
Submitted August 19, 2021 by Mike G in Tariffville, CT
"Great&quot
Verified Customer
zZounds has verified that this reviewer made a purchase from us.
I'm very happy with this drum machine/sampler. I've been making ambient chill out lounge type music with it. Was trying to sync it with my Boss rc-505, but had better luck setting them both to the same tempo and starting both at the same time. This machine is built very solid and has more weight to it than I thought it would, yet it's also compact. Once you learn your way around it and check the manual a few times, it's actually fairly streamlined for easy workflow. I definitely like the samples it comes with, but do plan to import some of my own. I've been looping keys/piano, synth, strings, guitar etc along side the electribe, and figured that after the loop and drum patterns are made and saved, I can perform it back like I'm a DJ, which is different but also fun for me. I've been saving the loops and drum patterns to the same number bank on each respective machine, so bank 99 on the looper goes with pattern 99 on the electribe and so on. That way I can stay organized and know which loop goes with each beat pattern. I also made mostly blank templates (except for a hit hat) on banks 1 on each machine so I can start a new loop/pattern each time without having to reconfigure my preferred settings (ie drum samples, effects, tempo, and loop settings). Very cool machine. I recommend it.
Musical Background:
Guitarist, Keyboard Player, Composer
Musical Style:
Electronic, Ambient, Rock, Cinematic
2 of 2 people (100%) people found this review helpful. Did you?
Thanks for your opinion!
---
Submitted August 14, 2017 by Luke Wilcox in Rawson , OH
"Impressed&quot
Verified Customer
zZounds has verified that this reviewer made a purchase from us.
This review has been selected by our experts as particularly helpful.
From the moment I held the box, I was impressed....it only got more impressive the longer I used it. Read on....
Sound
You can crank this thing up to the max, and it won't clip or distort. Plenty of "out of the box" sounds and samples that are crystal clear and fully manipulative. LPF, HPF, and BPF are great...I didn't expect three to be in this lil unit. The effects are cool, but I haven't found a use for them yet because....well....it's a sampler, and the sounds I use are generally already...effect-ed??
Features
I actually expected this unit to be plastic (that's how it looks in the photos), but it is constructed from an aluminum alloy and is quite heavy. The knobs are very tight and solid with no wiggle. They are plastic, and a couple of the knobs are slightly an imperfect circle. The level on the knobs are hard to see since they are just depressed without color change. (Have to paint them) It DOES come with two 5-pin midi to 1/8 midi adapters to keep in sync with everything else.
Ease of Use
It's a lil confusing and daunting to use without using the manual, but quite easy one you know your way around. It comes with a manual, but do yourself a favor and download the Parameters Guide manual from the website as well for further details and expansion on how to use this.
Quality
I honestly wouldn't be afraid of dropping this lil guy. It is built like a tank. You can feel the high quality from the moment you pick it up. Metal case, durable knobs, clear screen.....Korg really did a great job with this guy. The trigger pads and buttons are thick and can take a beating. I'm not afraid of really pounding on the pads! The XY pad though....ehhhh, I'm not sure of yet. It feels like the cover is made of a cheap sheet of plastic that will eventually split or crack....guess we'll find out.
Value
The quality, functionalities, and sound make this unit an impressive steal. It's packed with a large amount of features at the cost of one of the older 1999 ESX units. Definitely worth the money!
Manufacturer Support
I haven't had a reason to contact support on this device, but I have on other devices and I'm not impressed. I'm still waiting on a response from two weeks ago.
The Wow Factor
The overall design, workflow, quality, and sound is just excellent. Has neat multicolor led lights under it that flash different colors in sync with your music too....nice lil feature.
9 of 12 people (75%) people found this review helpful. Did you?
Thanks for your opinion!