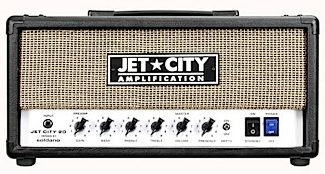 Building on their JCA20H single-channel guitar amp, Jet City's all-tube 20HV features a re-voiced signal path, depth control, and a post-master effects loop.
Overall User Ratings
(based on 2 ratings)
Submitted February 20, 2013 by Chris C
"Killer classic rock tones&quot
Verified Customer
zZounds has verified that this reviewer made a purchase from us.
This amp is being under-marketed by Jet City--not much promo on YouTube or elsewhere. It's hard to find demos. Lots of questions on forums. Don't let this put you off because this is a great head! I've read a couple of
Sound
Love the lower gain and darker sound. The gain is less saturated than the JCA 2112RC that I own, and less trebly. It's a grainier gain that is pure classic rock. Where the 2112RC sounds more like a 1980s Marshall, the 20HV has more of a 1970s sound. The tone really isn't 'dark,' it's just darker than the 2112RC, which is a good thing. The depth switch really kicks in a lot more bass--great for single coil guitars. Get that SRV tone.Also sounds great with my humbucker-equipped guitars.This is NOT a metal amp; although, you could put a metal pedal in front of it. But the cane weave doesn't give it that metal vibe. That V in JCA 20HV stands for vintage. :)Would have preferred a depth knob, rather than a switch, as it would be nice to dial in the amount of depth. Still, it's a very usable feature.I play both the 20HV and the 2112RC together in stereo, and these amps complement each other really well. I love the tone I get from both. Full disclosure: I put a Cannabis Rex into the 2112RC in part to tame the highs, which could get a bit piercing at times.I swapped out the stock tubes with JJs- matched EL84s and ECC803s in the V1 and V2. A Tungsol is in V3.I'm using the HV head through a standard JCA 12s cab with their custom driver. I've got an Eminence Governor on order, so I'll be interested to hear how a more efficient driver sounds with the head.
Features
Shape your tone with the pre-amp, TMB tone controls and the depth switch. Easy to find some killer tones. Jet City should consider a depth knob to allow players to dial in their desired amount of depth.
Ease of Use
Easy to use. Pairs really well with the JCA 2112RC. Sounds great with both single coil and humbucker guitars. I didn't find that the amp works really well with a distortion pedal with the gain dialed up. But, it works really well with an overdrive pedal to push it further into break up. I use a MP Sweet Honey clone. I imagine a Bad Monkey or Tube Screamer would work well too.
Quality
High quality chassis. Traces on the PCB are thick. Looks well-made. Cabinet looks like void-free thick plywood. Tolex was well applied. Don't know long the amp will last. Only had it for a week...Small detail: The painted stripes on the chicken head knobs were poorly done: very sloppy. Makes the amp look cheap. Will replace with higher quality ones.
Value
Good value. A tad more expensive than a similar combo but for me it was worth it.
Manufacturer Support
Took a little while to get hold of someone who could help me, but very friendly and helpful once located.
The Wow Factor
From interviews I've read, Jet City built this amp for Joe Perry from Aerosmith. I think they got it right. And I dig the new logo, cane weave and white control panel!
Musical Style:
Rock, blues, bluesy rock, rocky blues
34 of 34 people (100%) people found this review helpful. Did you?
Thanks for your opinion!
---
Submitted May 14, 2014 by Elliott B in Cuyahoga Falls, OH
"Wow! Such a great deal!&quot
Verified Customer
zZounds has verified that this reviewer made a purchase from us.
I was overdue for a new amp head, since I play gigs all of the time, however I was looking for something affordable that sounded great (something that is nearly impossible to do.) I started looking into the Jet City JCA20H first, and checked out a bunch of content, and concluded this amp was not right for the style of music I play (indie-rock/ folk-punk) since I use a lot of clean and vintage tones. Then, I found this beauty. Perfect price, great reviews, clean and vintage tones.. I'm in! I ordered the amp, and patiently waited. After about a week, I had a box at my door. Upon opening the box, I immediately notice the quality of the build of this amp. It seems very solid -- something I could haul to a gig in the back of my car seat, solid. I plugged the amp in and wait for it to warm up, took it off standby, switched the depth switch on, and cranked it up. BEAUTIFUL! The first thing I notice, is how much headroom there is in the tone. The tone is warm, roomy, and crystal clear. I then cranked up the gain, all of the way and soon realized, the crunch that the amp produced possesses the same qualities as the clean. Warm, open, and a tad bit saturated tone. I had a solid-state 100 watt amp before, so I was concerned this amp would not be loud enough or have enough headroom, but I was wrong. This amp is loud enough for any medium-sized (400 - 1000 capacity) venue. As a warning to anyone who uses heavy distortion, this is probably not a good amp for you. With the gain cranked all the way up you get a very even crunchy tone, but nothing heavier than that. If you are looking for a cheap, comparable amp, check out the JCA20H or JCA22H. Overall, I was extremely impressed with this amp, and I am very happy I bought it. It was well worth the price. Great build quality, great tones, and overall a great amp.
Musical Background:
I have been guitar and singing for 10 years and playing music full-time for 5 years.
Musical Style:
Folk-punk, indie-rock, punk-rock.
11 of 11 people (100%) people found this review helpful. Did you?
Thanks for your opinion!