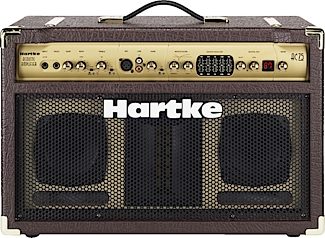 5-Band Graphic EQ. Phase Switch. Variable Notch Filter Feedback Control. 100 Digital Effects.
Overall User Ratings
(based on 22 ratings)
Submitted March 16, 2011 by a customer from gmail.com
"brown deal!!!&quot
some good years!!!! Maybe a little bit bigger speakers could help better, the 5" can get satturated more than maybe 6.5" or 8" but the ribbon is nice and clear.
Sound
This Hartke AC 75 is a clever amp, it has all the needed circuits to make my acoustic sound just fine and it does it nicely. It can go very LOUD!!! too but undistorted and of course, should you need effects it has 100, some of them would be appealing to rockers, but tremolo, reverb and such, help enhance my playing, good job Hartke and good job ZZsounds for the great deal!!!
Features
no it did not include any accessories (I had to buy an extra footswitch)the best features are: portability, great sound, good effects. The gold tone hardware could be more discrete.
Ease of Use
this one is easy to use, everything is at hand and works.
Quality
the goldtone harware not too nice.
Value
very good value for the money, thanks.
Manufacturer Support
yes they answered my question about a footswitch very quickly.
The Wow Factor
it looks kind of "Retro" cool.
Musical Background:
hobbyist
6 of 6 people (100%) people found this review helpful. Did you?
Thanks for your opinion!
---
Submitted September 3, 2009 by a customer from aol.com
"Great looking and Sounding Amp Very warm with lots of brilliant effects No brainer&quot
Verified Customer
zZounds has verified that this reviewer made a purchase from us.
Sound
Just bought it after playing at sam Ash I have a taylor 214 ce. I love it Very clean and has good range also fantastic for practice amp on my Strat for just super clean practice amp I have a Marshall mg 3o fx and this amp is so far superior its a joke. I was going to buy a blues jr But I like having the effects with out buying a box and the fact it has a mic input. Most people do not realize that you should NOT plug a mic into a std input on an amp It can cause ( and has) cause damage to it. Paid 299 from zzz refub No differance then new None
Features
Very easy to use May look into the foot pedal It took my all of 5 minutes to dial it in to what i like Every effect has a range of numbers which is displayed on a easy to read LED Example reverb runs from 30 to 39 Ill have o play around with it some more to see how i can combine effects I bought my girlfriend a Fender B DEc and you need to go to school to learn how to use it She will have mastered the bass by the time I figure out how to program it. I dialed this in right out of the box and right when i was playing it on a cheap ibanez at Sam Ash I figured If this guitar can sound this good I t was a nice amp & I was right
Ease of Use
Very easy to understand Again the marshall i own sucks I still cant figure that one out and either can a lot of other people who have tried to use it I know its not an " acoustic amp" but it should not be that difficult to get the sound you want out of it ( still havnt ) Only wish thepower switch was on the front board instead of rear easy to interface with PA as well
Quality
It is a super cool looking amp and the kick back feature is fantastic
Value
For 300 I think this is a great value Perfect for the home or a small venue to be honest i didnt really shop around that much I had a an acoustic amp a long time ago I gave it to my son I think he still has it I forget what it was But it had no effects and this was my budget I saw today they had a refurbished one for 250 I would have bought that and saved the 50 bucks but that is me the second you open the box its used anyway Would have like to included the foot switch
Manufacturer Support
Brand new went to web site to register could not find the link sent them an email last night waiting to hear back from them will see
Musical Background:
Active
Musical Style:
Blues older rock Original
18 of 21 people (86%) people found this review helpful. Did you?
Thanks for your opinion!