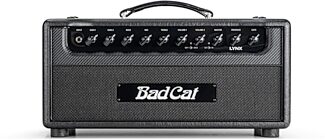 With plenty of gain on tap for any style of heavy music and an on-board noise gate, the Bad Cat Lynx is perfect for any guitarist looking for brutal tone.
Overall User Ratings
(based on 1 ratings)
Submitted November 11, 2023 by a customer from gmail.com
"One of the best bang for your buck hard rock/metal amps out today!&quot
Verified Customer
zZounds has verified that this reviewer made a purchase from us.
I got this amp a 4 months ago and have played it at home and done full band practice with itI doesn't have a ton bells and whistles like a lot of amps one finds todayTwo channels with high and low gain modes on each, really giving you four different tonesThe low modes are a mid gain Marshall type crunchThe high gain modes are their own thing, a mix of Marshall and Bogner... Well sort ofI can't really describe it, but it's GOOD!Shared EQ with separate gain and volume knobs for channels one and twoThere is a sensitive presence knob and a very sensitive built-in noise gate as wellVery wide eq range with tons of saturationHowever, CLARITY is the name of the game with this ampI totally love the sound I can get, it gives me everything I want in mid & high gain tonesThere really isn't actually that much difference in the sound of the channelsWith channel one being a bit more classic rock/metal sounding Transparent fx loop (unfortunately it isn't foot switchable like the modes and channels are)Seems to be built very well - Made in USA!Cuts through the mix with a very loud 50 watts - you'll be heard with this beastSmall enough to fit on a vertical 2x12 but can easily power a 4x12... or two!Loves Vintage 30s & Eminence DV-77s - sounds good with G12T-75s and WGS Vet 30s tooAll tube, 50 watts, 2 channels and US made for under 2K - WOW!
Did you find this review helpful?
Thanks for your opinion!