Customer Kudos
"Great customer service, fast shipment/delivery, and I love the payment options!"
April 29, 2023

zZounds Live: Otherworldly Guitar Textures
Sometimes you just want to take your tone to another world!
Wampler
,
Beetronics
, and
Walrus Audio
are all known for crafting effects pedals that are not only built like tanks, but feature some of the most unique and useable tones in the effects universe. In this edition of zZounds Live, we'll dive into three distinctive, powerful effects from these pedal makers: the
Wampler Metaverse multi-delay
,
Beetronics Zzombee Filtremulator
, and
Walrus Audio Lore Soundscape Generator.
Join us as we combine, tweak, and push these pedals to their limits for the sake of otherworldly tone exploration.
Watch Justin take a trip to another planet with these feature-packed, otherworldly effects pedals, and see for yourself why they might be right at home on your pedalboard!
Beetronics Zzombee Filtremulator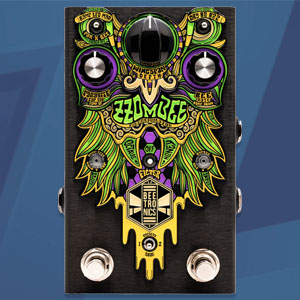 A one-of-a-kind multi-effects unit that delivers Filter, Wah, LFO, Randomized Filter, Tremolo, Swells, Overdrive, Fuzz, Low-Octave, and a Beetronics patented Cross Tremolo, the Beetronics Zzombee will be the undeniable "King Bee" of your board. Easily find your unique sound with its simple 3-knob, 4-switch design that makes your tone search enjoyable.

Tweak-able Parameters: Filter, Wah, LFO, Randomized Filter, Tremolo, Swells, Overdrive, Fuzz, Low-Octave.
Gain Staging: 4 stage gain buzz selection
Power: 2.1MM +9VDC
Current Draw: 100 mA
Additional Options: CV control, External Tap, Expression Out, and Saved Presets
Multi Switch: Bypass and tap tempo switches available
Wampler Metaverse Multi-Delay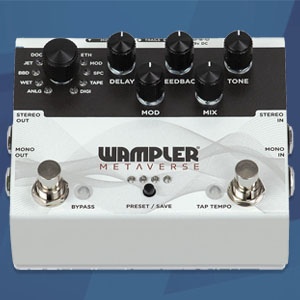 Step into the Wampler-verse! The Wampler Metaverse multi-delay pedal offers a wealth of options similar to its modulation-based sibling, the
Wampler Terraform
. The Wampler Metaverse offers a deep dive into the world of delay, with the same form factor as the Terraform. Dial in 11 studio-quality vintage and modern delay effects with 8 onboard presets, along with 128 total patches available via MIDI. The Wampler Metaverse is your own personal delay laboratory, with nearly infinite tweak-ability.
Onboard Delays:
Analog Style, Modulated Analog, Bucket Brigade, Analog Flanger, The Doctor, Faux Tape Echo, Ethereal, Digital Flanger, Space Echo, Multi Head Tape, and Digital Delay.
Sampling Rate:
48 kHz with 24-bit audio
Power:
9V DC center pin negative
Frequency Response:
Full 20Hz to 20kHz
Presets:
8 onboard preset locations to save your favorite patches, 128 total via MIDI
MIDI:
Full MIDI control with CC and PC commands
Walrus Audio Lore Soundscape Generator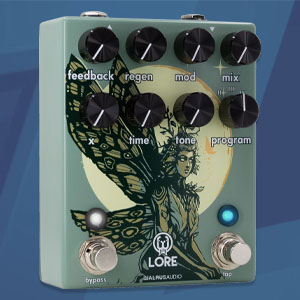 Ambient creation has never been easier, thanks to
Walrus Audio
! The
Walrus Audio Lore soundscape generator
uses five different programs, two DSP chips running in series, and two analog feedback paths that allow you to craft not only fantastic tones and effects, but vast sonic landscapes previously inaccessible. With these ethereal reverb tones, lush reverse delays, and even octave up and down, you'll soon find yourself in a storybook world of your own creation.
Programs:
Reverse Delay into Reverse Reverb, Reverse Delay into Octave Up Reverb, Reverse Delay into Octave Down Reverb, Reverse Reverb into Forward Reverb, and Pitch Delay into Pitch Delay
Momentary Features:
Dive / Rise available via momentary swtich
Power:
9V DC center pin negative
Enclosure:
Muted green coating with art by David Httner
Modulation:
Full control via the "Mod" knob
Blending:
Blending available with dry signal via the "Mix" knob