Customer Kudos
"You put instruments in the hands of musicians who might not be otherwise able to afford said instruments. That's why I always recommend zZounds. Always will."
February 26, 2023

Explore the legend who switched-on a new musical era
No one has blazed a trail quite like Wendy Carlos. Born in 1939 in Rhode Island, she started out as a piano prodigy, but went on to study physics and music at both Brown and Columbia University. It was at Columbia-Princeton's Electronic Music Center that Wendy helped one Robert Moog develop the first Moog synthesizer, a revolutionary electronic instrument that would change the course of her career and of musical history.
In 1968, Wendy (in tandem with that same Moog instrument) released her debut,
Switched-On Bach,
a pioneering recording that transformed classical music into a wildly imaginative, electronic synthesizer maelstrom. The album, which features compositions by Bach transcribed for Moog, was widely praised for its innovative sound. It earned Wendy Carlos three Grammy Awards.
In this episode of our Legends Series, we go deeper into Wendy Carlos' career. You may not know it but her work has been featured in numerous films, including Stanley Kubrick's
A Clockwork Orange
and Disney's
Tron.
Over the years, Wendy has collaborated with a variety of artists and musicians, including Benjamin Folkman and Rachel Elkind, to suss out all the possibilities inherent in electronic musical synthesis.
In addition to her musical contributions, Wendy Carlos is also known for her pioneering role in the transgender community. Wendy underwent gender reassignment surgery in 1972 and has been an advocate for transgender rights ever since.
Despite her numerous accomplishments, Wendy remains actively re-imagining and remastering older works like
Sonic Seasonings
that predicted some sort of future we're all just catching up to.
To explore even more of the life and music of Wendy Carlos
check out "Legends - Wendy Carlos" on the zZounds Blog!
Listen as we explore the sounds of synth legend Wendy Carlos in our exclusive video:

Explore more legendary sounds in zZounds' Legends Series »
Moog Mavis Desktop Analog Synthesizer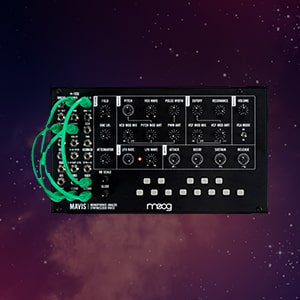 If you can believe it, a lot of the monstrous musical energy found in Wendy's original room-filling modular synthesizer can be recreated on Moog's laptop-sized, DIY Mavis synthesizer. Anyone who has switched on Kubrick's The Shining has heard that iconic Moog sound deliver the unearthly musical tones of that film. That legacy lives on in this instrument.
Sequential Prophet REV2-08 Analog Synthesizer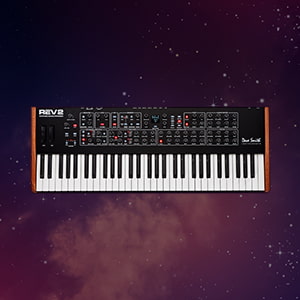 You could say that "game recognizes game." And in our case, it's our understanding of how another synth icon's creation, of one Dave Smith, can serve as a placeholder for just how far analog synth technology has come since Wendy struck that first droning chord circling through Kubrick's dystopian film, A Clockwork Orange.

Back then, an invitation from the infamous film director spurred Wendy to explore how to juxtapose classical music with synthesized "humanity" available on newfound musical instruments like vocoders. The rest, as they say, was history with one eye-popping soundtrack that would inspire countless synthpop bands in addition to providing an unforgettable, brain-searing cinematic atmosphere.
Waldorf Streichfett Desktop String Synthesizer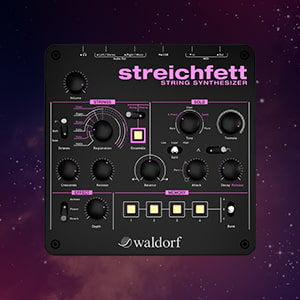 You're going to have to forgive us for this one thing...because it does its one thing so well. Waldorf's Streichfett absolutely nails the floating, ethereal tones of iconic '70s string machines by the likes of now-defunct electronic instrument companies like Solina, Freeman, Eminent, and Crumar. It's a sound we had to explore in our video

Such "string machines" were basically polyphonic string ensemble synthesizers, freeing composers -- much like Wendy -- to leave the session orchestra at home. Now she had the ability to score her own otherworldly orchestration. Now she was able to pad out musical backgrounds, as she would with Crumar's ultimate string machine: their General Development System, on the score to Disney's original Tron film.

Can you blame Waldorf for re-imagining such an instrument?
Arturia KeyStep Pro Keyboard Controller Sequencer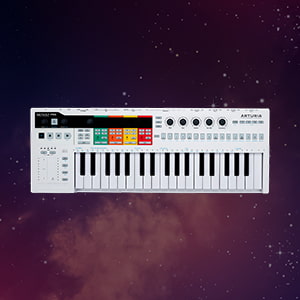 Not many youngins may know this but there was a time before computers existed. In the time that Wendy originally composed and recorded her music, she was one of those early electronic musicians who recorded all her creations to tape -- unlike others who relied on huge machine-based sequencers that recorded steps of notes to play back melodies. It wouldn't be until the late '80s that she would utilize MIDI-based sequencing, working with Weird Al on the children's album, Peter & the Wolf/Carnival of the Animals – Part II.

As for us mere mortals, the only way we can approximate playing and performing the soundtrack to such works like Switched-On Bach and controlling all our bevy of analog instruments is to use a modern keyboard controller like Arturia's KeyStep Pro.

The KeyStep Pro is a keyboard that can record notes and chords, and send separate "arrangements" to whatever large or small suite of musical e-devices you own. Analog or digital, all line up under a KeyStep Pro.
Warm Audio WA-JP Jet Phaser Pedal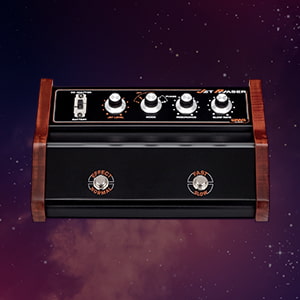 If we had to end on a final note, we'd have to end it on this one: Wendy's work was a testament to how music could be more than just a series or coming together of notes.

Texture, contour, atmosphere, and ambiance are all qualities that can be generated by more than just an acoustic instrument. Electronic music synthesizers and sound effects, like Warm Audio's WA-JP Jet Phaser, could help anyone compose music that lived in the realm of dreams and could only be found in the imagination of the musician. A phaser is more than an audio signal being split in two by a filter. It's a space where those two or more paths can conjure a parallel world of music, something palpably heard in Wendy's trajectory.