Customer Kudos
"You put instruments in the hands of musicians who might not be otherwise able to afford said instruments. That's why I always recommend zZounds. Always will."
February 26, 2023
Recreating the classic "Flash Light" with modern gear
Uncle Jam wants you to get on the mothership and go for a ride with us as we take it to the stage with the legends of funk, Parliament-Funkadelic. Whether you're a fan of the freaky psychedelic grooves of Funkadelic, or your preferences lie on the dance floor with the rump-shaking funk of Parliament -- from Hendrix-ian Fender riffs to Minimoog squiggles, all of it that wiggles, we'll use to recreate one of the collective's most iconic tracks.
In this episode of our Legends Series, we give up the secrets behind Parliament's "Flash Light." Written by the holy trinity of funk -- George Clinton, Bernie Worrell, and Bootsy Collins -- this pioneering track delivered a mix of cavernous bass, sick synths, and positively contagious scratch guitar played by one Catfish Collins. "Flash Light" laid the groundwork for a certain simpatico syncopation, paving the way for future forward-thinkers in the realms of hip-hop, new wave, and rock.
But don't just take our word for it -- if you want to go deeper into the world of George Clinton and friends, free your mind and...you know the rest, do that stuff by
checking out "Legends: Parliament-Funkadelic" on the zZounds Blog!
Hear how we recreated the sounds of Parliament's iconic "Flash Light" in our Legends video:

Explore more legendary sounds in zZounds' Legends Series »
Moog Subsequent 25 Analog Keyboard Synthesizer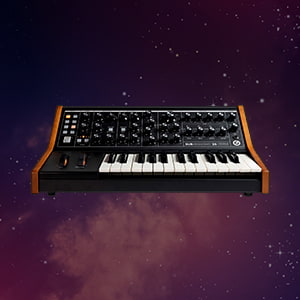 The "F" in funk wouldn't be quite as thick, if Dr. Bob Moog hadn't given his second ever Minimoog synth to the late, great Bernie Worrell of Parliament-Funkadelic. As the legend goes: one day this musical prodigy, a Juilliard grad no less, came into the studio ready to hand off lines he wrote to bass-extraordinaire Bootsy Collins.

Bootsy, for some reason, on that day was not feeling them. Rather than give up on them, Bernie took advantage of the Minimoog's deep subtractive synth sounds and created his own bass tone from scratch. And true to form, he wanted it fatter. With three or four Minimoogs chained together, the iconic bass sound of "Flash Light" was born. Bootsy would come around, though, contributing drums to this track while his brother Catfish Collins took up rhythm guitar.

As for Moog, their Subsequent 25 synthesizer picks up where the vintage Moog sound left off. With its two-voice, paraphonic sound, we'll let you decide whether you want to stack just one more Moog for greater "authenticity."
Fender American Pro II Stratocaster Electric Guitar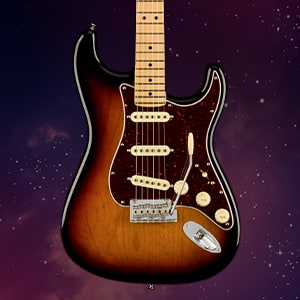 Parliament-Funkadelic wouldn't be able to get you up for the downstroke if it wasn't for the classic stylings of a Fender American Stratocaster. Outfitted with a silky smooth maple neck and a svelte alder body, Fender's American Pro II Stratocaster caters to the modern funkateer who demands the same playability felt by the huge roster of guitar heroes gracing the P-Funk mothership -- Eddie "Maggot Brain" Hazel, Garry "Diaperman" Shider, and Catfish Collins, to name a few.
Need proof? Look no further than the mind-bending solo on Funkadelic's 1971 deep cut "Maggot Brain." Armed with a Dunlop Crybaby Wah and a Maestro Fuzz-Tone pedal, Eddie was put on the spot by P-Funk mastermind George Clinton to play as if his mother passed away. Then, 10 minutes later, the rest was history. Inspired by a far-out cocktail of
Hendrix
, sonic modulation, and other unmentionables, George Clinton took what was left in the can and Echoplexed the hell out of it, adding delays just oozing with otherworldly emotions.
When Funkadelic later asked on tape, "Who says a funk band can't play rock?!", one wonders if they didn't already know the answer to their own question.
Waldorf Streichfett Desktop String Synthesizer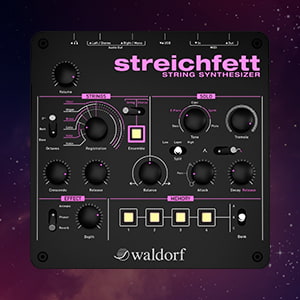 Once again we go back to Bernie Worrell for this one. On Funkadelic's 1972 "America Eats Its Young," Bernie showed off his compositional chops by arranging whole string sections for tracks like "A Joyful Process." Fast-forward a few years later, and technology had advanced far enough that companies like ARP had created instruments dedicated simply to creating string sounds. Now, outfitted with an ARP/Solina String Ensemble synthesizer, Bernie could meticulously build all those string parts in his own time and way.

On "Flash Light," we get to hear the sweeping pads and searing string leads emanating from those machines. And for our video, we use a Waldorf Streichfett -- a modern tabletop take on those polyphonic studio behemoths -- to create a slinky background made for any funky scene.
Dunlop Original Crybaby Wah Pedal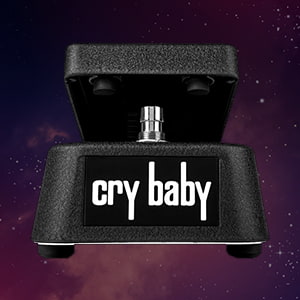 For such a simple effect -- a filter sweeping up and down across audio frequencies -- Dunlop's original 1966 wah pedal turned out to be a revolutionary pedalboard staple, creating the distinctive trumpet-like 'wacka-wacka' sound of funk music. In a group like Funkadelic, this simple foot-operated tool -- paired with a guitar or clavinet, feeding an overdriven amp and phase pedal -- became the go-to effect banging out searing tones heard on classic tracks like "Cosmic Slop" and "Freak of the Week."
Electro-Harmonix Q-Tron Plus Envelope Filter Pedal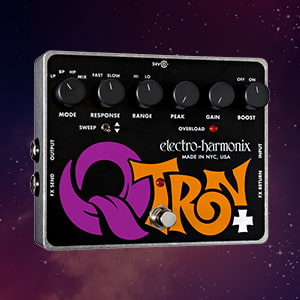 Bootsy, Bootsy, Bootsy. We could just put the words Bootsy and Mutron together and call it a day, but we won't. You see, what made the envelope filter pedal such a necessary piece of gear for Parliament-Funkadelic is that it was basically the rocket fuel that powered Bootsy's Space Bass.

What an envelope filter does, is do the "wah-wah" for you. Dial in a setting, and it takes the place of your foot rocking back and forth. Sounds simple, right? The freaky side of this effect comes out when you pair it with a fuzz and an octave pedal. As Bootsy demonstrated on tracks like "Give Up the Funk (Tear the Roof off the Sucker)" and his own "I'd Rather Be With You," when you to divide the low end in a way that's in a different league of nasty, you do something extraordinary: down becomes up, "wah-wah" becomes "bow-wow," and you become the top dog of this whole funk mothership.
MXR Phase 95 Mini Phaser Pedal
Parliament-Funkadelic once posited this idea: "What if space is the place?" And if you follow the arc of the whole collective's career, each album furthered their attempt to take their audience to a higher ground. The futuristic grooves of songs like "Flash Light" and "One Nation Under the Groove" were replete with cosmic zaps, blurps, and squelches, thanks to the sonic wizardry of a phaser pedal like MXR's Phase 90 to get the all those instruments running the mothership off the ground.

For those interested in wielding their own bop gun, MXR's Phase 95 combines two classic phasers -- the 90 and 45 -- into one pedalboard-friendly size ready to go off on anyone sadly devoid of funk.