Zoom MS-100BT MultiStomp Guitar Pedal with Bluetooth
No longer available at zZounds
This is a carousel with one large image and a track of thumbnails on the left side. Select any of the thumbnail buttons to change the main image. You may also use the left and right arrow keys to navigate between images.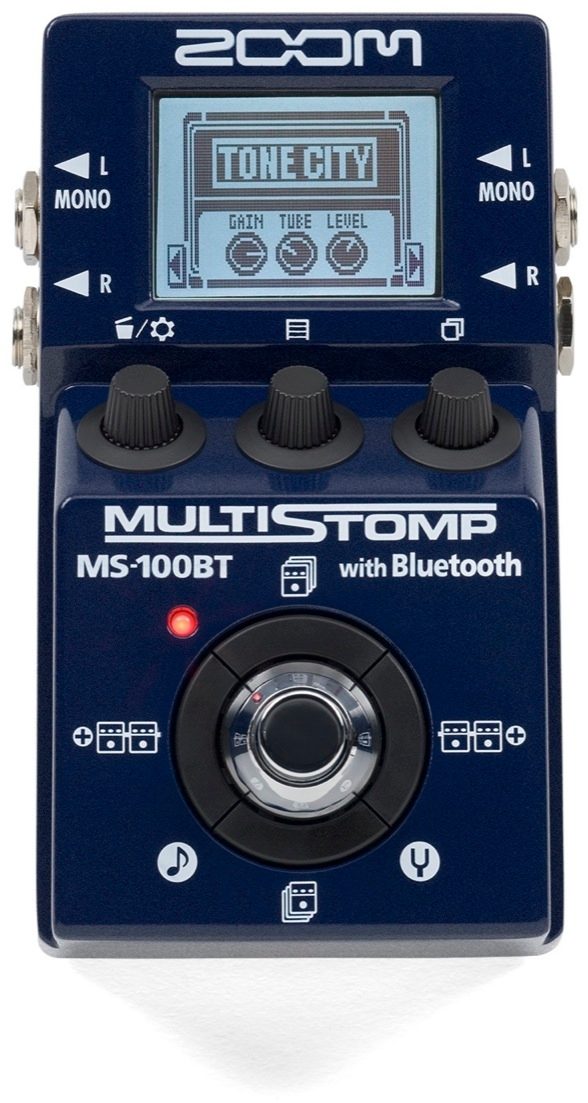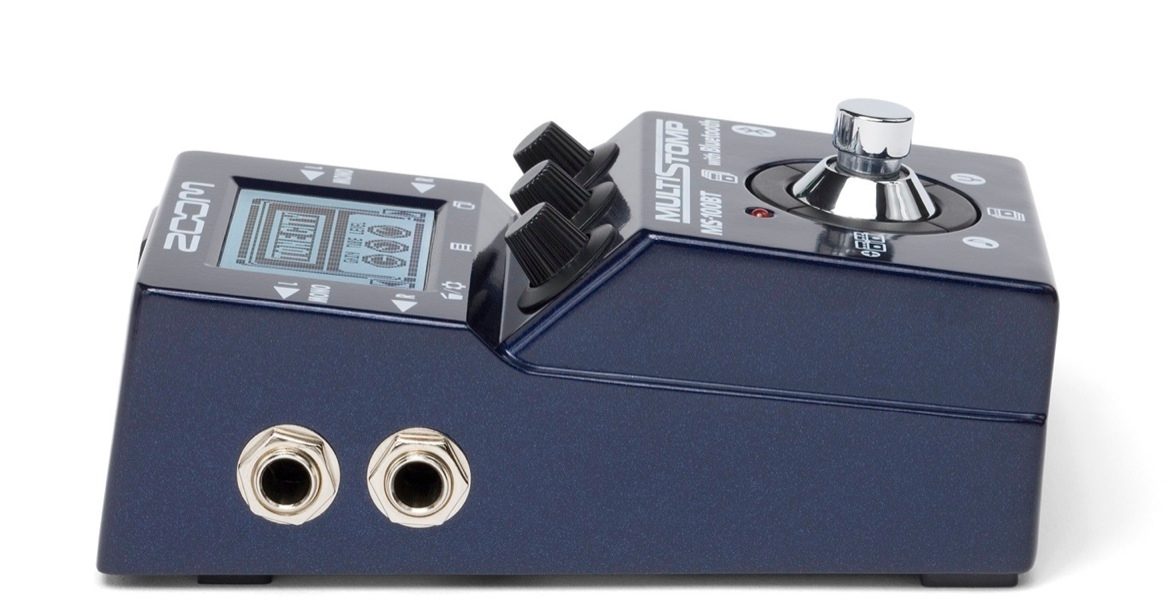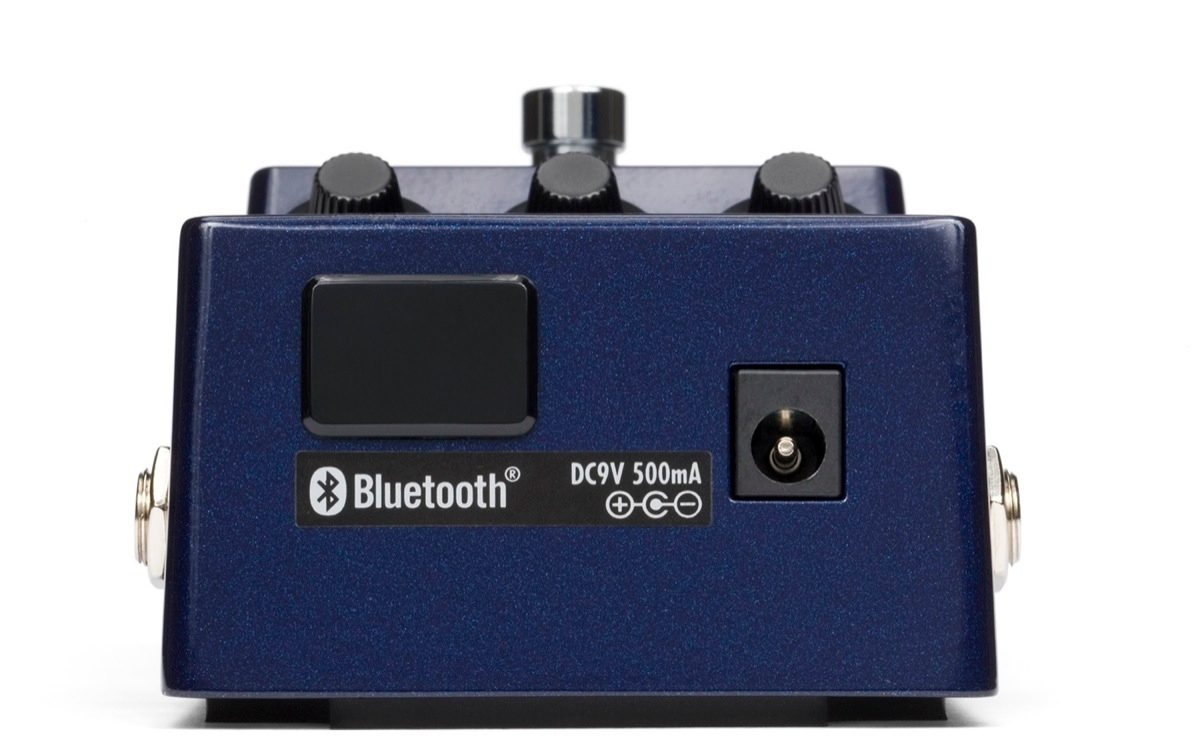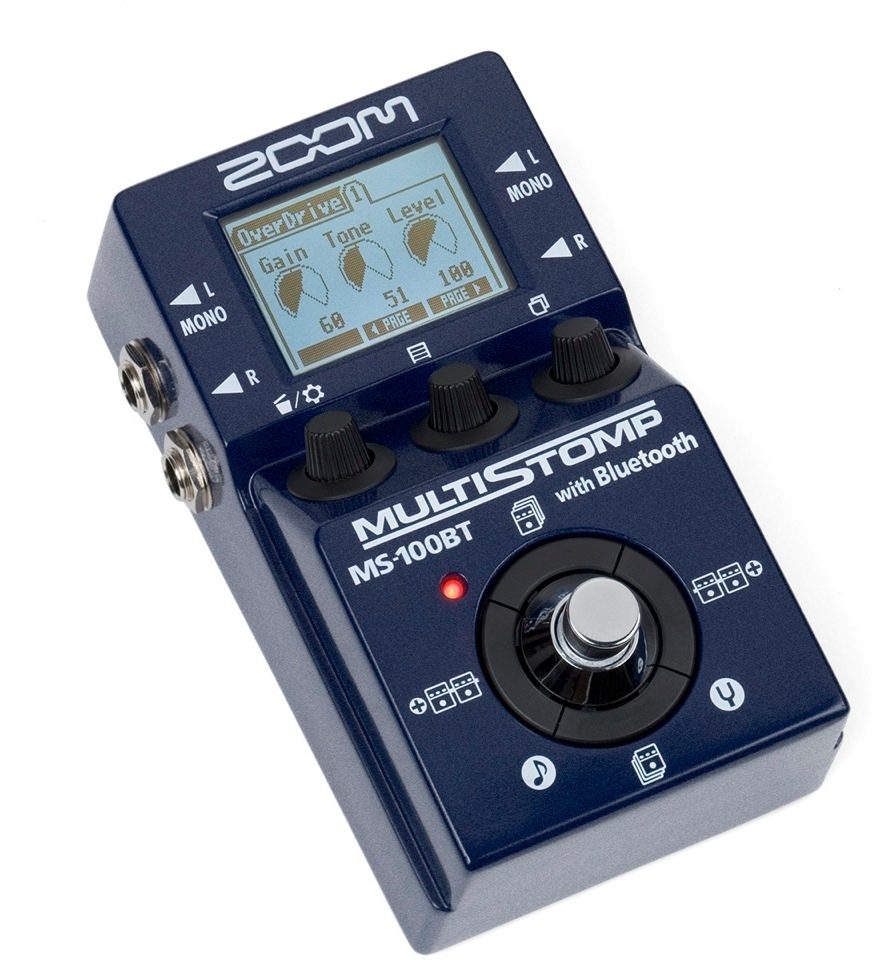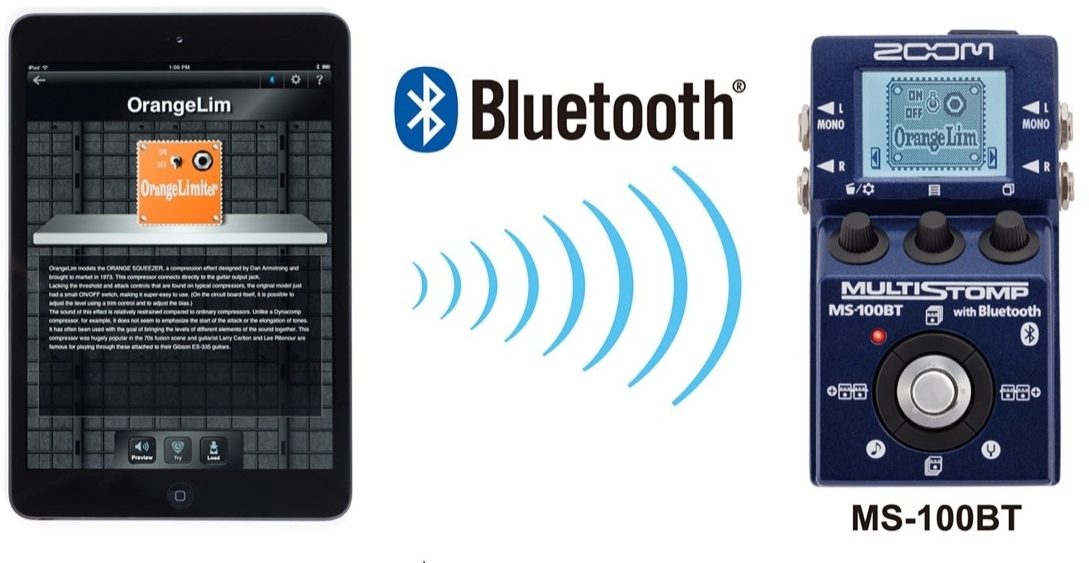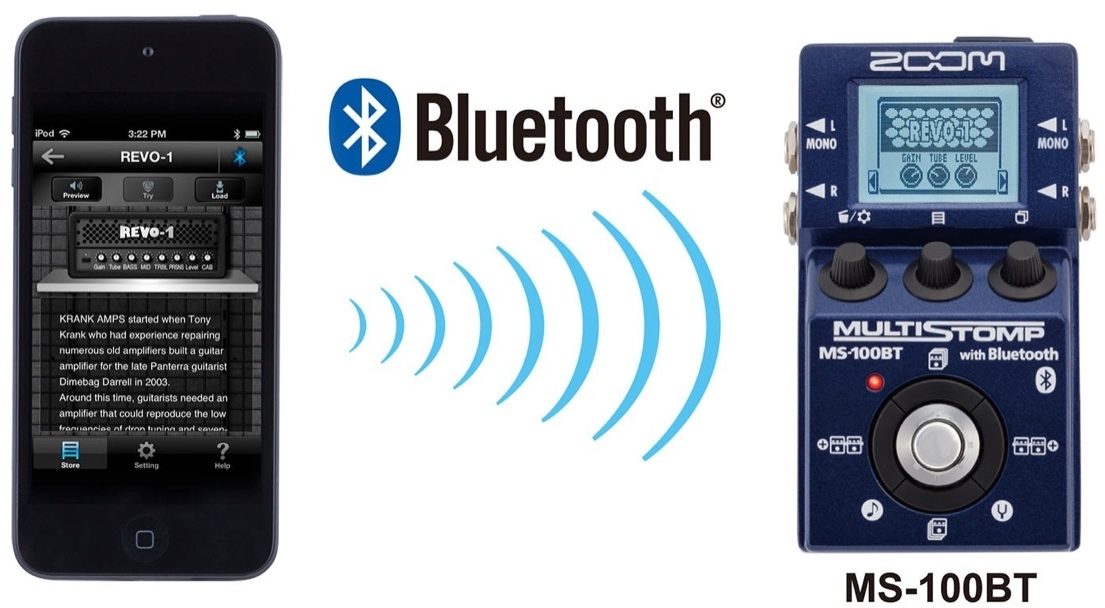 The next step in Zoom's revolutionary line of multi-stomp pedals, the MS-100BT combines a multi-effects pedal and amp modeler with Bluetooth technology.
The most advanced model to date in Zoom's revolutionary line of multi-stomp pedals, the MS-100BT MultiStomp Guitar Pedal with Bluetooth combines the power and flexibility of a multi-effects pedal and amp modeler with Bluetooth technology in a single stompbox design. In addition to its 100 preloaded stompbox effects and amp models, the MS-100BT allows you to use Zoom's free iOS StompShare app (available for download in Apple's App Store) with your iPhone, iPad or iPod touch, to buy and download additional effects via Bluetooth.
Add effects via Bluetooth.
Using the free StompShare app, you can browse, sample, purchase and download additional effects for the MS-100BT instantaneously via Bluetooth technology from you iOS device (compatible with iOS 4.3 or later). So, when you need an effect in the middle of a session, for your next gig or just to practice with, the MS-100BT and its Bluetooth capabilities make finding the right tone enjoyable and easy to use.
Firmware updates for the MS-100BT are performed via Bluetooth and StompShare.
StompShare.
StompShare, available on the App Store, is a virtual effects shop made especially for the MS-100BT. This shop offers users a wide range of both modern and classic stompbox effects and amp models. With StompShare, you can browse through and read detailed descriptions of all the available effects. Then, listen to demos of what each effect sounds like and preview trial versions on your pedal before making a purchase. Once you buy
…
read more
an effect via StompShare, it can be added to your MS-100BT and used like any of the pedal's preloaded effects.


Try before you buy.
StompShare allows you to try out any of the app's effects before you buy them. When you select "Try" on a specific effect, a fully functional, 15-minute trial will be automatically installed on your MS-100BT via Bluetooth. This allows you to test the effect thoroughly with your own guitar setup from the comfort of your home or studio. You're free to adjust parameters to your liking, as well as use the effect in combination with the preloaded stompbox and amp models. This interactive trial will help you decide if you want to buy the effect and make it a permanent part of your MS-100BT.


Load in seconds.
Using Bluetooth to transfer effects purchased in StompShare to your MS-100BT is simple and fast. It's a completely wireless process (no need for dedicated cables) that only takes seconds per effect. Once you purchase an effect, just press "Load" and you'll be ready to rock in seconds!


Single stompbox design.
With a heavy duty, die-cast body, the MS-100BT has the classic look of a single analog stompbox. It features a large LCD and analog-style cursor keys/parameter knobs that together form an easy-to-use graphical interface. This intuitive design makes creating, saving and rearranging the effect chain a breeze and provides easy navigation in live and studio settings.


Amp simulation.
A highly refined sigmoid curve clipper re-creates the smooth clipping of a tube amp's waveform. This allows the MS-100BT to simulate amplifier sounds, including clean, crunch and full-gain drive tones that are authentic to the original models while maintaining the nuances of picking and strumming techniques.


Model your sound.
The MS-100BT's eight super-real amp models range from vintage gear to current trends in amp technology, each with its own distinct cabinet modeling that can be used to alter its tone characteristics. In addition, you can pair any of the available amp models with any of the available cabinet models and let your creativity run wild. Power a VX JMI 2x12 cabinet with a Delux-R amp, or combine the MS 1859 amp and the DZ Drive 4x12 cabinet. It's up to you! The MS-100BT also provides you with the versatility to match the output of a given amp/cabinet model to whatever you're playing through (Line, Combo Front, Stack Front, Combo Power Amp, Stock Power Amp).

All available cabinet models are listed on Page 11 of the Effects Types and Parameters manual, located within the Downloads & Manuals tab of the MS-100BT webpage.


The most realistic sounds to date.
The ZFX-IV DSP effects processor boasts amazing power and clarity, upgrading everything from sound to functionality over previous ZFX versions. By using 32-bit floating-point processing, the MS-100BT can produce sounds that are more realistic than ever before.


All the classic stomps in one.
The MS-100BT offers 92 diverse types of effects, including some of the world's most popular stompbox guitar pedals and rack-mounted processors. The pedal's wide range of effects includes distortion, compression, modulation, delay and reverb.


Up to six simultaneous effects.
With the MS-100BT, you can use up to six stompbox and amp effects simultaneously and arrange them in any order you like. This allows you the freedom to build complex tones, as well as the ability to bring individual elements in and out of the effects chain as you like.


Presets -- Right out-of-the-box.
Right out-of-the-box, the MS-100BT allows you to create and store up to 50 of your original patches. To get you started, 30 of these patches are preprogrammed and form a versatile collection of guitar sounds that include some of the world's greatest stompbox and amp effects.


Stereo in and out.
The MS-100BT features two 1/4-inch inputs that let you to use the pedal with not only guitars, but stereo instruments such as synthesizers and samplers, as well as other effects and processors that have stereo outputs. The pedal's two 1/4-inch outputs allow you to maximize the characteristics of the pedal's stereo effects and record them using line level connections.


Output modes for stage and studio
The MS-100BT's amp modeling function offers different output modes for optimizing the pedal's effects based on how you connect it to your rig. In addition to having modes for the front inputs of combo and stack amps, the MS-100BT can be used as a preamp when connected to a power amp input. You can also achieve realistic amp sounds optimal for recording by selecting the direct mode for line connections.


Pick your patch order
With the MS-100BT, you can program which patches are recalled and the order in which they appear. For example, you could select three patches -- (A) CLEAN TONE, (B) HEAVY RIFF and (C) LEAD SOLO -- and program the MS-100BT to cycle through only those three tones each time you press the footswitch.

You can program the recall order of up to 26 patches (A-Z).


Smaller boards, bigger tones
Perfect for use in combination with traditional stompboxes, the MS-100BT can be added to your pedalboard to decrease the size and complexity of your setup, while expanding your system's effects and modeling capabilities.


Precise Tuning
The pedal's highly accurate auto-chromatic tuner offers smooth, real-time response, which makes turning your guitar effortless. When you're in the middle of a performance or practicing alone, simply hold down the pedal's footswitch to start getting your strings back in tune. In addition, the MS-100BT's LCD makes the tuner easy to see on a dark stage. You can also tune silently in the tuner's MUTE mode or with all effects bypassed in its BYPASS mode.


Power Proof
Providing versatile power options, the MS-100BT operates via AC adapter (sold separately), as well as battery power. Two standard AA batteries (included) provide up to seven hours of continuous mono input use and up to five hours of continuous operation when using the stereo inputs.

Bringing Bluetooth technology to the stompbox-style multi-effects pedals from Zoom: the MS-100BT MultiStomp Guitar Pedal with Bluetooth.


Features:
- Single stompbox design
- Bluetooth compatible with iOS 4.3 or later devices
- Browse, sample, purchase and download effects via Bluetooth
- StompShare iOS app available for free download via the App Store
- Easy-to-use interface includes LCD, footswitch, and analog-style cursor keys/parameter knobs
- 100 preloaded effects types (92 stompbox effects, 8 amp models) can be used in any combination
- Use up to six effects simultaneously
- 30 preset patches ready for immediate use
- Create and store up to 50 original patches
- Integrated auto-chromatic tuner
- Tap tempo function
- Two 1/4-inch input jacks, two 1/4-inch output jacks
- AC (adapter sold separately) and battery powered
- Up to seven hours of operation using two AA batteries (included)
read less
For support or warranty questions, please contact the manufacturer:
Phone:
631-542-5270
Email:
info@zoom-na.com
Web: https://zoomcorp.com/en/us/contact/
Reviewers gave this product an overall rating of 4.5 out of 5 stars.
(

1

ratings)
Submitted October 10, 2013 by Darren B in Austin, TX
"ZOOM Raises the Bar in Stomp Box Pedal Desigm with the MS100 BT Pedal!&quot
Verified Customer
zZounds has verified that this reviewer made a purchase from us.
I am stoked about the new Zoom Stompbox pedals. I purchased both the MS 100 BT and the MS 50. They have raised the bar in stompbox pedal design and functionality in delivering one of the first and finest "hybrid" pedals that is fully a stomp box pedal, yet full a multi-effects processor. The MS series are stand alone pedals in their own right that perfectly nail stomp box pedal tone with all of their subtle nuances and dynamics. This also means by definition that they have true bypass and can be set up in a pedal line up with all your other favorite pedals. Yet, it is fully a multi-effects processor and allows on-the-fly changes to different pedal tones, effects and control as you would expect from a more costly unit. The ZOOM pedals accomplish all of this in a very affordable platform that both, beats the multi-effects processor costs by a large margin and in many cases, even beats out the typical price of a single pedal effect. The Zoom multi stomp pedals are destined to rock the guitar world and forever change the way guitarists utilize technology without breaking the bank or taking out a loan to do so. I have a Godin synthesizer guitar (very expensive) and also have the Roland synthesizer modules (equally very expensive) and although I am a stalwart fan of the synth guitar, not everyone can afford it. Yet, I can say with a certainty that with the Zoom multi stomp pedals, you can accomplish many similar synth tones as found in my very expensive synth guitar and synth module
…
read more
setup in addition to all the great distortion, chorus, reverb, filter, phaser, compression, rotary, stereo and amp tones. Do yourself a favor, quit reading reviews and spend the $150 on the Ms 100 BT for added bluetooth capability or the MS 50 for $100! You will NOT be disappointed. Thanks Zoom for making such an incredible product so affordable! Also, thanks to ZZounds for making the "Play as you Pay" option available. It is by far, the best option for musicians to purchase new gear in a very affordable and practical manner.

Musical Background:
20 years, live performances, some recording

Musical Style:
Rock, jazz, progressive, some blues
read less
5 of 5 people (100%) people found this review helpful. Did you?
Thanks for your opinion!
No longer available at zZounds
In most cases, a product is unavailable because it has been discontinued by the manufacturer