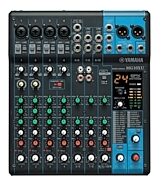 Yamaha MG82CX Stereo Mixer with Effects
No longer available at zZounds
Heir to the technology of Yamaha's higher-end mixers, the MG82CX delivers on-board FX, high-quality EQ and a low noise floor in a very affordable package.
Many real-world mixing applications only involve a few channels, so a small mixer is the obvious choice. But no matter how simple the setup, you'll always want first-rate audio quality and processing capability. The MG82CX and MG102C are the ideal choice for live sound applications, offering sonic quality that will satisfy the most critical listener, surprising flexibility and ease-of-use, and some advanced features you normally wouldn't find in this type of compact mixer. So whether you need a compact main mixer, or a secondary utility mixer for a larger application, don't overlook these performance-packed models.
Flexible Channel Configurations
The MG82CX has a total of 8 input channels comprised of two mono microphone/line channels and three stereo line channels. The MG102C has an addition stereo channel for a total of 10 input channels. On both models two of the stereo channel can be used as mono microphone inputs, providing a total of 4 microphone inputs when necessary. Gain trim covers a wide -60dB ~ -16dB range for microphone input, and -34dB ~ +10dB for line input.
Comprehensive, Easy-access Connector Panel
Top-mounted input and output connectors make setting up and re-patching your system quick and easy. Both models feature high-quality Neutrik(r) balanced XLR connectors on both mono microphone/line channels and 2 of the stereo channels. The XLR-equipped stereo channels can accept mono microphone input either via the XLR or phone jack connectors. The remaining stereo channel on
…
read more
the MG82CX and the remaining 2 stereo channels on the MG102C provide phone jack and pin jack connectors for compatibility with a wide range of sources. The 2 mono input channels also feature insert I/O connectors that let you patch external signal processing gear into those channels as required. Separate pin-jack 2TR inputs are provided to accept the output from a CD player or similar stereo source.


4 High-Performance Mic Pre
Microphone preamplifiers are critical in any mixer, and a performance bottleneck in many. That's why pros often spend thousands of dollars on just a single channel of microphone pre-amplification. The microphone preamps built into the MG mixers inherit technology from Yamaha's top-line professional consoles, and have been painstakingly designed to deliver superior sonic performance with any dynamic or condenser microphone. All 4 microphone preamps also feature switchable phantom power so you can take advantage of the natural, extended response of high-quality condenser microphones. A single switch turns phantom power on or off for all four channels.


Built-in Channel Compressors
This advanced feature can be a tremendous advantage in achieving great vocal sound. It can also be used to refine the sound of bass, guitar, and other sources. You won't find built-in channel compression on too many other mixers in this class, but in the MG82CX and MG102C you have Yamaha's innovative 1-knob compression feature on mono input channels 1 and 2. Conventional audio compressors with their threshold, ratio, knee, makeup gain and other controls can be complex and time-consuming to set appropriately for a given source. Yamaha's one-knob compressor eliminates the need for an engineering degree with a single control that lets you simply dial in the amount of compression you want.


3-band Channel EQ and High-pass Filter
Building a truly useful, musical-sounding channel equalizer is no easy task, but Yamaha has decades of experience in building pro consoles to draw on, and you reap the benefits in the MG-series mixers. Channels 1, 2, 3/4, and 5/6 feature full 3-band equalizers with LOW, MID, and HIGH controls, while channel 7/8 on the MG82CX and channels 7/8 and 9/10 have 2-band EQ for smooth equalization of stereo sources.


Effect/Aux Sends
The MG82CX has Effect send controls on all channels that adjust the level of the signal sent from the corresponding channel to the mixer's internal multi-effect system. The same signal can also be sent to external effect processors via the mixer's Effect Send jack. The MG102C has Aux send controls on all channels in place of the MG82CX Effect send controls, and these adjust the level of the signal sent from the corresponding channel to the Aux Send jack that can be used to feed external effects or a monitor system. A Return control in the master section of both models adjusts the level of the signal returned from external processors via the Return jacks.


Stereo, Control Room, Monitor, and Headphone Outputs
Located above the mixer's master controls, on the convenient easy-access connector panel, are the main stereo output connectors, phone-jack monitor output connectors, pin-jack recording outputs, and a stereo headphone jack. They may be compact, but these mixers offer plenty of connectivity for a wide range of applications.


Bright Meters for Visual Level Monitoring
Accurate visual level monitoring can help you achieve maximum signal-to-noise ratio without distortion. The MG mixer's bright, easy-to-read multi-segment LED meters make it easy to control system levels for optimum overall performance.


Lightweight, Portable Design
The MG82CX and MG102C weigh only 1.6 and 1.5 kilograms, respectively. That's small enough to pop into your briefcase or shoulder bag and easily take with you anywhere. But the performance you'll get at the studio, club, outdoors, or anywhere you choose to use these fine mixers is far from lightweight.


Optional Mic Stand Mount
Both of these compact models can be mounted on a microphone stand for optimal positioning and easy access using the optional BMS-10A Mic Stand Adaptor. This can be particularly handy when using the mixer as sub-mixer for drums or as a cue box in recording situations.


Easy Operation
All switches, controls, and displays have been designed and laid out for intuitive access and smooth, reliable operation with positive tactile and visual feedback.
read less
For support or warranty questions, please contact the manufacturer:
Phone: 714-522-9011
Web: https://usa.yamaha.com/support
Submitted September 12, 2007 by a customer from atyourrequest.ca
"AWSOME LITTLE MIDGET&quot
Its good to go
Sound
As a Karaoke host I've been using an old clunker Pyramid DJ mixer. It just barely got me by. I've pick this little yamaha and its absoulutly the cheapest and the BEST purchase I've ever made! Sound quality EXELENT, effects are awsome. No more searching around for standalone effects. Sounds awsome with both my yamaha amp or my QSC. Couldn't ask anymore of a little mixer
Features
Doesn't come with any accessories
Ease of Use
Well my 10 year old figured out most of the features when I wasn't looking.. Easy enough for ya???
Quality
I think this product is great for the road, but I'd like to see it made with an all steel body instead of plastic.. It's a little on the lite side. Had it tip over from cables before.
Value
TOP NOTCH FOR THE GREAT PRICE
Manufacturer Support
Haven't needed anything yet with this one.
The Wow Factor
Again, metal not plastic
Musical Background:
DJ and KJ
Musical Style:
Anything goes
29 of 32 people (91%) people found this review helpful. Did you?
Thanks for your opinion!
No longer available at zZounds
People who bought this item also bought