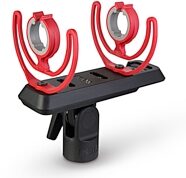 Rode SM4 Shockmount
No longer available at zZounds
Reduce transmission of vibrations to shotgun microphones with the Rode SM4 shock mount -- it includes thread adapters for mounting on a stand or boom pole.
A shotgun microphone suspension shock mount with a stand mount adaptor.

The SM4 shock mount is designed to significantly reduce vibration transmission to shotgun microphones.

Features a 4-way rubber suspension with friction tilt mechanism to aid directional positioning.

A three way mounting system with 1/4 in. x 20 and 3/8 in. x 16 internal threads, a 5/8 in. x 27 and a 3/8 in. to 5/8 in. thread adaptor for Tripod, Boom Pole and mic stand mounting.

Also, the perfect accessory for NT3, NT4 and NT5.
For support or warranty questions, please contact the manufacturer:
Phone: 562-364-7400
No longer available at zZounds
People who bought this item also bought