Korg KP2 Kaoss Pad Effects Processor/Sampler
No longer available at zZounds
This is a carousel with one large image and a track of thumbnails on the left side. Select any of the thumbnail buttons to change the main image. You may also use the left and right arrow keys to navigate between images.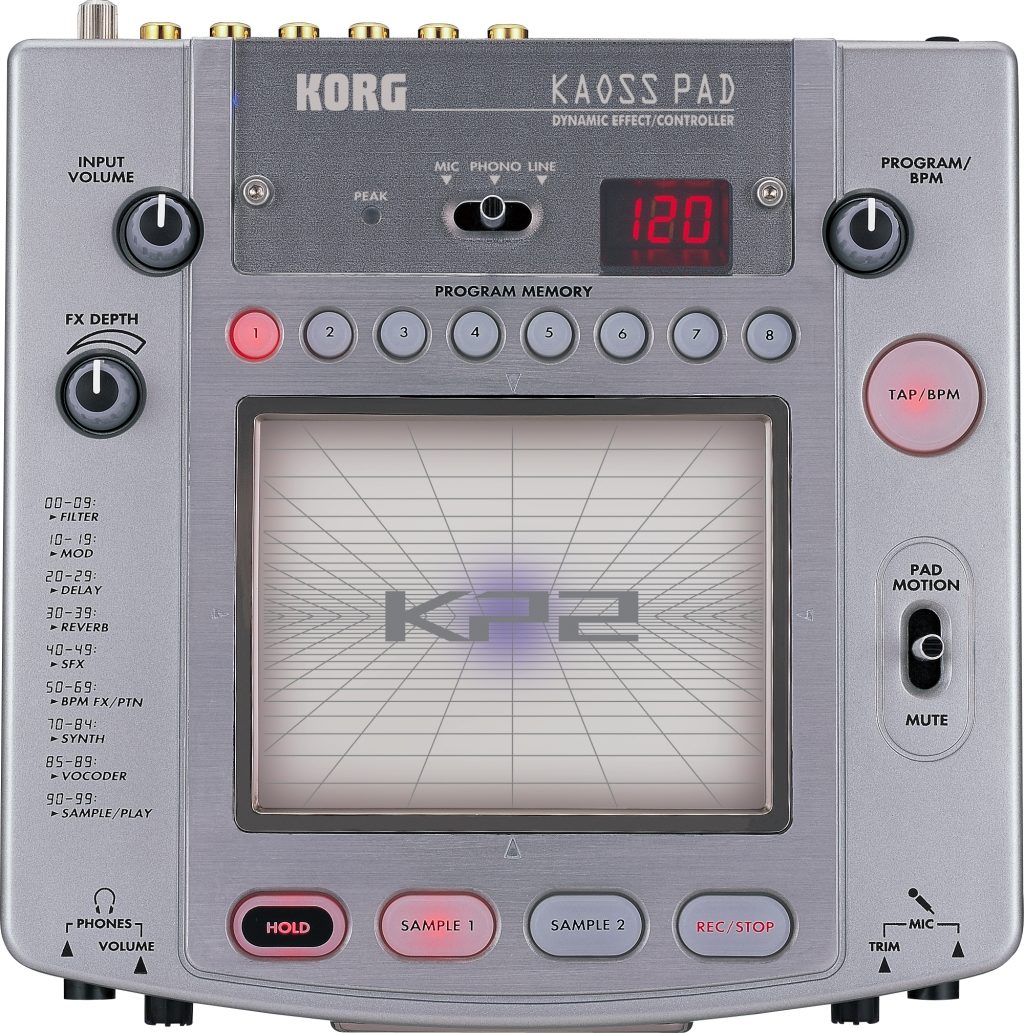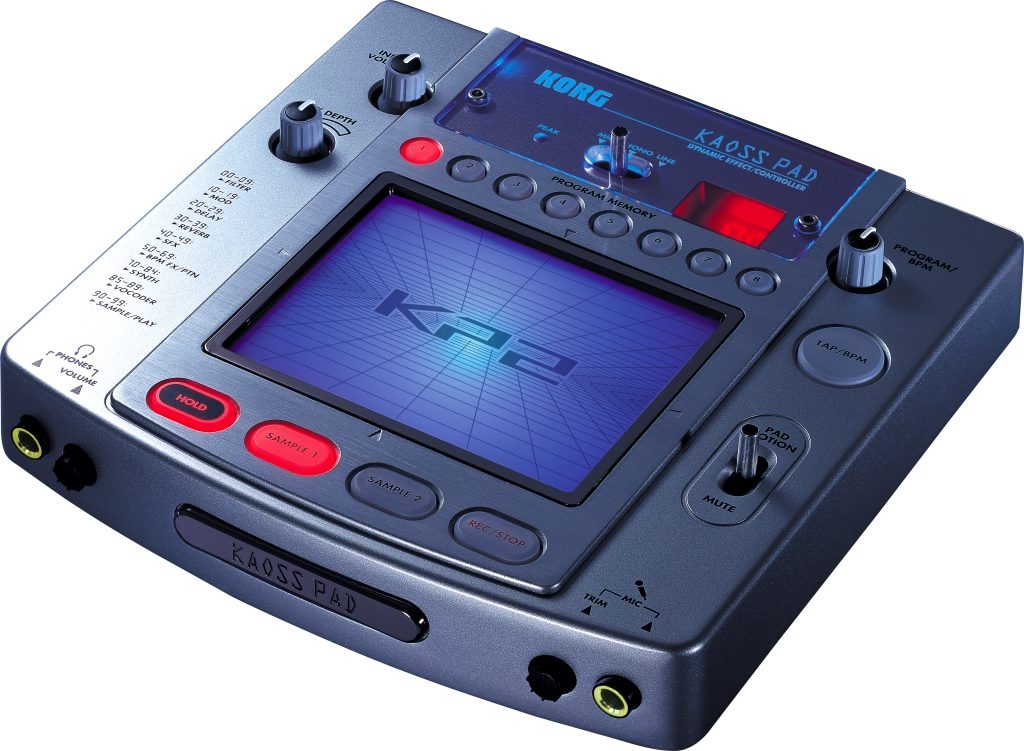 100 Effect Programs. BPM Effects.
The revolutionary, original Kaoss Pad provided "playable" effects for any type of audio source, including records, CD, samplers, or keyboards. Now, the KP2 expands on the original with more effects (100 total), BPM functionality that syncs the effects to BPM automatically, to MIDI clock or Tapped tempo, and an incredible Sampling function. The KP2 can control effects just as if you were playing a musical instrument, and it offers new possibilities for DJ mixing, sound processing, and live performance. The new Pad Motion function lets you record and reproduce complex finger movements on the touch pad. Highly original effect sounds can be played back instantly. Other new features include MIDI In/Out and the pad even changes color according to your finger position.
The Touch of Your Finger
The concept of the KAOSS Pad is brilliantly simple — as you move your finger around the pad you are controlling many sophisticated aspects of a powerful effects processor. Move your finger left to right and you control certain aspects of the sound. Move it up and down and you control other parameters. Make an arc and you bring in even more changes. All you need to do is glide across or tap on the pad to make evocative changes to your mix, producing a level of complexity that would be impossible to achieve with any other system or controller.
100 Killer Effect Programs
The KP2 is packed with essential effects like filters, delays, reverb, and flanging, along with cutting-edge DJ effects
…
read more
like isolator, slicer, and auto-panning. Select effect programs by turning a knob and assign up to 8 in the program memory buttons for instant recall. A Hold switch lets you freeze an effect in its current position, making it easy to capture a perfect setting or to rhythmically change the sound by drumming on the pad.

More Groove with Synths and Vocoders
Not only does the KP2 come with amazing effects, it also is loaded with 15 super-cool synth sounds including analog synth programs and ethereal ambiance-type sounds. Use the pad to play and manipulate the sounds for some truly unique creations. We've even included 5 vocoder programs that are great for MC or vocal processing.

You're in Sync with Special BPM Effects
Sync delay time or the LFO of modulation effects such as pan, phaser, or flanger to the beat with the KP2's 20 specially programmed BPM effects. You can use the Auto BPM function to detect the speed of an input source, adjust the BPM manually, tap in the tempo yourself, or even sync the KP2 to incoming MIDI Clock messages. Eight new BPM patterns can be triggered from the touch pad, allowing rhythm and bass synth patterns to be played, perfectly synchronized to the BPM.

Sampling with Effects
Plug into the KP2's audio input and sample up to 6 seconds of sound at 44.1 kHz. The KP2 has 2 sample keys that you can use to trigger those samples. Run the samples through the KP2's effects. Or you can process a sound through the effects and then sample it. Use the touch pad to apply time-stretch, reverse-playback, pitch shift, or scratch effects to the samples for unlimited creative possibilities.

Record Your Pad Movements and Transform Them
The KP2 remembers your exact movements. Simply record your moves with the Pad Motion function, and you can play back complex pad movements and instantly reproduce your original effect sounds. The Mute function can be used to cut the input sound, leaving only the reverb or delay "tail," or you can switch muting rapidly on/off in time with the rhythm (a DJ technique commonly called "transform").

Easy Operation and Quick Connection of DJ Sources and Instruments
The KP2 is ready to be used with a variety of sound sources. Phono In and Line In connectors allow turntables, CD players, and musical instruments to be connected easily. A Mic input is perfect for processing vocals or for use as a wild MC toolbox. MIDI In and Out connectors allow a computer-based sequencer etc. to record and playback subtle movements of the KP2's pad for flexible production and remixing possibilities. The MIDI Out connector also lets you use the KP2 to control other synthesizers and MIDI gear opening up a new world of expressive performance gestures.

Add the Dimensions of Light and Style
With its own light show, the KP2 generates an intrinsic sense of groove. The colors on its touch pad change according to the type of effect you're using and the position of your finger on the pad. The new KAOSS Pad is also built to travel with a heavy-duty, die cast aluminum chassis and a bold, slim-line design.
read less
For support or warranty questions, please contact the manufacturer:
Phone:
631-390-6800
Email:
Web: https://www.korgusa.com/support
Reviewers gave this product an overall rating of 5 out of 5 stars.
(

178

ratings)
Submitted June 8, 2005 by a customer from colstate.edu
"If you want a Monster thats easy to tame but impossible to ignore, you want a Kp2.&quot
This review has been selected by our experts as particularly helpful.
I'm so glad I bought it, I got a really good deal on mine to.I'll use it until it falls apart and I'm willing to bet its going to be along time...or unless they find a way to upgrade this product..I'll sell what I got in order to get the newer version as long as its just as fit.I think the kp2 has really helped me elevate my turntablism allowing me to do things with it that I never thought possible.
Sound
This device is incredible.It is flawlessly compatible with my Mixer(rane empath)Due to the fact I have Dry to wet faders for my effects.It has the koolest ground breaking effects that will blow your mind away.This processor has 100 effects that you can tweak to get an infinate amount of results it's very easy to use with the touch pad you can change sounds with perpetual motion and fluidicity with no breaks on each program, and the bpm button is as accurate as you can get.You can program your effects and keep your favorites at the touch of one of its 8 program buttons.the only thing I see that could be improved is to add a feature wich would allow you to save samples, but this is no big deal because it's so to use the sampling programs.Samples are very easy to aquire and render with this processor.It's diecast metal construction is always a plus.Hands down this beats the crap out of anything like it.Including the effects found built into to some of the popular mixers.Its also got voice coder programs great for vocals.The Kp2 is a Monster...Mark
…
read more
Cole(aka..Ol"King Cole)

Features
This processor is very adaptable and easy to hook up to anything.All it's features are most useful.

Quality
Die-cast construction.I got mine when they came out and I haven't had a problem with it yet..and people say that my style is rough on my equiptment.

Value
It's well worth the money..No doubt!

The Wow Factor
They could have colors that would be extra cool.but over all it's nice looking piece of gear

Musical Background:
Drums, turntablism, producing beats and musical compositions.

Musical Style:
Hip-hop, Jungle,DnB, Breaks all with some added flavors from all styles of music.
read less
3 of 3 people (100%) people found this review helpful. Did you?
Thanks for your opinion!
No longer available at zZounds
In most cases, a product is unavailable because it has been discontinued by the manufacturer