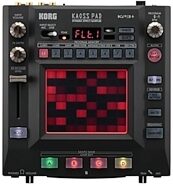 Live performance DJs love this Kaoss Pad for its ease of use. Swipe the touchpad to manipulate loops freely and control 150 types of effects in real time.
Korg KO2 Kaossilator 2 Dynamic Phrase Synthesizer and Looper
No longer available at zZounds
Put 150 synths, 15 drum kits, two Loop Recording banks, and an easy-to-use X/Y touchpad in the palm of your hand -- with the battery-powered Korg KO2.
No longer available at zZounds