Fender Metro Electric Bass Gig Bag
No longer available at zZounds
This is a carousel with one large image and a track of thumbnails on the left side. Select any of the thumbnail buttons to change the main image. You may also use the left and right arrow keys to navigate between images.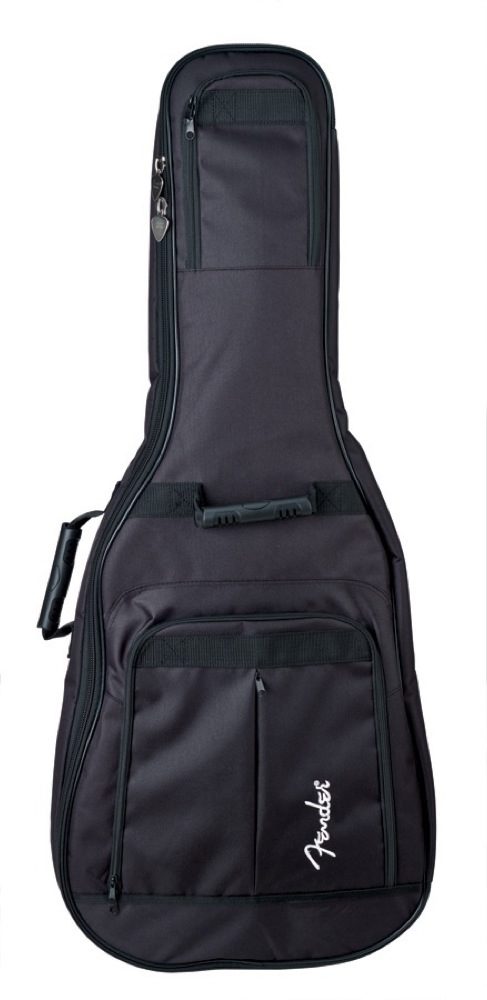 Carry your bass and accessories around with this luggage-grade gig bag. Includes large outer pockets for added storage.
The Fender Metro electric bass gig bag features functional & stylish design. Water resistant polyester, 600 denier exterior with 25mm thick premium foam internal padding. Features three large outer pockets and includes padded backpack style shoulder straps.


Features:
- Water resistant
- Luggage grade exterior
- Large outer pockets
- Padded backpack style shoulder straps
- 25 mm internal foam padding
For support or warranty questions, please contact the manufacturer:
Phone:
800-488-1818
Reviewers gave this product an overall rating of 4 out of 5 stars.
(

2

ratings)
Submitted January 23, 2013 by S. M in Pittsburgh, PA
"Efficient, Self-Standing Construction--; but seek Alternate totement for Accessories.&quot
Verified Customer
zZounds has verified that this reviewer made a purchase from us.
In my nascent effort to upgrade to a full-inch of protective-padding in a gig-bag for a decent Fender-copy bass I wanted to protect-and handle-well--; the overall-diminished thickness of padding in said product-line in the eight years since I last had looked, had narrowed my selection in the one-inch class down to a small-handful--; of- which the only one I found already in-stock for weeks anywhere under $100 or more was this Fender Metro Bass Gig-Bag (then-$59.99). I took a chance that it would "also" have-been "adequate--." Due to the fact that I -in-particular really only-cared about whether the gig-bag provided better "protection," and were easy to load or unload the instrument from or to--; "whether-or-not," it "also" had usable "accessory-storage--;" the answer to that question--; was, "for-me--;" "yes--." As-advertised--; the padding in the Fender Metro Bass Gig-Bag is a full inch--; or 25 mm--; thick--; making the bag beautifully, "stiff," and rigid in holding its own shape even when "empty." Possibly due to the thickness of the walls of the bag, it is made-differently than many thinner bags. It has an added, separate "rim-wall," instead of being made as a just-two part, "sandwich." Along with the greatly-thicker walls throughout--; this perpendicular wall-around the-rim makes the bag so stiff, that it stands-up without the instrument inside, which makes loading or unloading the instrument straightforward, rather than a struggle--, as even 3/4-inch padded bags made
…
read more
that--; so there is no-more "fussing" to avoid damaging the instrument's vulnerable "tuners," or wild "flailing" to hold-open any otherwise-floppy bag that really needed "both" hands "just" to do "that" while still needing still-another hand with-which to have-put the instrument "inside." For this property alone, this bag is worth the difference in price above 3/4-inch padded bags. However--; I feel I should "still," "warn" other buyers that this bag is also a relative "compromise" at least in "other" ways--: While pictures I saw, led me to believe that this bag also had even-roomier "accessory" pockets than-had 3/4-inch padded bags I'd previously bought--; the product- "itself" revealed that these pockets--; "Forgive-me--;" were, "almost," "not-there." While things like that, frankly, tended to have "annoyed" me--; in "this" case I'll gladly accept the "tradeoff--:" Negligible pockets on a gig-bag that stands hands-free like a regular "case," at this price--;" are--; at-least for-me--; "worth," it--. Another partial-minus is that even the "main" zippers on this bag are decidedly "rough," and require pronounced skill and force to operate. (The zippers on the vestigial, flat, "pockets" are best not-even "used--;" inasmuch-as that "they" barely-worked "at all--;"). Even despite this--; the ease of loading, and the extra protection--; are worth the extra-price above non-freestanding, thinner, two-piece bags despite whatever otherwise presence of practical pockets or smoother zippers. This bag also is "bigger" than my favorite "3/4-inch" padded bag--; which proved to "matter" for any "full-sized" bass--; ("mine" "just-fit" in "this" one--; but didn't-fit "at-all," in my "older" bass gig-bag). if you own a Fender or a Fender-copy, you might want to "start-with," one "at-least" this-big.

Sound
N/A. If you want me to "relate" the product's quality to a "sound" function--; the logic-path is "thus--:" The bag protects the instrument to keep it more "inviting," than no-bag--; and makes the instrument, "easier-to get-at," than, "typical" bags. This could "increase" "practice-frequency" "a great deal," "increasing-skill," which, "sounds-better," no matter "what" kind of actual "instrument" the player "had."

Features
The most useful feature is the Construction, which makes it freestanding and ultra-ergonomic, as mentioned everywhere-here. Other than that, ancillary features, in terms of pockets and zippers, included pockets that were more token than real. The main zippers were were stately and massive, but had notably rough action. The zippers on the spaceless pockets barely worked. The product features a strong, appealing main handle, and an alternate handle as well as a pair of backpack-straps. (The backpack-straps are supposed to be able to zip-into a pocket to get them out of the way, I've just-remembered. Maybe one of the pockets I just assailed as "shallow," was actually only-meant to tuck-away the backpack-straps--; for-which it is probably actually perfectly-adequate, of course).

Ease of Use
The unique stiffness granted by the thick walls and rimmed construction of this gig-bag making it freestanding even-when-empty--; like a "case--;" make it utterly easy to use--; totally-unlike "typical" "gig-bags," which I otherwise find to be just "a nuisance," by comparison. However, the rough, sticky "main-zippers," "may" impose their-own "learning-curve."

Quality
The product is made well in terms of the fact that it is very thick-walled with dense, stiff padding, and has rimmed construction, a much-heavier, more expensive "design." than typically-encountered. There is an immediate impression of integrity and quality, no unevenness, sags, wrinkles, etc., no loose-threads or snags.

Value
Yes. For me it is, "anyway," since I value better protection of the instrument and ease-of-loading over accessory carrying-capacity, and need a bag that will accommodate a bass some other bass gig-bags will-not, and this one is about as inexpensive as one can "go" and still "get" those features.

Manufacturer Support
I have not dealt with the company that made the product. The product is a passive item to-which I'm not-sure this question "applies."

The Wow Factor
It's appealing to "me," because of the degree to which it "suits," the extensive "analysis" I undertook to decide what specifically "I," "needed--;" Thickly-padded bags have a certain, "esthetic." Even the giant, main "zippers," have a stately "cachet," especially until one discovers they were a bit "demanding--."

Musical Background:
Playing for decades, bass and keyboards, at home.

Musical Style:
My core styles most nearly approach classical and neoclassical.
read less
2 of 3 people (67%) people found this review helpful. Did you?
Thanks for your opinion!
No longer available at zZounds
In most cases, a product is unavailable because it has been discontinued by the manufacturer
This is a carousel with product cards. Use the previous and next buttons to navigate.
People who bought this item also bought
$449.99

---

No Credit Check

No Credit Check

$349.99

---

No Credit Check

No Credit Check

$349.99

---

No Credit Check

No Credit Check

$399.99

---

No Credit Check

No Credit Check

$229.99

---

No Credit Check

No Credit Check

$429.99

---

No Credit Check

No Credit Check

$549.99

---

No Credit Check

No Credit Check

$732.00

---

No Credit Check

No Credit Check