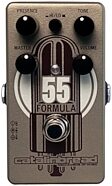 Catalinbread Formula 5F6 Tweed Bassman Pedal
No longer available at zZounds
Transform your clean amp and harness the raw sound of a 6L6-powered vintage tweed amp pushing into its sweet spot, with the Catalinbread 5F6 overdrive pedal.
The Catalinbread Formula 5F6 is a high-powered 6L6-driven tweed on the edge of breakup. The Formula 5F6 adds vintage tweed Bassman response to Catalinbread's range of Foundation Overdrives, giving you the awesome characteristics of this classic amp into any clean amp.
The Formula 5F6 lends itself to almost any musical style, from the classic Strat - Bassman blues tones of Buddy Guy and Otis Rush to artists like Jimmie and Stevie Ray Vaughn, Robbie Robertson, Robben Ford, all the way to heavier styles by stacking boost, overdrive, or fuzz pedals into it. Don't worry, the Formula 5F6 won't just make you play old music, it will take you where your imagination takes you!
What Catalinbread did with the Formula 5F6 was reproduce the key circuit elements of the Bassman "5F6" preamp circuit's bright channel using JFETs instead of tubes and then fine-tuned and refined it for ultimate low to medium gain response in front of any good amp set clean. You get the same preamp structure (gain stage -> volume control -> gain stage -> tone stack) as the Bassman, key to getting not just the tone, but the feel and response right.
When a tweed Bassman is set at low to medium volumes, you get a sparkling, harmonically rich tone. Turned up a bit more and it delivers that famous on-edge-of-breakup character that is responsive to your pick attack, a sound so widely craved by guitarists. Play a ringing open chord and you'll be rewarded with lush harmonic swirl. And then crank the volume up to 12 and
…
read more
you'll get a thick, creamy, meaty crunch - the original genesis for all heavy guitar sounds to come. And if you hit it really hard, you're rewarded with a slight compression, a slight sag in the response that feels so good to play. The tweed Bassman is so touch-sensitive and responds beautifully across the frequency spectrum. If you play a Strat, this is a match made in heaven.



The tweed Bassman might just be the perfect amplifier for the Fender guitar. That's why it can cover any style: the dynamic feel, the perfect amount of breakup, how it lends itself so well to pedals. The tone complements and enhances the Fender guitar rather than fighting it. Gibson style guitars sound great too and will overdrive the preamp sooner and you'll start to recognize those tones you heard on famous records.

And with the Formula 5F6 you'll get that entire range of response! It does that quick compression on the initial attack that 'exhales' quickly into a wide clean with lots of glassy chime on top and a tight full low end. The more dynamic your style, the more you'll love the Formula 5F6!


INCORPORATING THE FORMULA 5F6 INTO YOUR PEDALBOARD
The Formula 5F6, like other the other pedals in the Foundation Overdrive Series, was designed to be the foundation of your pedalboard. The Formula 5F6, in particular, does this job incredibly well due to its relatively "-flat" response; it doesn't have any extreme dips or bumps in the frequency response.

Here's the role of the foundation pedal:
- Can get clean to crunch from your guitar's volume knob so you can leave it on all night and use it as your base tone.
- Can be stacked with other overdrive, boost, and fuzz pedals in front of it to enhance those, just like a real cranked up amp would.
- Can give you control over your stage volume without compromising your dynamics or touch-sensitivity.
- Can give you a much better base crunch tone then most overdrive channels on amps.
read less
Submitted June 8, 2018 by a customer from yahoo.com in harrisville, WV
"an outstanding value for the money&quot
Verified Customer
zZounds has verified that this reviewer made a purchase from us.
This review is simple and to the point. This pedal is a great foundation pedal for your effects chain. If you play the blues or classic rock and you want that 1959 Fender Bassman holy grail tone then this is it. I know because years ago I owned an original 59 Bassman. I never thought a pedal could come close to that amazing tone but this comes so close it's hard to tell the difference. Dial it in correctly and Bam there you go. It's made like a tank and the controls are very effective. Get a 18 Volt DC power supply for it and you get even more headroom and a clearer tone that way. zZounds as always is the best to deal with, period. that should have been 5 stars for sound, I miss hit the star.
Musical Background:
54 years as a player, guitar acoustic and electric
Musical Style:
Blues / Classic Rock / Country
Did you find this review helpful?
Thanks for your opinion!
No longer available at zZounds
People who bought this item also bought