Bitwig Studio 1 Music Production and Performance Software
No longer available at zZounds
This is a carousel with one large image and a track of thumbnails on the left side. Select any of the thumbnail buttons to change the main image. You may also use the left and right arrow keys to navigate between images.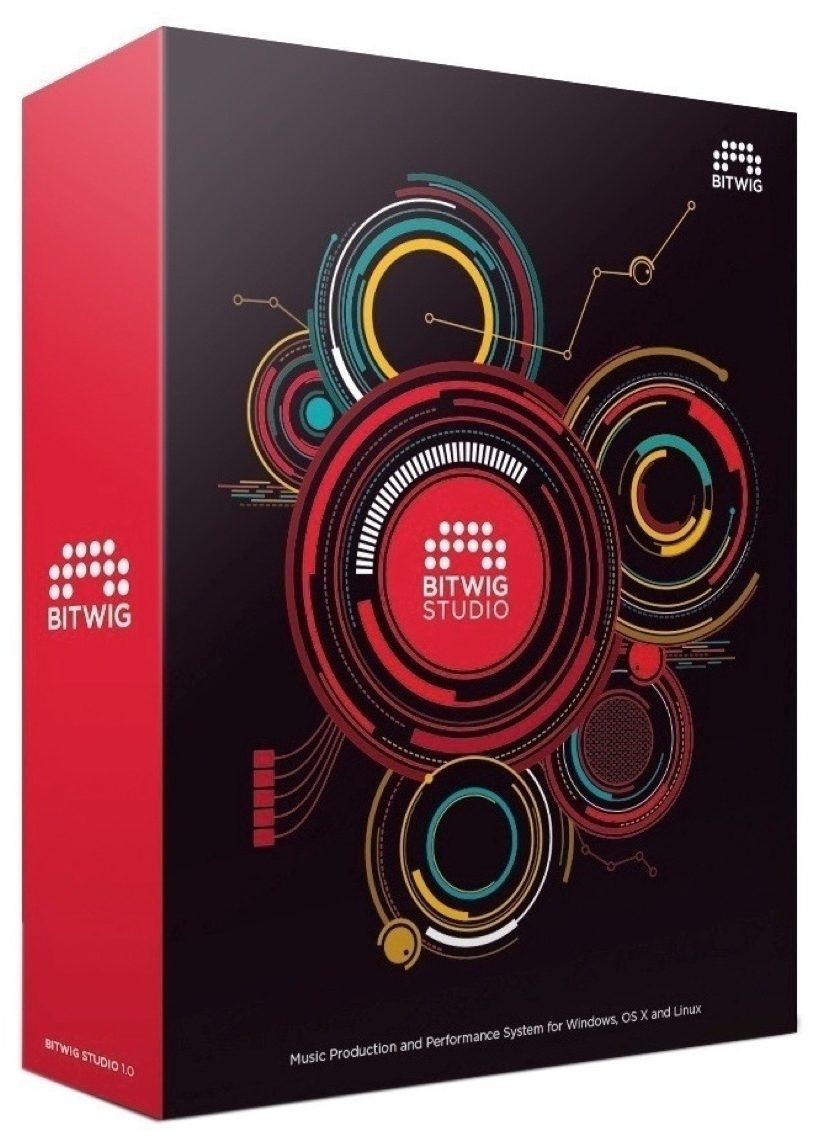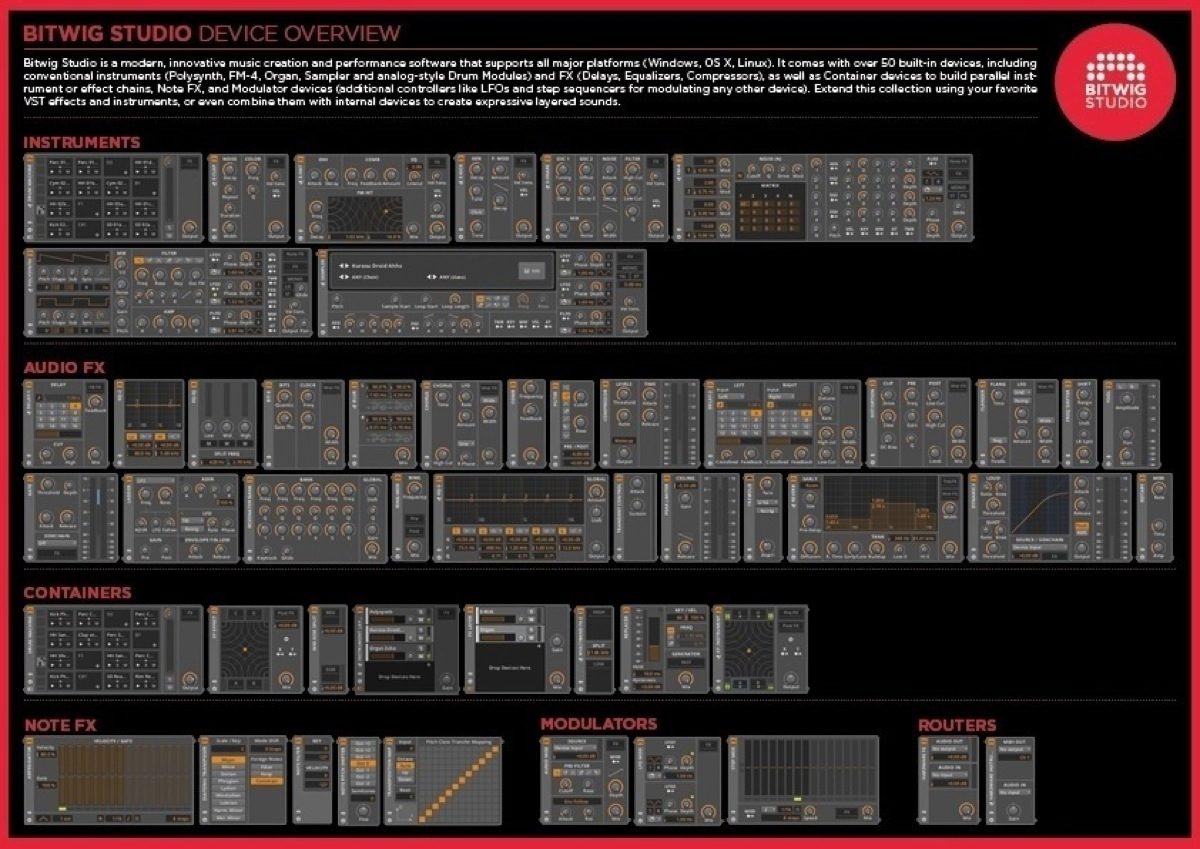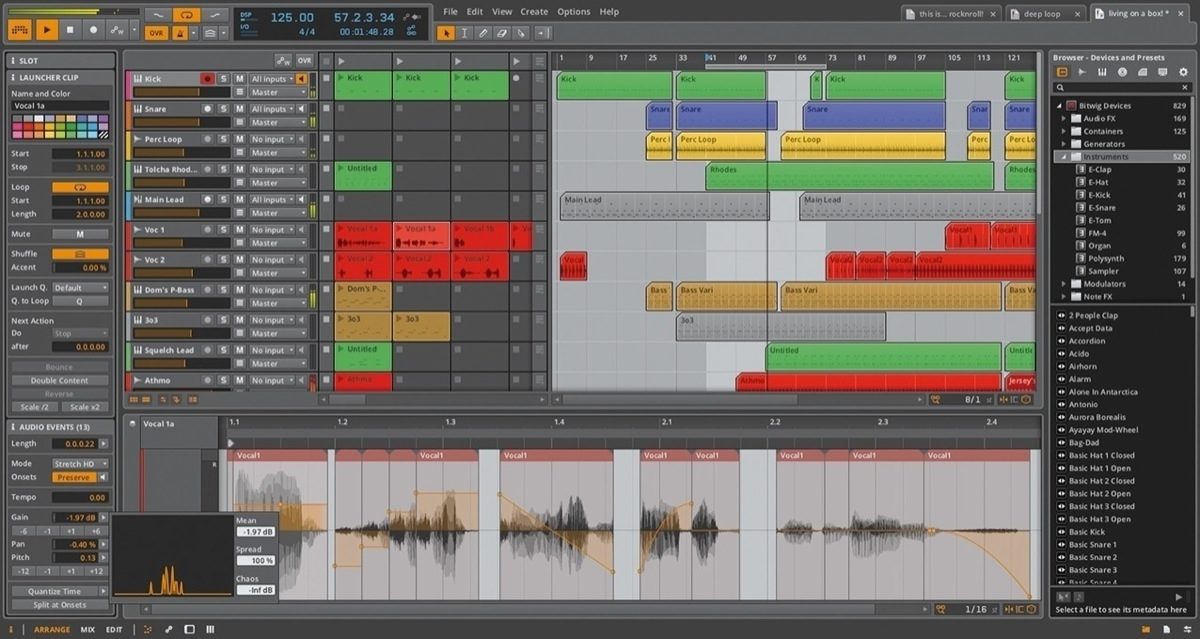 Slice samples, edit MIDI, and switch seamlessly between clip-based and linear workflows. Bitwig Studio even lets you drag and drop between multiple sessions.
Bitwig Studio is the next-generation music creation, recording, and performance software with a focus on flexible editing and super-fast workflow. Combining traditional arrangement sequencing with modern performance-oriented clip launching workflows, Bitwig Studio is the ultimate solution for realizing all your musical ideas across every stage of production.
Capture your ideas in clips and quickly create complete arrangements, combining clip and scene launching with traditional linear multi-track recording. Moving back and forth between clip and linear workflows is seamless, with both clips and linear recordings and editing available right from the Arrange and Mix views.
However you prefer to record, create or perform, Bitwig Studio will get the best out of you and your music. Bitwig Studio also comes with a complete complement of editing tools for both audio and MIDI. And it's fast to use with advanced layered editing, multiple audio events per clip plus much more.
The foundation is a state-of-the-art audio engine under the hood, with full multi-processing support, a unified modulation system, 32/64-bit VST plug-in bridging, and VST plug-in crash protection.
Check out how Bitwig Studio works with this video:

Free Update to Bitwig Studio 1.1 Included
Bitwig Studio 1.1 is a substantial update featuring devices, track crossfader, workflow improvements and controller API functionality. The Bitwig Studio 1.1 update is free to existing Bitwig 1.0 users.
Bitwig Studio comes with over 50 included devices including:
…
read more
- Instruments: Polysynth, FM-4, Organ, Sampler and analog-style Drum Modules
- FXs: Delays, Equalizers, Compressors, Modulation effects, Distortion Filters and more
- Container devices (to build parallel instrument or effect chains)
- Note FX, and Modulator devices: Additional controllers like LFOs, envelope followers and step sequencers for modulating any other device
- Extend this collection with your favorite VST effects and instruments, and use them side by side with Bitwig Studio internal devices.

Multiple devices including instruments, samplers and effects can be combined in a container to create layered, vector/morphing sounds and drum machine setups.

The Unified Modulation System allows the use of Macro Controls, Note Expressions, LFOs, and Envelope Followers to modulate any device parameter, including nested internal devices and even VST plug-ins. This semi-modular system is simple to use and yet expands the sound capabilities of a device way beyond the confines of its individual parameters.

And to get you going, 3 GB of factory content is included featuring: Drum Machines (808, 909... Percussion), Acoustic Drums, multi-sampled instruments like Wurlitzer, Rhodes, Vibraphone, Marimba, Acoustic and Electric Bass, Sampled Drum and Instrument loops, Various Sound FX, and more. A comprehensive Control API expands the Bitwig Studio system with extensive and transparent hardware control integration with Nektar's Panorama and Impact range of controllers as well as products from Novation and Livid.

Check out the Audio Editing functions with this video:


Features:
- Intuitive non-linear sequencing for the studio and performance
- Tabbed document interface for multiple projects open at once with drag-and-drop between them
- Dedicated Device Panel Mappings with color-coded knobs and buttons for an overview at a glance
- Great sounding proprietary time-stretching technology
- Multiple audio events per clip: Automatically cut up samples and rearrange them on the fly in
the Detail Editor
- Automatic audio slicing to both Sampler or Drum Machine
- Advanced layered editing
- Note and Audio expressions, including per-note Micro-Pitch Control
- Dynamic Object Inspector: Select multiple notes or events and edit them together with the interactive parameter histogram, easily adding variations as you go
- Over 50 included devices, including instruments, samplers, drum machine, effects, containers and more
- Unified Modulation System to modulate any device parameter including effects and VST plug-ins
- VST 2.4 support with built-in 32/64-bit bridging and plug-in crash protection.
- 3 GB of sound content including presets, samples, loops and instruments
- Support for many MIDI controllers out of the box including Nektar Panorama and Impact LX, Novation and Livid.
- Multi-display support for up to 3 displays
- Full multi-core and multi-processor support
- Cross-platform DAW (Windows, Mac OS X, Linux)
read less
System Requirements:
- 5GB free disc space required. Minimum 1280x768 Pixel screen resolution. Minimum 2GB RAM, 8GB recommended. Multicore-core CPU.
- PC Windows 7 or later.
- Mac OS X 10.7 or later, 64-bit CPU.
- Linux Ubuntu 12.04 or later, 64 bit CPU.
- Product: Dimensions/Weight (Product HxWxD inches/lbs
- Dimensions: 10"(H) x 7"(W) x 2"(D)
- Weight: 1.5 Lbs
- Contains: Installation disc, printed manual in English, Logo and color coding stickers.
- Shipping Dimensions/Weight (Box HxWxD inches/lbs)
- Dimensions: 10"(H) x 7"(W) x 2"(D)
- Weight: 1.5 Lbs
- Contains: Installation disc, printed manual in English, Logo and color coding stickers.
Reviewers gave this product an overall rating of 5 out of 5 stars.
(

3

ratings)
Submitted September 27, 2015 by M J in Dayton, OH
"FAR Better Than Ableton Live! Much More Stable 64 Bit Support!!!&quot
Verified Customer
zZounds has verified that this reviewer made a purchase from us.
I decided to switch from Ableton Live 9 to Bitwig mainly because of Bitwig's superior 64 bit plugin functionality. Ableton Live 9 still has very mediocre 64 bit plugin support. If you have both 32 bit and 64 bit VSTs, then with Live you have to purchase a separate 3rd party product called 'JBridge' in order for Live 64 bit to see your 32 bit plugins. This is already outrageous considering how expensive Live is from the start, and they expect you to buy a product from a 3rd party just to get it to work? What is worse is that JBridge only works some of the time. It makes 64 bit stub files from your 32 bit VSTs but Live doesn't always see these stub files. So when you use Live 64 bit you have to give up a random selection of your 32 bit plugins. But what was really the final straw for me was that the jbridge would randomly crash. I would work on a project for an hour or two and then poof! Jbridge pops up an error and Live crashes. Once Live crashes it leaves a live.exe zombie process in the task manager which you absolutely cannot kill manually. You either have to reboot the entire computer or wait about 10 or 15 minutes for the process to finally die. During this time you can't start another instance of Live and just keep working, you have to wait. There's no reason for it to keep a death grip on your system while it's finishing crashing, no other DAW is like that. When other DAWs crash you can restart them and keep going within a minute or two. But Live's death grip crashing
…
read more
means whatever creative groove you had before it crashes is lost. It is an incredible productivity killer. Bitwig on the other hand has native 64 bit and 32 bit VST plugin support in one process and no need to convert with jbridge. It also has options to run the VSTs as separate processes and does a fantastic job of insulating the DAW from glitches in the VSTs. This means it is ROCK SOLID and you're not going to be kicked out of the DAW for 10 or 15 minutes at a time waiting for Live to finish crashing out. I've emailed Ableton about the death grip problem and they have never replied. I've been with Live since version 4 and it was great for a while but it's clear that they're past the phase of new innovation and are now just collecting checks without developing much new functionality or even fixing ancient bugs. There's no reason for shoddy 64 bit support, if you're running even one memory intensive VST like a realistic drum or piano sample plugin that has many gigabytes of data, you NEED 64 bit support. By that measure, Live is no longer really a professional solution, it's only good for less demanding tasks. They've made themselves obsolete. Bitwig also natively has support for LFOs to modulate any parameter you want. Live only has that as a $100 upgrade if you buy Max. Bitwig also has a lot of other cool signal routing features that Live lacks, but that is just icing on the cake for me. With Bitwig I can finally just work and get stuff done. It's much cheaper and all around far better than Live. Get it!

Musical Background:
guitar, piano

Musical Style:
metal, rock
read less
3 of 3 people (100%) people found this review helpful. Did you?
Thanks for your opinion!
No longer available at zZounds
In most cases, a product is unavailable because it has been discontinued by the manufacturer
This is a carousel with product cards. Use the previous and next buttons to navigate.
People who bought this item also bought