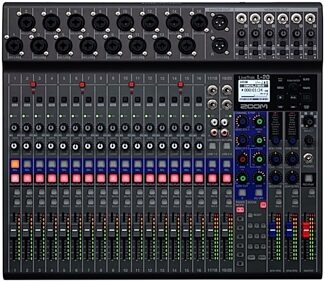 Mix live shows, and multitrack-record them! This mixer can capture all 20 input channels plus a stereo mix to SD card. It's also a 22-in/4-out USB interface.
Overall User Ratings
(based on 2 ratings)
Submitted January 14, 2022 by STEPHEN MOORE in VALE, NC
"It's not for everyone but you can't go wrong.&quot
Verified Customer
zZounds has verified that this reviewer made a purchase from us.
This review has been selected by our experts as particularly helpful.
As a mixing board it's very attractive. Lots of neat lights and knobs and faders. As just a mixer this would be quite expensive but when you factor in the ability to multi track record it's worth it in my opinion. I bought this primarily because I needed a new mixer, my old Behringer was toast and I own a Zoom R24 multi track recorder. That device took me a long time to warm up to as I had been used to the Boss BR1600CD recorder. The Zoom R24 won my heart over in time. So I thought why buy Tascam when I am not sure and I liked my last Zoom so I got this.
Sound
I got to where I was mixing most of my music in DAW software but since I got this I wanted to make myself record everything on here track by track and mix on board as well. It's made me think a little more about how I play and record and be a bit more meticulous. In a DAW it's easy to cut and paste away problems (which adds another whole creative element btw). Using this I record track by track like in old days and use faders in and out.
Features
This device is lovely to look at and does not feel cheap. It has cool lights and dual intensity leds on faders . It also uses a channel strip for effects and eq. These work very well. I like the effects on board. You have to select the channel that activates these settings. I would say it took me a few minutes but is easy to get. There are also 9 scenes that can be placed in memory for quick recall. So it will remember all the setting you currently have when you lock it in.
Ease of Use
You have to download the drivers to use with this off the Zoom site. There is a problem however that I have not yet resolved. I can get sound down the USB cable to the board. I cannot get sound from the board up the USB cable into the computer which means I can't record direct to DAW. My R24 is the same way. I dug through all the settings and it sees the device both for input and output but for some reason I can't make it work. Not entirely convinced it's Zoom driver but it could be. I don't use the device in the direct record to DAW much but I would like to get to that option. I take the wav files off the Zoom that I record and up load them into the DAW via the USB cable. Which is the reason I went away from the BR1600. It was too slow moving files.
Quality
I think this will work well for a long time.
Manufacturer Support
Their web site is easy to nav but I am going to contact them for help in resolving the issue I mentioned above.
The Wow Factor
I generally don't buy stuff I don't need. I needed a new mixer. I was getting around about the old one but it was no longer satisfactory.
Musical Background:
past history of rock cover bands as bass and guitar, play in a worship group now
Musical Style:
mostly guitar oriented rock style. But I also do creative funny song stories. I play contemporary Christian music
11 of 11 people (100%) people found this review helpful. Did you?
Thanks for your opinion!
---
Submitted February 12, 2022 by Thomas Monaco in Modesto, CA
"Zoom L20&quot
Verified Customer
zZounds has verified that this reviewer made a purchase from us.
Purchased this mixer to replace my Mackie VLZ1604 VLZ Pro. Was not sure I wanted to spend the money on a mew mixer but wanted to achieve better sound with my classic rock cover band. I am very happy with the Zoom L20. This mixer is super lightweight and is very easy to bring to a gig if needed. also, the look of the mixer is super clean, and the configuration of the front panel is very easy to navigate. The sound that this mixer delivers is crystal clear and paired with my QSC GSD 8 is a great addition to my live sound mix. I wish the mixer had more inputs for other input devices such as an equalizer but that's OK. I figured out how to tune the onboard effects and EQ to achieve a very clean sound that I never could get with my Mackie. One drawback is there is no real user manual included with this mixer, just a quick start guide. Ordering from zZounds was as usual effortless, I just placed the order, and my new mixer was at my door 2 days later. The guys and gals at zZounds are the absolute BEST in the business!!!! I only order my gear through zZounds!!!! I Highly recommend these people for all your gear purchases!!!!!!
Musical Background:
Classic Rock Keyboardist
Musical Style:
Classic Rock and Blues
5 of 6 people (83%) people found this review helpful. Did you?
Thanks for your opinion!