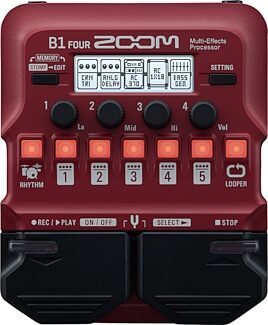 Get all the bass effects you need inside one compact box with the Zoom B1 FOUR multi-effects pedal. Includes classic amp modeling for authentic bass tone.
Overall User Ratings
(based on 3 ratings)
Submitted July 27, 2020 by Matt F
"Great bass effects pedal-if you know what you are getting!&quot
Verified Customer
zZounds has verified that this reviewer made a purchase from us.
I see 2 low star reviewers from the person pulling the rating down for this. It's a shame because this is an amazing product, and even though I bought mine from another store, I'm looking for in-stock recommendations for my bass player friends. I bought the Zoom B1X Four, which is the version that has the built-in expression pedal. I have used this with both a 4 string fretless bass with passive budget pickup and also a 5 string fretted bass with active preamp. Both sound amazing through it, so rich and full, with great articulation and low noise.To put it in perspective, here is what you get for about the cost of 2 sets of decent bass guitar strings:A portable, light weight battery powered headphone amp with aux-in and built-in looper and drum track playback that has a variety of bass amp sounds, compression, eq, distortion, fuzz, phaser, chorus, delay, reverb and more. If some says the sounds are "uninspired", seriously...either learn how to use the device and make your own presets or look to other gear in your signal path for the problem. The creative possibilities with creating your own patches far exceeds what 3 pedals could ever give you (as a reviewer claimed). To say that 3 Behringer pedals can compete with this is an absolute joke! But I will explain how 3 standard effects pedals MIGHT be a better choice for you:1. If you need to perform live and turn specific effects on and off during a song. For example, to turn a phaser on for a section and then turn it off and turn on a reverb. The reason this isn't great with this device is that there aren't dedicated footswitches for effect like the larger, more expensive multi-effects units. What you would have to do is either bend down and press one of the 5 small buttons (or have it on a stand or table) OR create your own patches ahead of time that you could easily swap between using one of the 2 large footswitches.2. If you have an amp sound you love and don't know much about live sound or recording and just have a sound engineer put a mic in front of your amp. Then yeah, maybe forget the technology and learning and just stick an effects pedal or 2 in front of your amp.3. If you struggle with technology or don't want to read manuals or watch videos for an hour or 2 to learn how to use your gear. BUT HERE IS WHY YOU MIGHT WANT THIS:1. You need a solution for practicing without disturbing others. The headphone jack, looper, and aux-in and built-in drum tracks in different styles with adjustable tempo are ideal for this! Way better than using a metronome.2. You need something portable and easy to travel with. Having optional battery power with commons aa rechargeables means I can practice with headphones on the edge of my bed or during a break at the office, or outside in the sun in a park or backyard.3. You have an interest in exploring different effect sounds, but can't justify the cost of buying a lot of different pedals, that may or may not be what you hoped or work well together.4. You send your bass direct to a PA system rather than a bass amp. The optional bass amp models are versatile. I found 2 I really like, one for a more clean, mellow sound and one for higher energy loud bass. If you have an amp you already love, then you don't have to use the amp modeler sounds, and can just free your 5 effect slots for effects only.Two final notes:1. With the free Zoom software, you can add or subtract effect sounds from the internal memory and also manage your custom patches (saveable presets of effect pedal combinations).2. I'm glad I got the version with the expression pedal. It is not possible to plug in an external expression pedal unfortunately. One thing I'm unhappy about is that unlike every other multi-effect unit with expression pedal I've had, there is no way to program what the pedal controls, besides the pedal-specific presets. For example, if you wanted to control the speed, depth, and mix of a phaser with the pedal, you can't do it. You have to select a effect designed to pair a phaser with the pedal and it will have whatever parameter Zoom has decided for you. This does make using the device much simpler, but only in exchange for custom control. However, there are enough pedal-specific effects on board that it still makes having it worth it, unless you use an additional volume pedal and wah pedal.
Musical Background:
30+ years playing, 20+ years recording and producing
Musical Style:
rock, metal, ambient, industrial, experimental, soundscapes, soundtrack
10 of 10 people (100%) people found this review helpful. Did you?
Thanks for your opinion!
---
Submitted June 13, 2020 by Gary Mitchell in Georgetown, TX
"zoom b1 four&quot
Verified Customer
zZounds has verified that this reviewer made a purchase from us.
i have had this pedal 3 days now, It is not the pedal I thought would be. I know for 90 dollars you can't expect a lot, but to me the effects were very dull well it just didn't sound good to me at all. and the members in my band were disappointed. I was just going to use it for church, they told i should had bought 3 berlinger pedal. 5 years ago our church was broke into and stuff was stolen , but they got caught and now we have cameras and better security , but i still don't want to leave something expensive there. one thing good about zZounds is they have a great return policy. i am going to give it a chance tell monday then i might send it back
Musical Background:
55yrs i play bass and guitar
Musical Style:
Christian 35 years praise and worship, a few blues and rock bands, country, what ever they are paying us for.
1 of 10 people (10%) people found this review helpful. Did you?
Thanks for your opinion!
---
Submitted June 14, 2020 by Gary M in Georgetown, TX
"zoom b1four&quot
Verified Customer
zZounds has verified that this reviewer made a purchase from us.
bought this and the effects are lifeless not inspiring at all to me, does not work in my situation at church, sounds are not up to par ; my problem i filled out their return policy form but it refuses to take it, i guess i will have to call, seems real good at taking your money but make hard to return, i don't want the money just something similar.
Musical Background:
almost 60 years, i have played professionally, i play bass and guitar
Musical Style:
blues, country, rock, and 35 years praise and worship
of 9 people (0%) people found this review helpful. Did you?
Thanks for your opinion!