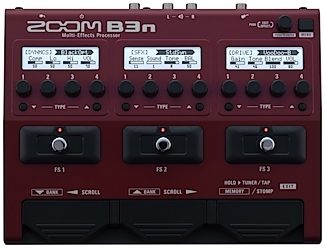 Spice up your bass tone with the Zoom B3n. With 67 DSP effects, 5 amp emulators, and an 80-second looper, this pedal dares you to experiment with your sound.
$229.99
---
No Credit Check

No Credit Check
Overall User Ratings
(based on 3 ratings)
Submitted October 31, 2017 by Stan B in Bethel Park, PA
"More than a Multi-Effects Unit&quot
Verified Customer
zZounds has verified that this reviewer made a purchase from us.
I was looking to use this unit to add a variety of effects to my bass sound. What I found was that the amplifier models loaded into the unit sound so good that it can in fact be used as a complete pre-amp. I have only had the device for a little more than a week, but I have played it at a couple of live performances and it sounded amazing. I ended up using the Dual-Comp compressor with the Aguilar bass amp model straight into the effects return of my amp, bypassing my built-in pre-amp, and was really happy with the sound I was getting. As far as useful features are concerned, it has an auxiliary input jack for a stereo line in from a phone or other device, so it can be used to play along with an MP3. It has both left and right outputs; the left output is in stereo and can be used with headphones so the device is a great-sounding practice amp. It has a built-in tuner that can be used with either a live or muted signal. All of the sound patches with which I experimented sounded great, and there was no discernible noise added to my signal. It is solidly-built, but not as sturdy as some of the units I have looked at. It seems easy enough to use, but there is a LOT of content to digest. My biggest concern is that there are a lot of small buttons that can be accidentally tapped, and if you do hit one by accident you can find that you have completely re-set the patch you are using. That happened to me twice while playing live, and it was a big distraction trying to dial things back to where I had them set initially. There is no XLR output from the device, which I have read some people complaining about, but I have other DI options so that is not a concern for me. Overall I am very happy with this device. It sounds great, it is very quiet, and it probably has more functions than I will ever find the opportunity to use.
Musical Background:
I have been a working local musician for the past 30+ years
Musical Style:
Rock, Country
25 of 26 people (96%) people found this review helpful. Did you?
Thanks for your opinion!
---
Submitted May 14, 2018 by Steve D
"Very Happy&quot
Verified Customer
zZounds has verified that this reviewer made a purchase from us.
This review has been selected by our experts as particularly helpful.
I have owned multiple Zoom multi effect pedals over the years, 506II Bass, 607 Bass, B2, B9.1ut. I always thought they were great practice/recording tools, but I would never use them in a live situation. Some of the sounds were just too artificial. All units had somewhat good compression, maybe a solid fuzz/distortion or two, a semi usable chorus/reverb/phaser, but nothing as good as standalone pedals. The B9.1ut came closest, but the user experience, for me at least, was a bit overwhelming. I'm also not sure if I purchased a bad unit (bought second hand), but the transition between manual and patch just wasn't as seamless as I'd hoped for. I really wanted to like the unit especially with the Z pedal. Very cool concept. I just couldn't get it as usable as I wanted. The lack of the drum patterns also was disappointing on the B9.1ut as I used them so much on the B2. I dealt with it by using the line in and ran my Alesis drum machine. Worked fine, but I had to use two units. So, there is a bit of my history with Zoom pedals. Now for the Zoom B3N. I went in with a very closed mind. I intentionally tried to hate the pedal and just figured it would be more of the normal close but no cigar. HOLY POOP!!! This thing quickly changed my mind in about 10min. The user experience was great. Exactly what I was hoping the B9.1ut would be. Extremely easy to change from tuner, to manual, to patch. The many of the stock patches are usable as they are. The editing app is awesome. You can change the effects, position on the pedal board, parameters, names all real time while connected. The only thing I really don't like about this pedal is the drum machine. The sounds are not as good as the B2 and you have to assign a rhythm pedal to each patch to use them. In a way it's kind of cool. on the B2 I'd usually find a usable beat when playing around with an effect but you always must reset it each time you played as there was no way to save it. Now you can on the B3N. I also purchased a Yamaha expression pedal to use and it works great and is $20 cheaper than the Zoom pedal. I know some people say they won't leave the B3 for the B3N due to no DI, battery operation ability, and other discrepancies. The quality of the effects sound, ease of tweak ability through guitar lab, and ability to stack 7 effects to one patch outweigh these "short comings" IMO. I am extremely happy with the Zoom B3N. I'll be recording with it this weekend and will update my review after that. I'm feeling confident it will sound solid in the recording mix given the way it performs in other functional areas. You can't go wrong with this purchase. ~Cheers
Musical Style:
rock/punk/reggae
13 of 15 people (87%) people found this review helpful. Did you?
Thanks for your opinion!
---
Submitted August 29, 2020 by a customer from gmail.com
"Strong in some areas weak where it really counts&quot
Verified Customer
zZounds has verified that this reviewer made a purchase from us.
This machine kinda disappointed me. The effects I really wanted which were chorus, envelope, flanger were pretty weak with this unit. I didn't find them very usable and couldn't tune them to what I wanted. However, if youre not really worried about those effects this could still be the machine for you. The other features are great, i like the drives, the compressors, octave and phasers, those effects work fine. The tuner is good, the drum beats you can choose between are very useful and extensive. Where this machine truly shines though is the bass amp and cab sims. They're really great and good for shaping your tone. Sadly, they're not the features I was interested in or needed. A little nitpick not too important but the interface and how to change/save effects isn't the most user friendly and i can't imagine it being practical for stage use. Overral its fine, but doesn't fit my needs. Honestly, if you want to just mess around with effects and aren't too picky get the zoom b1 four. Its 100$ cheaper. I don't think this machince is bad but not worth the money in my opinion.
6 of 7 people (86%) people found this review helpful. Did you?
Thanks for your opinion!