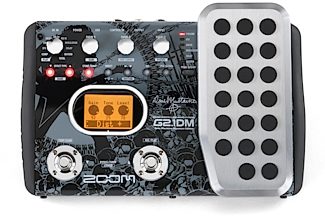 Perfect for hard rockers, this multi-effects pedal from Zoom includes 40 original patches by guitar legend Dave Mustaine.
Overall User Ratings
(based on 7 ratings)
Submitted September 9, 2011 by a customer from q.com
"MEGAprops to zoom and Dave Mustaine for this awesome pedal.&quot
Verified Customer
zZounds has verified that this reviewer made a purchase from us.
i think this will be in my arsenal for a long time and i would replace it with the same if it were ever stolen i recommend this product to every metal guitarist out there.
Sound
The sound of this pedal is amazing ! I use a dave mustaine sig marshall ministack to practice and i cant believe the sounds that come out of my amp. it has some of the coolest effects i have heard yet not to mention daves signature patches. i would def pick one of these up!!!
Features
this thing has so much with it i have had it almost a month and still havent got through all the little things it will do . hang on to the user manual cause your gonna need it.
Ease of Use
this pedal is very easy to hook up and play the only thing is it has so much its is hard to keep track of what you need to do for this feature or that feature.but over all very cool product just keep the master rest functions close.
Quality
this product is made very well it will stand up to quite a bit of abuse. very solid construction finish is cool the wah pedal i definatly like,( i still want to know what kind of car that design is from) overall awesome is all i can say.
Value
might be a little high but worth it
Manufacturer Support
havent needed any
The Wow Factor
has a cool style and look but as to buying one on the look alone no not a chance for the sound and quality YES!
Musical Background:
active
6 of 6 people (100%) people found this review helpful. Did you?
Thanks for your opinion!
---
Submitted April 5, 2012 by CHRIS MARSHALL in BOISE, ID
"THIS NEW ZOOM 2.1 DAVE MUSTAINE SIGNATURE EFFECTS UNIT IS THE MOST VERSATILE PROCESSOR YET.&quot
IN MY LAST 27 YEARS OF PLAYING GUITAR I HAVE FOUND SOME REALLY COOL STUFF TO GIVE ME THE SOUND I WANT. BUT A MONTH AGO I ORDERED A ZOOM G2.1DM EFFECTS PEDAL AND I HAVE NEVER BEEN SO IMPRESSED SINCE I REMOVED IT FROM THE BOX.. IT HAS TONS OF PRESET PATCHES THAT ARE FULLY ADJUSTABLE TO FIND YOUR OWN UNIQUE SOUND,AND WITH TOUCH OF TWO BUTTONS YOU CAN RESET IT TO THE FACTORY SETTINGS TO START OVER OR SAVE IT IF YOU FOUND THAT SOUND YOU HAVE BEEN WAITING FOR. IT ALSO HAS TONS OF EXTRAS. YOU CAN RECORD YOUR RIFFS AS LEADS AND THEN DUB OVER IT WITH YOUR OWN RHYTHM OR VICE-VERSA. IT COMES WITH CUBASE SOFTWARE FOR YOUR PC. I RECOMMEND IT TO ANYONE ,ITS WAY UNDERPRICED IN MY OPINION.SELL ALL YOUR INDIVIDUAL PEDALS AND GRAB ONE OF THESE. YOU WONT REGRET IT.-CHRIS
Musical Background:
I HAVE PLAYED GUITAR FOR 27 YRS. PLAYING PROFESSIONALLY WAS A DREAM BUT I HAD TO GET A REAL JOB.
Musical Style:
METAL,NU-METAL,CLASSICAL, AND WHATEVER SOUNDS AND FEELS GOOD.
2 of 2 people (100%) people found this review helpful. Did you?
Thanks for your opinion!
---
Submitted January 12, 2012
"This thing is killer, test one out if you can&quot
I dont think I'll buy any other effects pedal EVER!
Sound
This is seriously awsome. being a huge Megadeth fan I love it man. its fun to play the songs using the correct effect and it sounds just like the album!
Features
Sick! it has 2 foot stompers that you can go forward or backwards through the 100+ presets it comes with. you can also comes with pre programmed drum beats which is fun to mess with. the knobs at the top control an arrangement of effects so you can program your own sound
Ease of Use
It takes some time to get used to but once you memorize where all the effects are you can easly swich back and forth.
Quality
This think is built like a tank!
Value
$250 is a awsome price for this its built well and sounds good
Manufacturer Support
Never had one issue
The Wow Factor
Look at it! Look at it!
Musical Background:
5 Years, Guitar, Bass, Jam at home
Musical Style:
Heavy Metal, Metal, Classic Rock
2 of 2 people (100%) people found this review helpful. Did you?
Thanks for your opinion!