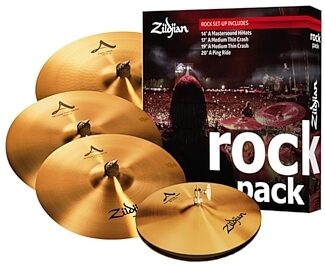 Are you ready to rock? Grab a new set of Zildjian A Rock cymbals, which includes 14" hi-hats, 17" and 19" medium-thin crashes, and a 20" ping ride.
$889.95
---
No Credit Check

No Credit Check
Overall User Ratings
(based on 2 ratings)
Submitted October 11, 2023 by Paul M in Middlesboro, KY
"Golden sound&quot
Verified Customer
zZounds has verified that this reviewer made a purchase from us.
This review has been selected by our experts as particularly helpful.
I highly recommend this cymbal set. It sounds so clear and looks amazing. This company has a very interesting history. Avides Zildjian the founder of this company, was a alchemist and was attempting to make gold. Instead he made golden music with cymbals that has been recorded by most of your favorite artists. To this day, this 400 year old recipe founded in 1623 is still the greatest cymbal company in the world. After Ringo Star was seen playing Zildjian cymbals on the Ed Sullivan show February 9th 1964. Zildjian hit overnight fame status. Zildjian found themselves with a 90,000 back order problem. That was a good problem to have though. Today they are equipped with the man power to keep shelves stocked. So with that being said, you will not have any problem getting these cymbals. If you go ahead and put them in your check out cart you can be playing these legendary cymbals in 2 to 3 days. So my question is what are you waiting for? No interest, no credit check fast delivery and great customer service with zZounds. I apologize for the long review/ history lesson, but I thought you would want to know you are getting 400 years and 14 generations of cymbal quality. Paul Miracle/drum geek This is my honest opinion, trust me you won't regret this purchase.
Sound
The Zildjian A rock pack I ordered is absolutely amazing. The sound is so crisp clean and sounds like pure musical gold. In my opinion Avedis Zildjian did make golden musical cymbals that has survived 400 years and 14 generations. zZounds is able to deliver you 400 years of quality to your doorstep in 2 days with no interest and no credit check. Awesome
Features
I purchased a epiphone Les Paul special 2 from zZounds. I'm no guitar player yet. I did read all the specs, this guitar has a mahogany body and neck. I checked the Janka rating on mahogany and it's around 800 lbf. If you aren't familiar with the janka rating system of different tone woods, I would highly recommend you do. This is very important in musical tones. Also this guitar comes with a limited amount of on line lessons with Gibson. One other thing to note epiphone is owned by Gibson. This is Gibsons affordable guitars without having to sacrifice quality. So I'm pretty sure I can learn pretty fast. It sounds clean and clear through my amplifier. I also bought this from zZounds , i buy all my gear from them.
Ease of Use
It's very easy to play my drums i have more experience on drums than my guitar. Either way I think i can learn it very fast. My goal is to learn how to play music and my son have instruments in his hands.
Quality
All my products are well made. I read the specs before purchasing. zZounds provides detailed specs, so you know what quality you are getting.
Value
My Zildjian cymbals, Tama drum kit, and Epiphone guitar are all priced at a low amount considering the quality you are getting.
Manufacturer Support
I got in touch with Zildjian about registering my cymbals for the 2 year warranty. I wasn't on hold but a couple of minutes. They had great customer service as well.
The Wow Factor
All the finishes on my gear is better in person than the online pictures. Everything looks great, I've got a great looking music room, thanks to zZounds.
Musical Background:
I've loved music all my life. Now I'm playing music with Zounds products and the help from their educated staff.
Musical Style:
Contemporary gospel music, to Metallica. So I'm really versatile, and this set is able to provide that quality
Did you find this review helpful?
Thanks for your opinion!
---
Submitted October 10, 2023 by Paul Miracle in Middlesboro, KY
"Golden bright sound&quot
Verified Customer
zZounds has verified that this reviewer made a purchase from us.
This review has been selected by our experts as particularly helpful.
These cymbals are awesome. The first time i played these cymbals, i fell in love with the crisp clean golden sound they produced. They are bright and they resonate so beautifully. The reason they sound so good, dates back 400 years ago in the year 1623. This was when Avedis Zildjian a alchemist was attempting to make gold. He may not have made gold. Instead he made a recipe for a golden sound that has made golden hits for over 400 years. Ringo Star of the Beatles played a set of Zildjian cymbals on the Ed Sullivan show on February 9th 1964. After that Zildjian had a 90,000 back up order for these cymbals. The good news is zZounds have these in stock. If you put these in your cart and order them. In 2 days from now you can be experiencing this golden sound on your drum kit as well. So with that review/ history lesson i would say, what are you waiting for? There is no interest ever, no credit checks or need to give out your social security number. I apologize for the long history lesson, but I felt like you need to know you are getting a pure gold sound. I would argue and say Avedis Zildjian did make gold 400 years ago, golden sound. That's why it's been passed down 14 generations, and is doing better now than ever. Paul Miracle/ drum geek this is my honest opinion of this product.
Sound
I love the sound, I like crashing on my 17 and 19 inch at the same time hitting my bass drum. Using 5A Vic Firth sticks gives me more control with volume. If you want more volume you can go with a bigger set of sticks. These cymbals sound awesome if you are like me and love doing cymbal chokes. I also love using my 20 inch ping ride, i can keep time on it when i need to just go with the song. This is helpful when it's appropriate to just keep time and not dominate the music too much.
Features
I also play a guitar, well let's just say I own one. I haven't really learned the guitar yet but I have read the specs on it. Its a epiphone les Paul special 2. It's for beginners like myself, the pick ups deliver clean crisp sound to my amplifier. Even though I can't really play a guitar yet I can tell this one is going to make it easier to learn. It also comes with a free limited time lesson from Gibson. If you are reading this and aren't aware Gibson owns and manufactures epiphone. This line of guitars you still get great quality with a much lower price point. I got this guitar from zZounds also, everything I have is from Zounds. They get your gear in 2 days or at least every thing I've gotten has been on time. They have very well trained , and most of all ,very polite staff. No interest, no need to buy from anyone else.
Ease of Use
My Zildjian cymbals, and Tama superstar classic 7 piece 100% maple shell pack. This was a game changer in my playing ability. Compared to what i was playing before. It had really helped me play better.
Quality
My Zildjian cymbal set is top quality and a beautiful finish. I'm predicting my 15 month old son will be playing these when he's big enough. He already plays sitting in my lap. My Tama drum set has a Dark Indigo burst finish. The pictures on the Zounds website doesn't even compare to how beautiful they are in person. Very pleased with all my gear and quality.
Value
I feel like this Zildjian cymbal set is well worth the price. I have absolutely no regrets, purchasing this set.
Manufacturer Support
I registered my cymbals on Zildjian's website for the warranty. I had some questions about how to fill out the online forms. I was able to reach them in just a few minutes. They were well trained and explained everything I needed. I also got in touch with Tama, about what kind of kit they had for smaller kids. They suggested the club jam kit. It is much smaller and easier to play for younger players or even someone that just doesn't have the space for a full size kit.
The Wow Factor
These cymbals shine ✨ like gold, just as they sound. They look amazing set up in my music room. I have a light about them that really brings out the shine.
Musical Background:
Listen to music all my life and love it.
Did you find this review helpful?
Thanks for your opinion!