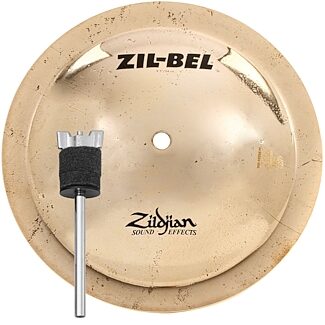 With its large, deep bell shape, the large Zildjian ZIL-BEL produces a low-pitched sound -- making it a cool-sounding special effects cymbal.
Overall User Ratings
(based on 0 ratings)
Submitted August 30, 2008 by a customer from hotmail.com
"BEST ZILDJIAN EVER&quot
Sound
the guy below is an idiot! there isnt 7 diff sizes to these. theres a 6in and a 9.5in. if you can break these bells that many times, you must be hitting it with a sledgehammer. Ive had the same bell for 2 years, and never had any probs, + they sound great
Ease of Use
goes great with any music
Quality
zildjian has the best quality/sounding cymbals
Value
the best value for a great sounding cymbal
Manufacturer Support
zildjian is QUALITY
The Wow Factor
I own the 6 and 9 inch model
Musical Background:
Active musician
Musical Style:
rock, alternatvie, melodic
23 of 23 people (100%) people found this review helpful. Did you?
Thanks for your opinion!
---
Submitted December 26, 2004
"INFORMATION ON THE ZILDJIAN ZIL-BEL MY THOUGHTS, VERY TRUE, I OWN 7 OF THESE AL DIFRENT SHAPES&quot
DO NOT BUY IT !WARNING!
Sound
i think this product is a complete waste of money, my reason are: it sounds the same as and 22"ride bell, they crack, i have replaced mine on warranty 6 times, i think this cymbal is a waste of zildjians time, and is not worth the zildjian logo
Quality
always cracking i replaced mine 6 times on warranty
Value
you should pay for quailty and strength and sound, all 3 are a complete rip-off in this prduct
Manufacturer Support
zildjian are the best company ever, but the zil bel is a aste of time
1 of 36 people (3%) people found this review helpful. Did you?
Thanks for your opinion!