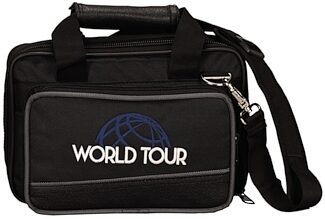 Protect your gear in this padded bag from World Tour. Water-resistant material and a scratch-proof interior guard against the hazards of touring.
Overall User Ratings
(based on 0 ratings)
Submitted June 5, 2009 by Julian
World Tour Padded Gig Bag Customer Review
Written by one of our gear experts!
This bag is great because it can be used with more than just gear, it's very well made, and can look good with whatever you are wearing.
Sound
If you run your fingers across it rhythmically and listen closely enough, you can produce turntabalist DJ effects.
Features
Large catch-all style bag for main pieces of gear, cables, adapters, and power strips.
Ease of Use
Place your gear in this bag, zip it up, sling it over your shoulder, and you're on your way.
Quality
This bag is well made and is water resistant.
Value
It's worth the money because it has a convenient strap so you can easily carry heavier pieces of gear.
Manufacturer Support
Haven't made usage of it because this bag works!
The Wow Factor
It's not a funky color, it's well made, and carries your gear. What more do you need from a bag?
10 of 11 people (91%) people found this review helpful. Did you?
Thanks for your opinion!